Positive Grid has released BIAS FX, a cross-platform guitar multi-effects and guitar amp system for Mac, Windows and iOS. BIAS FX, with a Pedalboard-/ Rig-Layout and various output options, can be used in conjunction with traditional guitar amps, power amps with guitar cabinets and/or complete systems. In addition, thousands of multi-effects combinations are instantly downloadable from ToneCloud, the company's proprietary social network for musicians.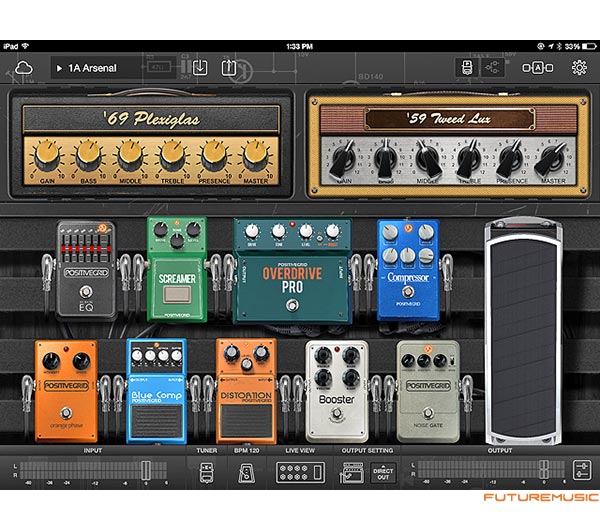 Recent advancements in technology, particularly with mobile devices' chip sets, allowed Positive Grid to approach engineering BIAS FX with the best possible sound quality to date. A collection of newly developed, high-definition pedal and rack effects is included: Noise gate, boosters, overdrive, distortion, fuzz, equalizers, tremolo, phaser, flanger, chorus, octaver, compressors, delays and spring and plate reverbs—everything a guitar player needs for massive tone, with all the flavor of both modern and vintage stomp boxes.
Features:
» Intuitive drag-and-drop operation
» 25 virtual effect pedals use high-definition sound-processing algorithms
» 5 rack processors
» 12 classic guitar amps
» Full integration with BIAS Amp adds control over designing your own fully customized dream amps
» Clone the sound of live-miked and pre-recorded amps
» Dual signal path and dual-amp processing
» Splitter switches between and combines dual signal paths
» Included tuner and metronome
» Live View mode lets you recall any preset with a single tap or click
» Toggle on/off any single footpedal or category of footpedals (such as all delay pedals) with one tap
» Pedalboard View shows all the effects and amps in the currently loaded preset for quick access to all their controls
» Share your rig via ToneCloud – Cloud-based platform gives guitarists instant access to thousands of pedalboards and rigs
» Presets are synced across all your desktop and mobile devices for instant access anywhere, anytime
» Global Settings optimizes BIAS FX's output to sound the best in any environment—including sending to a mixer, amp head or combo or stack power amp—by letting you EQ and selectively deactivate the app's preamp, tonestack, power amp and cab separately for each destination
» MIDI Learn assigns continuous controllers to any switch or knob in BIAS FX
» Inter-App Audio compatibility lets you insert other audio apps' effects in any place in your BIAS FX signal paths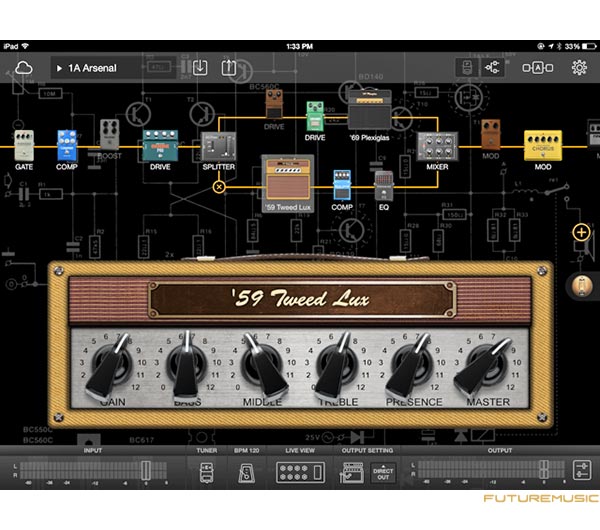 BIAS FX's simple drag-and-drop interface makes it easy to use. Dual virtual amps provide the resonance and vibrancy of playing through two real amps set up together in wide stereo. When integrated with BIAS Amp Designer (available separately), you can select a different preamp, power amp, cab, mic and eq for each of the two amps. Patch everything together, including all pedals and rack effects, in any order you wish in dual signal paths running in parallel. And since BIAS FX seamlessly integrates with other audio apps using Inter-App Audio, you can insert third-party effects for guitar, bass, piano, synth, percussion and other instruments anywhere in its dual signal paths.




There are already thousands of pedalboard configurations available on ToneCloud for you to own, and the arsenal continues to grow. Positive Grid continues to work with artists, producers, and engineers from all over the world to create an ever-expanding library of virtual pedalboards and rigs for BIAS FX. Browsing and downloading from that library is a snap: All the effects and amps in each setup can be seen at a glance, because they're stored as Pinterest-like snapshots. Simply scroll through the online images to select the presets of interest, then tap or click to download. But that's just the beginning. BIAS FX and ToneCloud also integrate fully and seamlessly with BIAS Amp Designer, providing access to thousands of custom-designed guitar and bass amp models. BIAS Amp's groundbreaking Amp Match technology captures and clones the sound of any amp—virtual, live-miked or pre-recorded—and stores it in a profile that you can open for instant use in BIAS FX.
BIAS FX costs $29.99 and is now available from the Apple App-Store. The BIAS FX Desktop Explorer program is now open for signup to Mac and Windows users.



Positive Grid