Antelope Audio has debuted the MP8d, an 8-channel microphone preamplifier with A/D conversion. Antelope's mic preamps, based on the Zen Studio and MP32, have been further refined for the MP8d. The result is an eight-channel mic preamp with enough power to drive even gain-hungry ribbon microphones.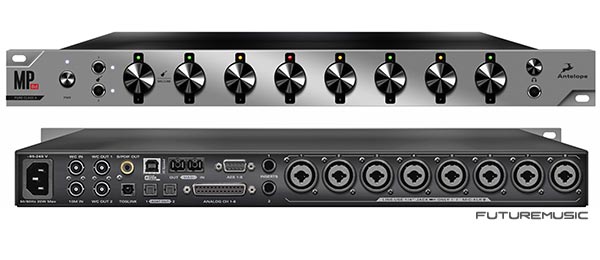 The MP8d mic pres are combo XLR/TRS connectors, which accept both mic and line level signals. Hi-Z inputs are associated with channels 1 and 2, and are accessible via dedicated TRS connectors on the front panel. Inserts for connecting effects outboard gear are available on the rear panel. A headphone amp is accessible from the front panel to provide the convenience of integrated monitoring. The analog connectivity is accomplished with a D-Sub 25 connector directly outputting the mic signals at line level, making MP8d a perfect companion device for Antelope's Orion32 and Zen Studio audio interfaces.
Digital connectivity offers a wide variety of options, including S/PDIF, AES/EBU, TOSLINK, ADAT and MADI connections. The MP8d utilizes Antelope's custom-built USB chip and PC/Mac drivers, allowing 24-bit/192 kHz streaming of 24 simultaneous I/O. Two or more MP8d units can be combined to expand the channel count.
MP8d relies on the software control concept developed for Orion32 and Zen Studio. The user interface with color-coded drag and drop signal routing, multiple mixers and DSP engine with on-board effects, makes the device flexible and suited to various recording applications. Programmable presets allow for easy and fast recall of preferred configurations, while aluminum knobs on the front panel provide mic gain adjustment in real-time.
Antelope's MP8d is scheduled to ship in Q3 of 2015 and will be priced at €1,995.