Native Instruments has announced the Traktor Kontrol D2, a new performance DJ controller for their Traktor Pro 2 mixing software. Designed to take the DJ's focus away from the laptop, Traktor Kontrol D2 offers touch-and-see workflow in a compact format. Traktor Kontrol D2 will join Traktor Kontrol S8 as one of the first DJ hardware controllers to support Stems – an upcoming, open audio format that allows multi-channel mixing with individual musical parts. (A music industry term, Stems are individual instrument tracks, which are commonly provided to remixes. —Ed.)


Traktor Kontrol D2 utilizes a new technology that NI calls touch-and-see. Tracks appear on a full-color display as vector waveforms while several key views and pop-up panels are revealed when a corresponding control is touched. The Browse Knob for example, triggers the Browse View for track selection directly from the controller. Performance Panels appear over track waveforms to view and modify BPM, key, filter, or effect values when activated by touch-sensitve knobs. And an LED-guided touch strip provides motion-sensitive pitch bending, track seeking, vinyl scratch emulation, and keeps track of phase in dark environments.
Traktor Kontrol D2's samples and loops are easily accessible for mixing with the four dedicated Deck faders when using a Remix Deck. Eight color-coded pads can trigger sounds, juggle cue points while in Hotcue Mode, or rearrange a playing track on the fly in Freeze Mode. Similar to Remix Deck usage, the D2's touch-sensitive performance knobs and faders will instantly correspond to a loaded Stem's different individual instrument parts.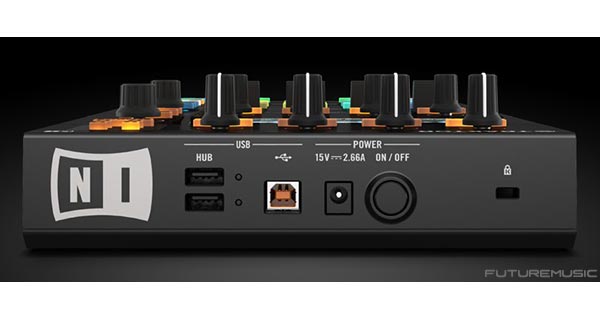 Designed to minimize bulk and setup time, Traktor Kontrol D2 is compact and transportable for DJs on the go. The lightweight build features four foldable rubber-padded feet that extend to raise the unit to industry-standard height, or incline it for contoured comfort. Though one D2 alone can navigate through two Traktor decks, two USB ports found on the rear panel allow a second D2 to be daisy-chained to one computer USB port for a two-unit setup. Connections are further simplified with an included power supply splitter cable that allows two units to be powered using one power supply unit.
Native Instruments' Traktor Kontrol D2 will be available online and at retailers on May 4, 2015 for $499 / €499.
The Future: There was enough "in the wild" pictures online to take the wind out of the sails of this product announcement, not that it isn't a dynamic controller proposition, but the real exciting news was the notion of a new mixing format, Stems. Stems, as noted by the Editor's comments above, are single tracks of individual instruments. While the notion of Live Remixing gets batted around quite often these days now that most DJs are in the Post Beatmatching Days of mixing, the ability to DJ different stems, without having to remove frequencies via EQ, points DJing into an exciting new dimension. Want to turn a Tech House track into a Tribal Tech affair, simply replace the drums (not EQ them out) with a different Stem. Add a different synth-line? No problem. Now add real-time pitch correction tools to ensure "mashups" stay in the same key and things start to get really interesting, especially for mixing one vocal track into another.
The real question is will NI's new DJ concept be able to dislodge the stranglehold that Pioneer's CMJs have on the club market. Or will Pioneer simply adapt their flagship platters to play multiple stems at once.