Designed and built by the collective NOIISE, FLUX:FX is a multi-effect processor app for the iPad, which permits the user to play the effects. Guitar, bass, synth, drums, vocals, DJ setup, violin, basically any audio signal can be processed in real-time by FLUX:FX. Over 18 months in development, and designed in conjunction with musician Adrian Belew for studio and live use, this app boasts that it's "the pinnacle of touch-screen multi-effects."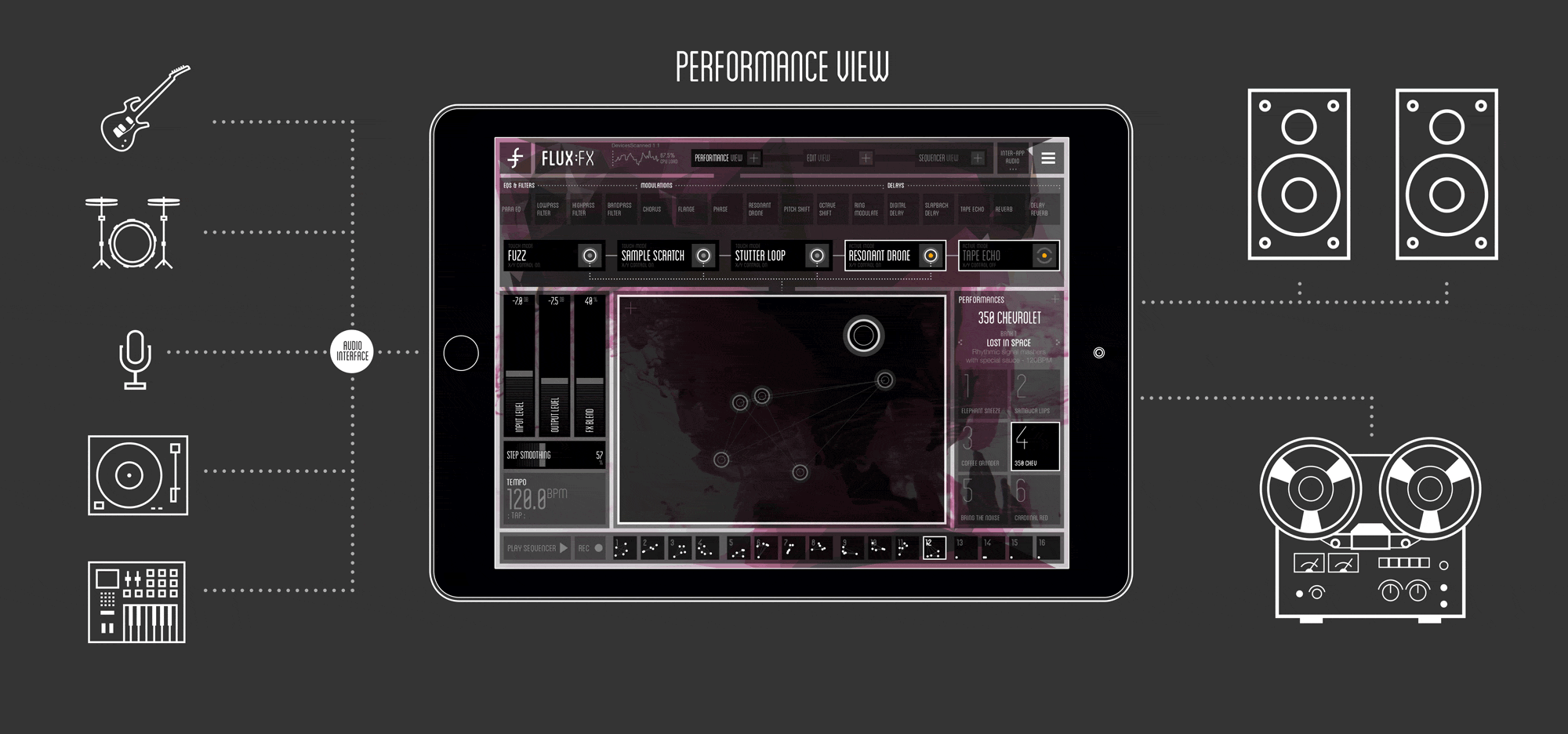 FLUX:FX has 31 effects to choose from, and a wide range of settings to let you twist and sculpt your sound, as well as the ability to chain five effects together for maximum aural impact. FLUX:FX allows you manipulate any audio signal into something entirely new, and redefines the possibilities of audio design and live performance in an app. FLUX:FX is a truly authentic digital platform for designing your sound. Featuring more than 30 modular effects blocks, a master Performance view with 1-touch interaction, an advanced Edit view with multi-touch and full assignment possibilities, and a Sequencer view to bring motion to the audio signal, this app allows the user to easily create previously unheard sounds. Fully compatible with Audiobus, Inter-App Audio and MIDI, FLUX:FX is made to connect seamlessly with existing live rigs and studio workflows.
Highlights:
» SEQUENCER: A touch-based automation sequencer for your effects that adds a completely new fluid dimension to your sound design.
» DEEP EDITING: Every parameter of every effect is editable, assignable and with the fine tuner dial, precise.
» TRANSPARENT INTERFACE DESIGN: FLUX:FX has a minimalist interface combining easy-to-use controls with an optional liquid polygon visualizer.
» MADE TO BE TOUCHED – Designed and built from scratch as an iPad app, FLUX:FX is not a port from an existing plugin, it is MADE to be touched.
» Conceived and created via the combined talents of guitarist Adrian Belew, audio software developers ElephantCandy and mobile specialists MOBGEN.
» PLAYS WELL WITH OTHERS – Audiobus compatibility (including saved states), Inter-App Audio compatibility, MIDI, virtually all the audio interfaces.
» LOW LATENCY – FLUX:FX features very low-latency settings to give truly solid performance capabilities.
» 31 FLAVORS – dozens of individual effect blocks that come built-in to FLUX:FX, and you can use multiples of the same effect




Effects:
» OVERDRIVE – DISTORTION FUZZ
» BITCRUSH – DESTROY – DECIMATE
» STUTTER LOOP – REVERSE LOOP – LOOP SLICE
» SEGMENT – SAMPLE SCRATCH – COMPRESS
» PUMP – ULTRA EQ – KILL EQ
» LOWPASS FILTER – HIGHPASS FILTER – BANDPASS FILTER
» CHORUS – FLANGE – PHASE
» RESONANT DRONE – PITCH DELAY – OCTAVE SHIFT
» RING MODULATE – AUTO PAN – DIGITAL DELAY
» BINAURAL DELAY – TAPE ECHO – SCATTER VERB
» DELAY/REVERB – Master LIMITER
FLUX:FX costs $19.99 and is available now.



FLUX:FX