From the minds of three of the most forward-thinking music app developers, comes Music IO App. The new Server/Client technology allows you to send MIDI (and Audio in the not so distant future) to/from your computer and iOS device via Lightning-To-USB cable (and 30 pin too). Music IO lets your iOS device become an integral part of a modern professional music production system, without the need for any hardware.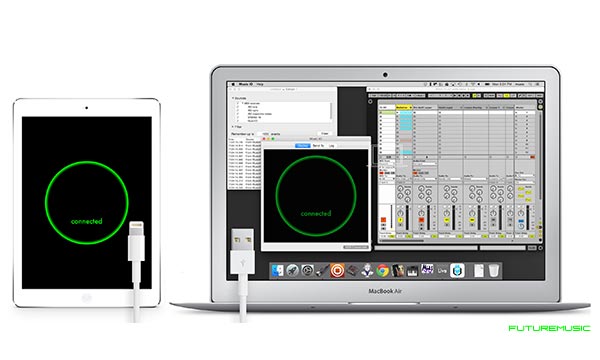 Music IO is the collaboration between Confusion Studios (MIDI Designer Pro), Audeonic Apps (MidiBridge app) and The Secret Base Design (Apollo Remote Recorder, MIDIMorphosis). Music IO was born when Confusion Studio's Dan Rosenstark presented the PeerTalk library to Audeonic's Nic Grant with the idea of transmitting MIDI over the protocol. Nic loved the concept and then brought in Secret Base's Patrick Madden to develop the app. Interestingly enough, the open-source PeerTalk is the foundation of Duet, the app which allows a user to utilize their iPad as a second computer screen.
Features:
» Send & Receive MIDI between any CoreMIDI apps over USB (Lightning or 30 pin) with no perceptible latency nor jitter
» Large sysex messages (eg. bulk dumps) handled seamlessly
» Choose send to ports (OSX and iOS)
» Choose receive from (OSX): route MIDI from anywhere to your iOS device
» BridgeClock, an inter-device MIDI-clock-synchronization technology, provides jitter-free sync between platforms
» Runs on iOS 6 or better
» Music IO consists of two parts: The server, a free direct download and the client, available from the iOS App Store.
Future Enhancements:
» Audio over USB: low-latency audio between iOS device and your Mac (iOS 7 or better)
» Comprehensive MIDI device interchange between devices, allow routing to and from specific iOS apps
» Support for multiple iOS devices per Mac with the ability to route between them
» Clocking from Mac
So will this app be reliable enough for live performance and critical recording? The developers say yes, and feel it's even more durable then they imagined. In fact, the iOS MIDI Controller crowd may find this to be the magic bullet, since Wi-Fi suffers from variable latency and fiddly connection initiation.
"Since CoreMIDI rolled out in IOS 4.2, iPad and iPhone users have been dreaming of using the normal 30-pin or lightning-to-USB cable for MIDI between Mac and iOS," states Dan Rosenstark, CEO of Confusion Studios. "We can finally provide that: MIDI at the speed of light. It's near-zero latency and stable. And when we roll out audio in a few weeks, the explosion of creative possibilities is going to surprise all of us."
Since the app just launched, we're just beginning to learn it's potential, but beta testers have already found unique ways of using the app, including using Orphion on the iPad to play a Sculpture patch in Apple's Logic Pro. Rosenstark is using Music IO to MIDI Designer to gate 64 tracks in Ableton Live with no perceivable latency. However, when the audio component kicks in (requires iOS 7+), the fun could really start. Think working with Propellerhead Figure as a plug-in in Ableton Live.
Music IO is available now for a special introductory price of $2.99.



Music IO