RØDE has announced their first ribbon microphone, the NTR. RØDE claims the NTR is unlike any ribbon microphone ever created with an innovative design that places the ribbon distinctly separate to the microphone frame and body. RØDE's concept is this decoupling provides the greatest possible acoustic transparency around the ribbon element and minimizing resonance.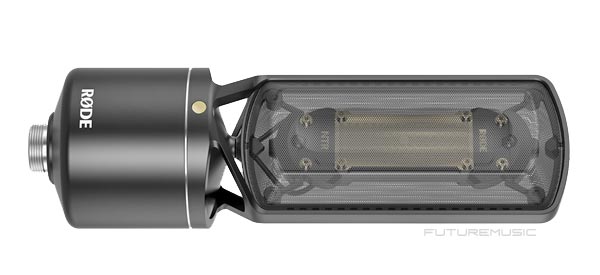 The ribbon element itself is designed completely from scratch, using fine aluminium that is only 1.8 microns thick. An innovative, in-house, proprietary technique was developed to laser cut the ribbon, giving a level of precision and accuracy never before seen in a ribbon microphone. Surrounding the ribbon element is a chemically etched all-metal layer of mesh – the same used on the SMR pop shield. Married to RØDE's ribbon element is a high output, ultra-low noise, low impedance transformer. Combined with world-class active electronics, this allows the NTR to be used with a wide range of preamps without the additional gain requirements of many other ribbon offerings.
Features:
» Sensitive 1.8 micron ribbon element
» Bi-Directional Polar Pattern
» Internal Shock Mounting System
» Custom designed and manufactured transformer
» Matte black finish
» Ribbon-securing travel screw supplied
» One free ribbon replacement during 10 year extended warranty
Sonically, RØDE claims the NTR is capable of reproducing unprecedented high frequency detail and accuracy, addressing common criticisms of other ribbon microphones, while opening up the possible usage scenarios considerably. This allows it to record sound sources that usually require a more sensitive microphone element.




RØDE's NTR Ribbon Mic will be available sometime this spring; no pricing has been announced.



Rumble