Roland has premiered the JD-Xi Interactive Analog/Digital Crossover Synthesizer, a new compact keyboard equipped with 37 mini keys, a true analog synth engine, as well as a wide selection of Roland's SuperNATURAL digital sounds. This affordable instrument also comes packed with many great extras for self-contained music creation, including built-in drum kits, a four-track pattern sequencer, and a gooseneck mic for using the synth's Vocoder and AutoPitch effects.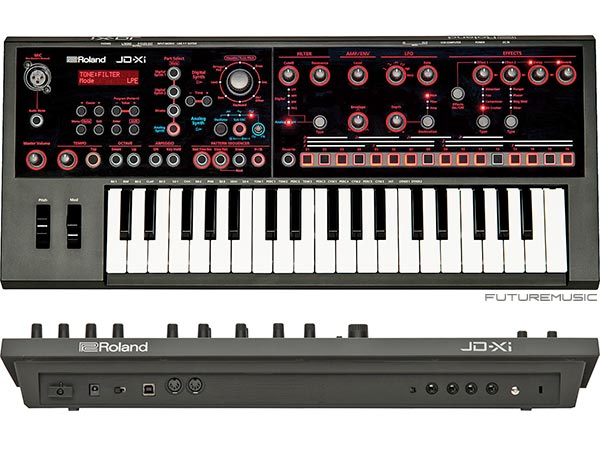 With the new crossover sound engine, Roland claims the JD-Xi gives musicians the best of both worlds: the warm, smooth response of classic analog, and the clarity and versatility of modern digital. In one keyboard, players can enjoy fat, warm analog bass and lead tones with ample controls for hands-on tweaking, plus polyphonic PCM essentials like electric piano, brass, guitar, and many others.
The newly developed analog synth section in the JD-Xi features saw, triangle, and square waveforms with pulse-width modulation and an analog filter, plus an independent sub oscillator for low-end power. Two digital synth sections offer 128-voice polyphony and a wide range of SuperNATURAL-based PCM tones for playing any style of music. Sounds can be enhanced with the JD-Xi's effects section, which includes delay, reverb, and processing options such as Bit Crusher, Slicer, Ring Mod, and others.




The JD-Xi comes with a gooseneck mic and onboard vocal effects. With the Vocoder, users can sing into the mic and control the tone and pitch via sounds played on the keyboard. AutoPitch makes it simple to achieve the robotic vocal sounds common in today's pop and electronic music styles, while the cool Auto Note function provides the ability to "sing" JD-Xi synth sounds without touching the keyboard.
The built-in pattern sequencer features four separate tracks—two digital synth parts, analog synth, and drums. Real-time and step recording modes are provided, along with a special TR-REC mode for programming in the style of Roland's classic TR-series beatboxes. Patterns can be queued up and manipulated while playing the keyboard, and many preset patterns are included for jamming right out of the box. The dynamic drum kits in the JD-Xi offer high-quality rhythm tones to support any groove. Included are many types of electronic and acoustic kits, and the drum instrument assignments are conveniently labeled above the keys for quick identification. Users can modify the sound of the kits with filter, envelope, pitch, and pan parameters.
Supporting both MIDI and audio over USB, musicians can use the JD-Xi with their favorite computer music applications. USB also provides the ability to access a growing collection of free JD-Xi patches programmed by top engineers and artists, which are available at Roland's Axial sound library site. Featuring red and black styling to match the synth, the optional CB-JDXi gig bag provides a convenient way to carry the JD-Xi and its gooseneck mic along with cables and other accessories.
No pricing or availability has been announced.



Roland