Waldorf has premiered several new products including its first Eurorack module and an iOS app. First off, Waldorf introduced the Nave plug-in for VST/AU/RTAS. The Nave comes pre-packed with dynamic sounds, including spatial pads, wavetable scans, leads, basses, and imaginative sonic environments. As a synthesizer at heart, Nave really represents a virtual playground for sound design. Its oscillators offer expanded wavetable functionality with editing facilities and an effective speech synthesizer. Anyone at all familiar with Waldorf software instruments will immediately feel right at home with the typical Waldorf workflow where sound shaping modules are always directly accessible and all arpeggiator, envelopes, effects (Phaser, Flanger, Chorus, Reverb, Equalizer, Compressor), and Modulation Matrix management controls are only one push of a virtual button away. Edited highlights include two independent advanced wavetable oscillators per voice with saw, triangle, PWM, white and pink noise (and up to eight-oscillator Überwave); two ring modulators; multimode filter (with LP/ BP/ HP, 12 dB, and 24 dB settings); three envelopes; two LFOs; and much more besides. In addition to the chromatic keyboard, Nave also includes innovative blades and pads to control the sound in different ways.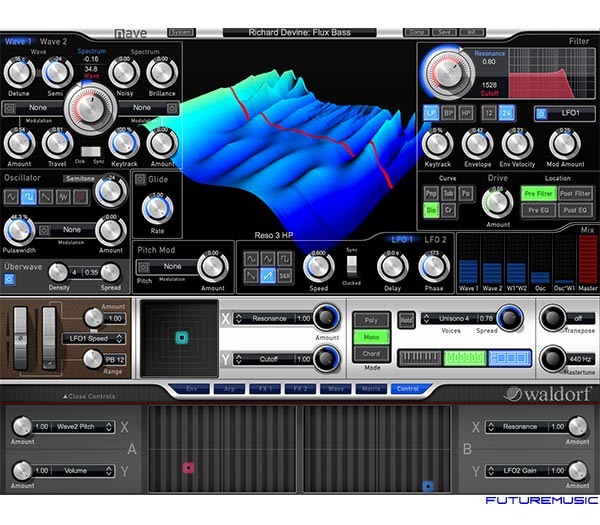 The nw1 Wavetable Module represents Waldorf's entry into the popular Eurorack modular synth system format. It includes an advanced wavetable engine with independent control of spectral envelope and noisiness — just like Nave. Wavetable scanning is cyclic with optional modulation of travel speed, position, spectrum, and more besides. By providing the worshipped Waldorf wavetable set from the company's classic (discontinued) Microwave and Wave synthesizers, this powder-coated, metal surfaced module will easily enrich any Eurorack modular synth system as a potently powerful sound source. Shrewdly, the nw1 Wavetable Module's sound engine also allows for onboard creation of user wavetables via time domain multiple foldover analysis. Any sound source can be connected to the nw1 Wavetable Module via the In 1 CV (Control Voltage) input to transfer audio into a wavetable. And if that's left you speechless then how about using its integrated speech synthesizer to translate typed text into wavetables (via a USB port with galvanic isolation)! Speaking of communicating with the outside world, two further CV inputs are also provided alongside a Gate input (for triggering wavetable travel and recording) and a main 1V/Oct CV input with Trim (for pitch control). The 32HP-width nw1 Wavetable Module comes complete with a Eurorack power connector (+/- 12V, 150mA), so it's ready for action. Simply slot the nw1 Wavetable Module into any available space in an appropriately-equipped Eurorack modular synth system to take it to a higher levels of synthesis than ever before. But be warned: you'll want to shout from the rooftops!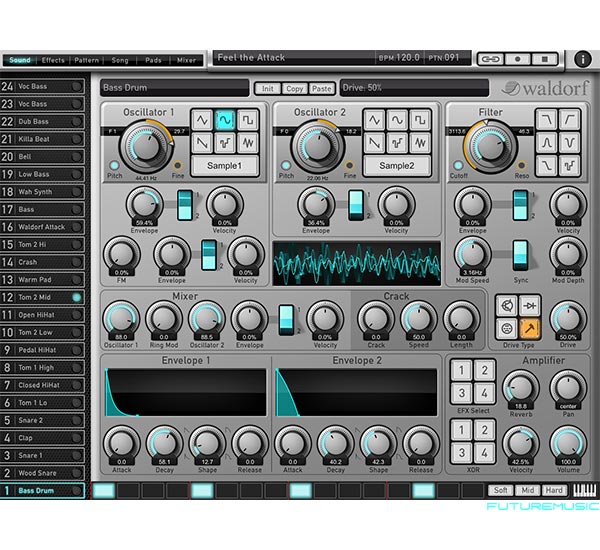 Waldorf has ported its Attack virtual drum and percussion soft synth to iOS. Available for the iPad 3 (Retina), iPad mini (1 and 2), and iPad Air (1 and 2) as iOS Attack, its sound engine is complimented by an integrated 16-step sequencer that is as fun to use as it is useful. iOS Attack offers 24 instruments — each entirely programmable through a stunning, touch- optimized user interface. Each drum sound can be enriched with one of four independent insert multi-effects with Delay, Equalizer, Drive, Phaser, Flanger, Chorus, and Phrase Vocoder.
Finally, the classic Waldorf Edition has had a visual makeover with the PPG Wave 2.2V, a virtual reincarnation of its namesake cult classic. First resurrected in 1989 with the Waldorf Microwave, today it enjoys a new lease of life in virtual studios on Mac and PC computers. Classic wavetable synthesis is known for conjuring up the feisty analog and digital hybrid sounds that have graced so many hit records over so many decades. Attack is a percussion synthesizer powered by an almighty analogue synth sound generator. It transports the trademark sounds of classic Eighties analogue drum machines and the progressive electronic club beats of the Nineties onwards and upwards into truly 21st Century production environments. As Attack computes all sounds in realtime, users can change any parameter directly. Aside from its radically revamped user interface, the new Waldorf Edition 2 version also brings an expanded effects section (with Delay, Equalizer, Drive, Phaser, Flanger, Chorus, and Reverb) into play. D-Pole completes the Waldorf Edition 2 lineup as a very versatile filter plug-in with five filter types (lowpass, bandpass, high pass, notch, and resonator), SAMPLE RATE reduction, RING MOD, OVERDRIVE (ranging up to +52 dB), and stereo delay — all in wondrous Waldorf quality, of course… just like all of its new software and hardware products!




Waldorf's Nave for VST/AU/RTAS and Waldorf Edition 2 are expected to ship during the second quarter of 2015 when they will be available for €149 and €69, respectively. The nw1 Wavetable Module is also expected to ship during the second quarter of 2015 for €329.00 EUR (including tax). iOS Attack will be available in the spring from Apple's App Store for €17.99.



Waldorf