Mixvibes has upgraded their Cross DJ app to version 2.0. The upgrade, for iPad and iPhone, features fresh graphics, a redesigned layout and an all-new waveform view.


New Cross DJ interface:
– new graphics: geometric shapes and clean textures have replaced gradients
– 2 main colors, consistent with Mixvibes graphic identity
– bold elements: bigger EQs, larger pads, full display of artwork on the decks
From a performance standpoint, the new interface brings those benefits:
– faster app runtime
– takes 2 times less space in your device: app size is 50% smaller
– scales harmoniously to iPhone 6 & iPhone 6 Plus' screens
Cross DJ for iOS layout has undergone some changes to offer an experience that is closer to what you can get with traditional hardware equipment:
– mixer is visible all the time (only on iPad)
– each deck is independent, thanks to swipeable separate tabs
– pitch bend zone is bigger – and more accurate – than ever
Hit the sync meter to access the new Waveform view. It allows not only better music visualization, but also greater control with:
– pitch-bend mode for nudging. Turn it off to scratch the waveform!
– ultra-accurate pitch sliders
– beat grid editing made simple: double or halve BPM with 1 button (iPad only)
– Numark IDJ Live 2 is now supported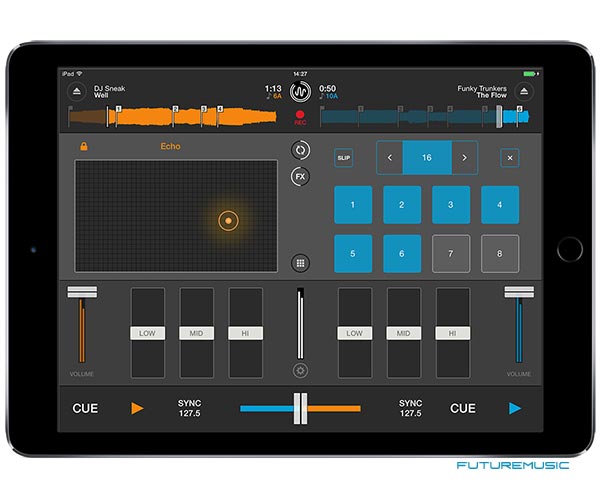 Features:
» 2 decks, 3-band EQ, crossfader, realistic scratch, large pads & controls
» Mix SoundCloud: your SC account, in Cross DJ, for free. Fast loading of tracks
» iTunes integration: sort tracks by BPM, title, artist, album or genre
» Waveform view: parallel waveforms for pitch-bending + advanced beat-grid editing
» Full-featured sampler: 8 pads, 12 sample banks + sample recording thru device's mic
» Record your mix and share it to SoundCloud, Mixcloud, Facebook & Twitter
» Automix: your tracks are mixed automatically, from any source (playlist, album, etc.)
» Key detection of any track + accurate keylock
» Quantize mode: hot cues and loops are automatically set on the beat
» Separate tabs: each deck is independent
» 14 effects: Hi & Low-Pass, Echo, Phaser, Chopper, Brake, Roll, Delay, Flanger, etc.
» Plays MP3, AAC, WAV & AIFF
» Loops (16 to 1/32), slip loop, 12 large hot-cues pads
» Pitch: keylock, wide pitch range + pitch-bend on waveforms (2, 4, 8%)
» Autosync, Autogain
» Split audio: pre-listen tracks in your headphone
» External mixer: control EQs and crossfader with hardware mixers
» Compatible with most Bluetooth speakers
» Multi-audio for USB compliant multichannel soundcard
» Optimized for Retina displays, iPhone 6 & iPhone 6 plus
» 11 supported controllers (iPad only) : Mixvibes U-Mix Control Pro I & II, Pioneer DDJ-WeGo I, Numark Mixtrack Pro I & II, Numark iDJ Live I & II, Hercules DJ Console RMX 2, Hercules DJ Control Instinct, Hercules DJ Control AIR, Vestax Spin2
MixVibes Cross DJ 2.0 for iPad is $9.99 / €8.99 / £6.99; Cross DJ for iPhone is $2,99 / €2.69 / £1.99 for a limited time. The update is free for all current users.



MixVibes