Arturia has ended the year with three significant announcements, while looking forward to continued success in 2015. First off, the French concern announced the availability of V Collection 4, a premium bundle of virtual analog keyboard synths and drum machines. The second proclamation regards the all-new Arturia Software Center (ASC), a copy-protection application, which makes accessing its software simpler. Finally, Arturia will jump into the audio interface game when they debut their first foray into this market segment sometime in 2015.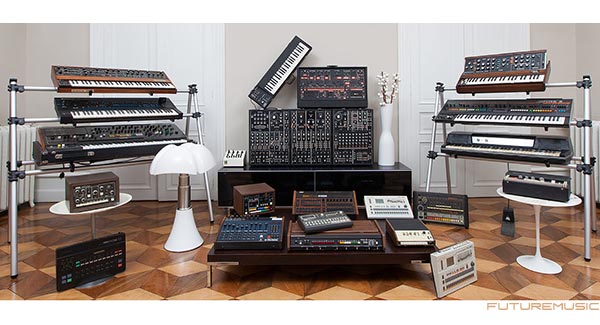 Arturia's V Collection 4 takes the premium software collection concept musically further forward, packing an even more powerful punch than its V Collection 3.0 predecessor. All 12 of Arturia's Analog Classics range of authentic- sounding software recreations of classic analogue instruments are now included, including the latest VOX Continental V (Sixties-vintage VOX Continental 300 combo organ), Solina V (Seventies-vintage Solina String Ensemble string machine), and Matrix 12 V (Eighties-vintage Oberheim Matrix-12 polysynth) additions. Also new to V Collection 4 is SPARK 2, Arturia's own sound-sculpting and beat performance software featuring over 170 drum machines and over 5,500 patterns ranging from hip-hop to many of the latest EDM genres.




Boxed versions of V Collection 4 for Mac and PC are available to purchase for $399 / €399 from any authorized Arturia dealer or online directly from Arturia here. Arturia's new ASC (see below) authorization application allows activation on up to five computers.



Arturia V Collection 4


Arturia has debuted its all-new Arturia Software Center (ASC), an authorization application that makes accessing its software simpler and less cumbersome then previous methodologies. Arturia's ASC allows users to register, activate, download, install, and update all of their instruments — those that they already own and those that they have just purchased — in one convenient place.
How so? In the first instance, ASC is automatically installed on any computer when any Arturia product protected by ASC is first installed. ASC connects users to their MyArturia account where they can view a straightforward summary online of any products that they already own and also their associated serial numbers/unlock codes. Conveniently, this webpage is synced with ASC (although ASC also works offline — useful when working in a recording studio, for example).
Product registration really couldn't be simpler… simply open ASC and click on the Add Product button; it is then added to the main ASC page and automatically synced on up to five computers (with no restrictions at all). There users can clearly see any Arturia software products that they already own. Conversely, checking out any Arturia products that they have yet to purchase is always an absorbing user experience as well, which is exactly why these are also shown on the main ASC page — providing easy access to demo versions is a surefire way of improving that particular user experience, after all.
The latest Mac (OS X 10.7 or above) and PC (Windows 7 or above) versions of Arturia Software Center can be downloaded for free.



Arturia ASC


Finally, Arturia has announced it will be entering the computer audio interface market sector when it debuts their next-generation audio interface in 2015.
As part of the company's 15th anniversary celebrations on October 3, 2014, Arturia President Frédéric Brun made the announcement during his keynote speech at the Museum of Grenoble. Here he touched upon several problems pertaining to popular portable audio interfaces that modern-day musicians have been forced to live and work with for quite some time. Some related to workflow, some to compatibility, and even audio quality.



Arturia