Audio-Technica has released the AT5045, their new, flagship instrument microphone, offering the performance of a large-diaphragm, side-address condenser in a form-fitting, stick-type body. In fact, despite the space limitations imposed by its housing, the AT5045 boasts Audio-Technica's largest single diaphragm. The microphone's circuitry has been honed to the essentials, allowing the AT5045 to achieve a dynamic range that they claim is one of the widest of any microphone on the market. If the sound is as good as this condenser "light saber" – the 5045 could find its way into many studio mic cabinets.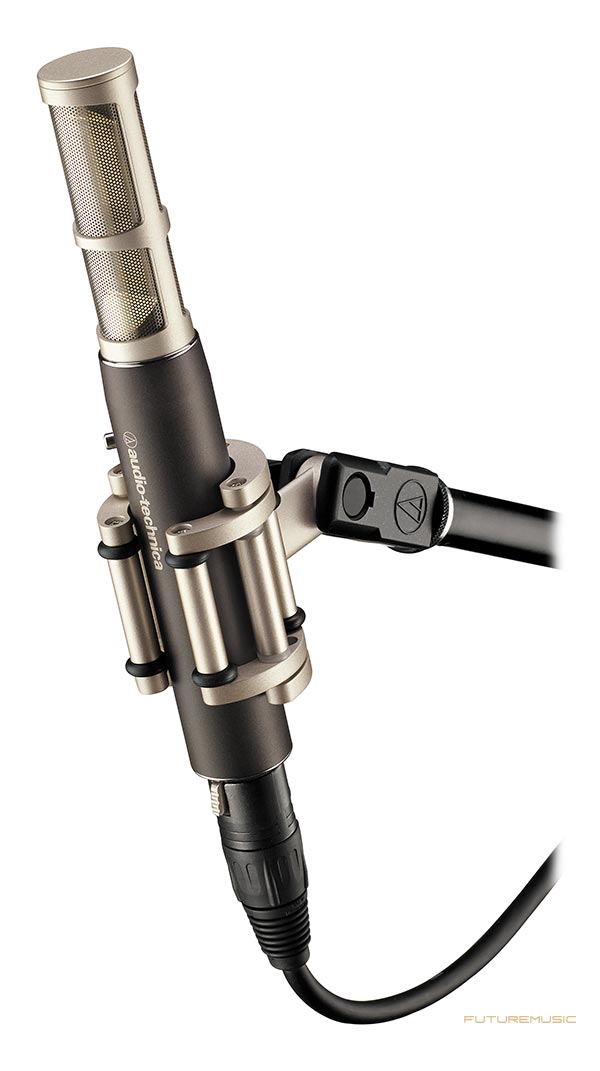 Every AT5045 is hand assembled and individually inspected for 100% quality control. Each microphone is enclosed in an elegant housing of aluminum and brass with a high-quality gray finish for durability and low reflectivity. Discrete components have been selected for optimized performance. The circuitry and capsule assembly are mounted as a single block within a floating internal shock mount, effectively decoupling the capsule from the microphone body for excellent vibration isolation. In fact, every aspect of the microphone has been carefully considered to minimize any negative effects on the audio signal.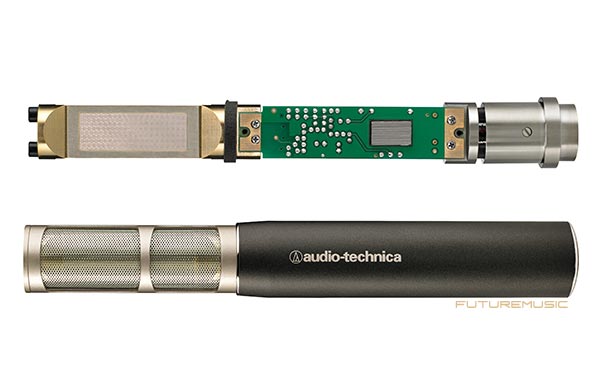 Features:
» For overheads, percussion, acoustic guitar, strings and other acoustic instruments
» Side-address, stick-design microphone with more diaphragm surface area than most traditional large diaphragm side-address microphones
» Discrete components carefully selected for optimized performance
» Transformer-coupled output is optimized to provide smooth sonic character
» Exceptionally low noise with high-SPL capability
» Hand built and inspected for 100% quality control
» Advanced internal shock mounting decouples the capsule from the microphone body
» Elegant, durable housing of aluminum and brass
» Innovative isolation clamp provides secure mounting, versatile positioning and effective dampening of unwanted mechanical noise
» Available as single microphone (AT5045) or as a stereo pair (AT5045P)
» Custom hard-shell carrying case with die-cut foam compartments offers protection for one or two microphones
» POLAR PATTERN: Cardioid
» FREQUENCY RESPONSE: 20 – 20,000 Hz
» OPEN CIRCUIT SENSITIVITY: –35 dB (17.7 mV) re 1V at 1 Pa
» IMPEDANCE: 100 ohms
» MAXIMUM INPUT SOUND LEVEL: 149 dB SPL, 1 kHz at 1% T.H.D.
» NOISE: 8 dB SPL
» DYNAMIC RANGE (typical): 141 dB, 1 kHz at Max SPL
» SIGNAL-TO-NOISE RATIO: 86 dB, 1 kHz at 1 Pa
» PHANTOM POWER REQUIREMENTS: 48V DC, 1.4 mA typical
» WEIGHT: 197 g (7.0 oz)
» DIMENSIONS: 177.0 mm (6.97") long, 25.0 mm (0.98") maximum body diameter
» OUTPUT CONNECTOR: Integral 3-pin XLRM-type
» ACCESSORIES FURNISHED: AT8481 isolation clamp for 5/8″-27 threaded stands; AT8165 windscreen




Available as a single mic or as a stereo pair, AT5045 comes with Audio-Technica's innovative AT8481 isolation clamp, an AT8165 windscreen and a protective carrying case that holds a single AT5045 microphone or a stereo pair of AT5045 microphones.
Audio-Technica's AT5045 costs about $1400 and is available now.



Audio-Technica