Rob Papen Soundware has released Punch-BD, a kick-ass bass drum virtual instrument for Mac and PC. Based around the BD module of its Punch drum synthesis/sampler software instrument, Punch-BD provides its users with the ability to stack up to six bass drums in total to comfortably create cutting-edge bass drums that will clearly cut through any musical mix.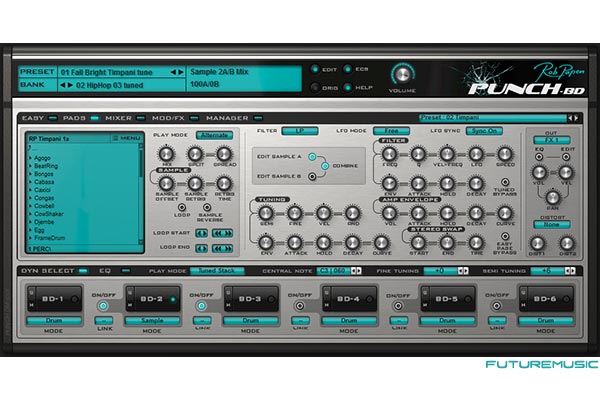 Punch-BD features the same high-quality algorithms attributed to the Punch's sound. In Drum MODE users can choose from four synthesis Models, together with a familiar-sounding range of Classic electronic bass drum samples, and also, according to Rob Papen himself, "…a nice range of built-in acoustic and fantasy bass drum samples." Elsewhere, each BD pad includes its own distortion module offering no fewer than 19 distortion types, together with a three-band parametric EQ.
Each BD pad also features a preset section next to the overall BD kit to speed up bass drum sound selection for contributing to the resultant stacked sound. Sample MODE allows adventurous users to combine two samples per pad in several ways with many samples already installed from Punch to make percussive life easier. Enterprising and adventurous users can even choose to load in their own samples for full flexibility with drag-and-drop support, though those pressed for time will appreciate added quick edit parameters for adjusting the most important parts of any given drum sound.




Like its knockout bigger brother, Punch-BD packs four FX processors with no fewer than 31 high-quality FX types with several routing options into its feature-heavy hit list, lifted higher still with further filters, envelopes, and modulation routings with which to delve deeper via various editing pages — EASY, PADS, MIXER, MOD/FX, and MANAGER — when crafting and storing signature sounds that are alive and kicking while packing a whole lot of low-end punch for not a whole lot of financial outlay. Moreover, its six sequentially-numbered BD pads can be divided across an external controller keyboard for performance purposes.
Papen's Punch-BD can be purchased as a boxed version from authorized dealers for €49.00 EUR / $59 or purchased and downloaded directly from Rob Papen's site as a 64- or 32-bit AAX, AU, and/or VST plug-in.



Rob Papen