AIR Music Technology's XPand! Instrument was exclusively part of Pro Tools' Creative Collection plug-in bundle when it debuted. However, when releasing the XPand!2 upgrade AIR made it available in a variety of plug-ing flavors to appeal to musicians, sound designers, composers and producers.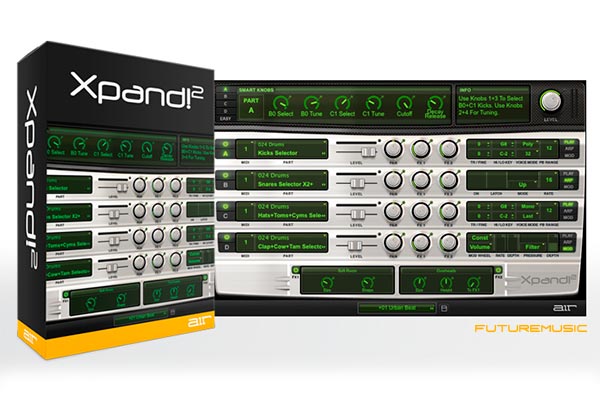 XPand!2 relies on a variety of sound creation technologies—everything from wavetables and FM synthesis to sample playback—to deliver thousands of patches created by the Air Music Technology sound design group. Sounds are conveniently sorted into categories for quick access. Editing a sound or creating new ones from scratch is simple. Six smart knobs deliver hands-on control of major parameters relating to the selected sound. In the Easy Mode, each of the six knobs now controls common parameters of all parts in a patch for rapid, on-demand editing.
XPand!2 is a multitimbral music workstation where each patch can contain up to four stereo parts, and each individual part has its own MIDI channel, Note Range (Zone), Mix, Arpeggiation, Modulation, and Effects settings. The Voice Mode for each part can be set to polyphonic or monophonic. Polyphonic parts can have up to 64 voices and monophonic parts offer First, Last, Highest, or Lowest priority making it easy to designate a bass, lead or solo instrument. A number of fun modulation routings add to the performance capabilities of Xpand!2. The advanced arpeggiator includes dotted and triplet values, as well as a useful Latch mode. Two independent processors deliver dozens of audio effects. The processors can be routed individually, or combined together in a "cascade mode" to create new results.
Features:
» Versatile multitimbral sound module instrument
» Up to four stereo instrument parts per patch
» Up to 64 voices per part; Mono or Poly voice modes
» Smart Knobs provide intuitive sound editing
» Easy Edit Knobs control the entire patch at once
» Two digital effects processors; 50 editable effect types
» Individual arpeggiation control for each part
» Over 2500 + total presets and parts
» VST, AU & AAX
» No iLok required
AIR's XPand!2 is available now for $99.99. Owners of AIR's AIR Instrument Expansion Pack can upgrade to XPand!2 for $49.99.



AIR