By Dan Brotman
Special To FutureMusic
With the most fanfare of any Apple event since the passing of Steve Jobs, Tim Cook & Co. presented Apple's future of mobile technology. The Dog 'n' Pony show was one of the longest Apple events in memory, and even featured the "one more thing" tagline that Jobs made famous in his heyday.
Apple addressed the latest market trend – "phablets" – with enlarged iPhone 6 and 6 "Plus" models that feature 4.7 and 5.5 Retina HD displays respectively. As someone who carries their phone in my pocket, I'll be opting for the 4.7 model since I don't want to utilize a wheelbarrow to transport my "mobile" phone (the "Big and Tall" model will not fit comfortably into a pair a jeans). However, with screen sizes over 5 inches accounting for over 40% of the global market last quarter according to data from Canalys, my "aren't mobile phones supposed to be small" inclination is not aligned with recent trends. Why? Simply because I actually talk into my iPhone to converse, while millennials never do.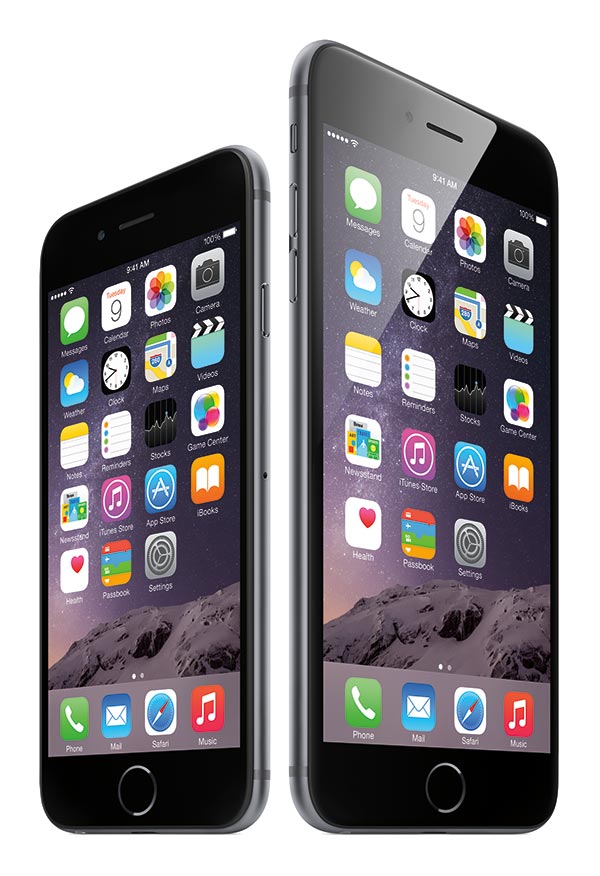 With the new curved edges and rounded, almost feminine design cues, not to mention the 6.9mm thickness, the iPhone 6 feels great in the hand. The reveals (areas when two different pieces come together) are tighter than two coats of paint and Apple still stands heads and shoulders over its mobile competitors in terms of materials and finish. The only detraction the protruding camera lens, which just seems out of place. However, since most users will shoehorn their shiny new 6 into a case, this won't make much of an impact.
While the aesthetics are class leading, I was much more concerned with what was going to be under the hood and how the new model could potentially transform mobile music. Apple did not disappoint here. The all-new 64-bit A8 chip, which was pretty much predicted across the board prior to the event, increases overall performance, while getting better gas mileage. However, other task specific processors were also announced, including a proprietary image signal technology that allows for significantly advanced camera and video features (the iPhone 6 should put the final nail in the coffin of the consumer camcorder market with its enhanced lens and sophisticated image stabilization).
The new M8 motion coprocessor manages the motion data from the accelerometer, gyroscope, compass and the brand-new barometer (think ski run tracking, weather predictions). While the M8 motion coprocessor, which can continuously measure your motion data, will be a godsend to fitness nuts, especially with the new iOS 8 Apple Health app, it will also turn up in music performance apps to modulate parameters. This is nothing new to music apps where effects, filters and more can be tweaked, but the dedicated processor will translate to more accuracy and performance. The increased resolution and screen sizes, married to the graphics engine will result in more accurate multitouch gestures and even more liquid and detailed graphic user interfaces. Win, win, win.
I found the Apple Pay announcement for mobile payments to be a savvy bet on several levels, especially with all the recent high profile security breaches. Google, eBay and others have ventured into this realm, with little success, but Apple will progress where others struggled, since they have a trusted brand, enormous global user base, and will be able to obtain buy-in from retailers, an area where other mobile payment schemes were unable to gain traction. What many haven't mentioned was the incredible upside from the ability to collect purchasing data. Yes, Apple will be able to offer proximately coupons, but understanding consumer's purchasing behavior in a variety of metrics, will allow them stay ahead of their competition in their hardware and software divisions, not to mention translate the Apple Wallet to exciting new arenas. For music, this will translate into expanded ticketing, guest list and merch options.
Analysts have pretty much dumped on the Apple Watch, a product that the Apple faithful have been waiting on for some time. Poo-pooing the battery life, high price point and the fact that wearables haven't created much revenue, these individuals missed the whole point. Despite the high price, Apple faithful will jump before looking. Think 15 to 20% of their user base from the get-go, now calculate the 30-40% profits. Whoa…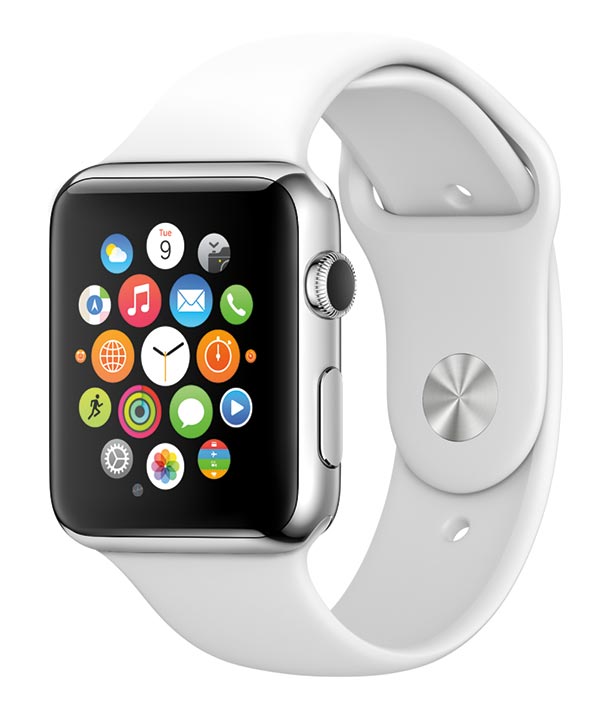 Cook, Apple's CEO, stated that the watch had been in development for several years and it showed. Featuring a vast array of exciting new technology, including pressure-sensitive, Sapphire-glass "aftertouch." I was awed at the offering. In fact, I remember having the same sensations when the first iPod was released (and encountered much of same criticism).
Sure version 1.0 has to be plugged in each night to charge. Yes, it's a little bulky. And, without a doubt, a watch, which starts at $349 and will go much higher with the Edition models, is spendy. However, there was palatable technolust in the audience, which reverberated around the Internet. The Apple Watch will be the must have gadget of 2015. Period.
For music, one will instantly recognize the multitude of sensors, which can be harnessed for X/Y control on several apps, Korg's Kaossilator instantly comes to mind. The Sapphire glass can detect pressure, which I joking dubbed aftertouch above, but has real world usage for music apps. However, what was really apparent, is how the Apple Watch will be used by consumers to interact with each other (and stage performers) on a very personal level. The heart rate sensor can obviously be used by performers to indicate a level of engagement, or even when revelers at a club need "slow dance" to grab a drink, or a boost to get "All The Ladies" shakin' on the floor. However, what about having the sketch pad show up on a stage screen? Instead of "drunk writing" your girlfriend, you can actually be part of the show. How about a DJ pinging Watch wearers the name of each song being played, something that Richie Hawtin does via Twitter? Apple Pay will also work with the Watch, eliminating panicked calls to cancel all of your credit cards…after waking up on a strange couch the next day and discovering your wallet has "gone missing."
I loved the Watch's magnification GUI! Instantly intuitive, easy to use and slick. The "crown" – just like the original iPod's wheel – will eventually go away. It's fun and a visual cue to the watch paradigm of yore, but it's clumsy, leaves out lefties, and will become a breakage issue. A single touch strip below the face will ultimately replace it. The swappable bands for the watch were also brilliant, and will create a massive third-party market. Connected bands in the future may allow for the addition of another tactile input, but we'll have to wait for Apple Watch 2 or 2+.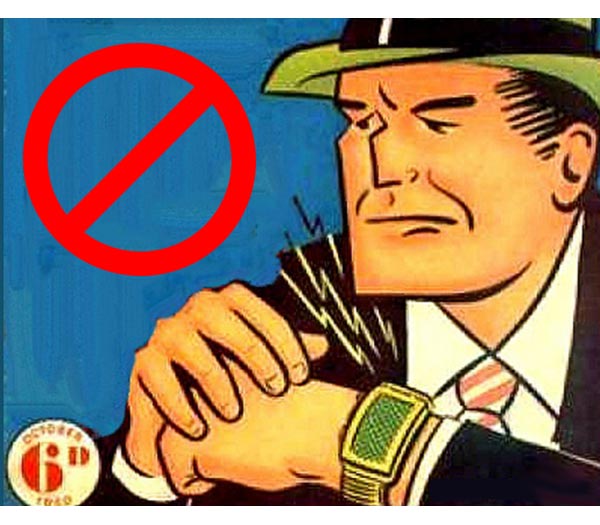 Another distinct feature, which Apple left out for a future incarnation, was Dick Tracey Mode. Being able to have a phone conversation via a simple Bluetooth connection on the Watch without having to take out your phone, would have been a killer feature (Can you imagine the drool that would have immediately appeared on the floor of Apple's ad agency if that was part of the initial feature set??) Instead, Apple did offer up an Audio Message feature, which could eventually be used for some sort of iMessage social media implementation. However, aside from high-school kids sending each other farts and belches, no one's going to use Audio Message outside of person dictation notes in the present incarnation.
The biggest problem with the Apple Watch announcement, was that it won't debut until after the holidays. Sure Apple will have said it was a strategic decision. Have the devotees upgrade to the new iPhone 6 and then when they're flush with disposable, holiday gift cards, spring the Apple Watch on them, a one-two retail punch. However, in the US cellular market, where the competition between AT&T, T-Mobile, Verizon and others is white hot, we're already witnessing unprecedented discount offers right out of the gate, something that never happens with the premier of a new model. In fact, trading in an iPhone 4 will get you a brand spanking new, 16GB iPhone 6…for free on Verizon! That's right, Verizon, not Sprint, not T-Mobile. Expect even more aggressive offers in the coming days.
All in all, it was an amazing afternoon for Apple. When Tim Cook trotted out U2 who gave away their unannounced, new album for free, no one even cared. Debuting a tepid single didn't help, but everyone was so focused on the new hardware that even Bono couldn't increase the audience's heart rate. The only thing the audience wanted to do was get their grubby paws on the new gear. There's only one company on the planet who can eclipse a juggernaut like U2…and that should tell you something about how consumers will embrace the new iPhone and Apple Watch.
The Future: Is the U2 album giveaway a new music business model for Apple Beats?