Prince has announced two new studio albums, Art Official Age and PlectrumElectrum, to be released globally via Warner Bros. Records on September 30th. Art Official Age is a solo album and PlectrumElectrum is by Prince's new band 3RDEYEGIRL.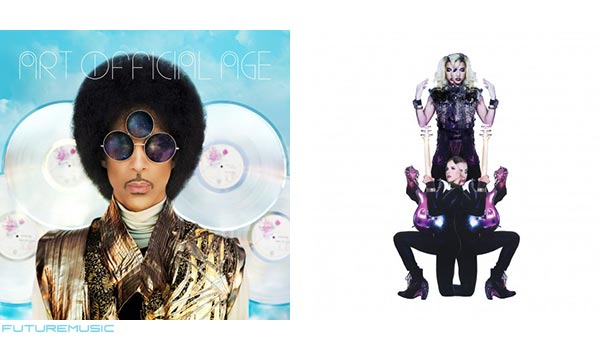 Both albums, which are sold separately, are now available for pre-order via digital retailers and online. Early buyers will be able to unlock 'instant grat' tracks from each record. 2014 has been a busy year for Prince. Together with 3RDEYEGIRL, he rocked UK and European audiences with his sell-out 'Hit & Run' tours, and in April, NPG Music Publishing was launched, marking the first time Prince's vast publishing catalog has been independently controlled and administered in over twenty years. All of this in addition to headlining and curating the Essence Festival on July 4th in New Orleans and a much talked about appearance on hit TV show 'New Girl'. 2014 has underlined that Prince continues to innovate and surprise, thrilling his fans and welcoming a whole new audience in the process.
The brand new studio albums mark a return to Warner Bros. Records, Prince's original label home. The renewed partnership came after the announcement that Warner Bros. Records returned to Prince the master recordings of his pioneering 1980s albums, including Dirty Mind, 1999, Purple Rain and Sign 'O' the Times.
Art Official Age claims to be a classic Prince album, produced, arranged, composed and performed by Prince and Joshua Welton. Sonically the record is a contemporary concoction of soul, R&B and funk. The melodies are immediate and prominent as ever and Prince's vocals are rich and solid, taking full advantage of his vocal range with decidedly, seductive lyrics.
PlectrumElectrum asserts that it's a classic band record, with members including Prince, Donna Grantis (guitar), Hannah Ford Welton (drums) and Ida Nielsen (bass). Recorded live and in analog the album is an electrifying funk-rock statement. Many of the tracks from PlectrumElectrum were performed live on the 'Hit & Run' tours of the UK earlier this year, which led The Guardian to declare "These are performances by one of the greatest funk-rock bands ever."
The track-listings for 'ART OFFICIAL AGE and 'PLECTRUMELECTRUM' are as follows:
Art Official Age Track List:
ART OFFICIAL CAGE
CLOUDS
BREAKDOWN
THE GOLD STANDARD
U KNOW
BREAKFAST CAN WAIT
THIS COULD BE US
WHAT IT FEELS LIKE
affirmation I & II
WAY BACK HOME
FUNKNROLL
TIME
affirmation III



Prince



PlectrumElectrum Track List:
WOW
PRETZELBODYLOGIC
AINTTURNINROUND
PLECTRUMELECTRUM
WHITECAPS
FIXURLIFEUP
BOYTROUBLE
STOPTHISTRAIN
ANOTHERLOVE
TICTACTOE
MARZ
FUNKNROLL



3RDEYEGIRL