The USB 3.0 Promoter Group announced the completion of the USB Type-C specification that defines the next generation USB connector. The USB Type-C specification establishes a new cable and connector scheme and opens the door to exciting new applications in the realm of DC power distribution into buildings, video transmission, accessory support and higher communication speed.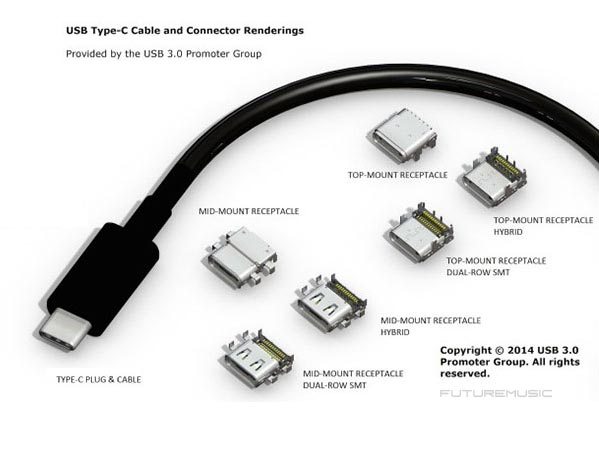 The reversible USB Type-C specification defines the physical USB Type-C cable and connector form factor along with the functional requirements for detecting and managing USB connections over an extensible wiring architecture. This new cable and connector supports USB performance at SuperSpeed USB 10 Gbps (USB 3.1) and USB Power Delivery up to 100W.
Features:
» Entirely new [smaller] design
» Tailored for emerging product designs
» Robust enough for laptops and tablets; slim enough for mobile phones
» Similar to size of USB 2.0 Micro-B
» Reversible plug orientation and cable direction
» Supports scalable power charging
Mechanical Specs:
» Receptacle opening: ~8.4mm x ~2.6mm
» Durability: 10,000 cycles
» Improved EMI- and RFI-mitigation features
» Power delivery capacity: 3A for standard cables and 5A for connectors
The new USB Type-C plug and receptacle will not directly mate with existing USB plugs and receptacles (Type-A, Type-B, Micro-B, etc.); however, the USB Type-C specification defines passive new-to-existing cables and adapters to allow consumers to use the new connector with their existing products.
The release of the USB Type-C specification is the final piece in developing a single-cable solution. The combination of SuperSpeed USB 10 Gbps and USB Power Delivery up to 100W with the slim, user-friendly USB Type-C connector provides additional possibilities. An ideal example use case is a docking solution that features a single USB Type-C cable connection to dock and power your PC, and a hub within the dock that can connect multiple screens streaming video with additional bandwidth available for many other functions. USB is an adaptable solution that is flexible enough to fit the varied needs of consumers.
Developers interested in implementing the new USB Type-C specification have the opportunity to learn technical details at upcoming developer conferences currently being planned.



USB Promoter Group