Waves has introduced the SoundGrid Studio System, a real-time processing and networking platform designed to allow a DAW to offload its plugin processing, enable devices to communicate with one another and enhance collaboration. The SoundGrid Studio system integrates seamlessly with all DAWs and SoundGrid-compatible I/Os, providing flexibility for setups of every size—from a single DAW with one SoundGrid I/O, to an entire network of host computers, I/Os, and SoundGrid DSP servers.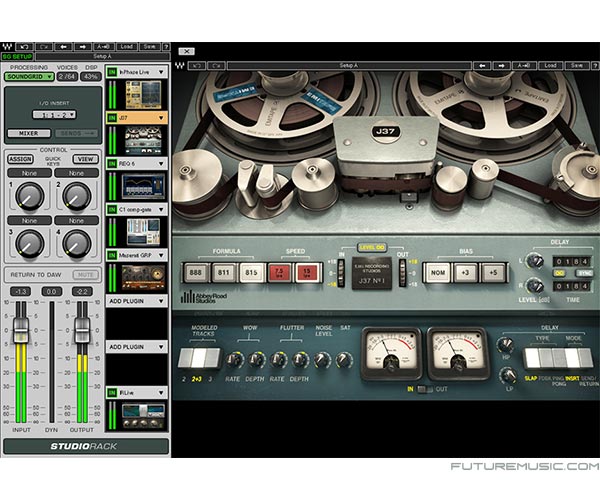 Features:
» Real-Time Processing – Run hundreds of plugins simultaneously
» Low-Latency Monitoring – Track and rehearse with full-on plugins in low latency
» Networking – Connect everything and everyone through a centralized hub
» Seamless Integration – Connect multiple DAWs using the SoundGrid ASIO/Core Audio driver
» Open Architecture – Compliant with SoundGrid-compatible Waves and third-party plugins
» Components SoundGrid Studio Application – For managing the SoundGrid network on your host computer
» eMotion ST Mixer – Low-latency monitoring for tracking and rehearsing
» StudioRack – For running plugin chains, saving & loading their presets, and offloading their processing to a SoundGrid DSP server
» SoundGrid ASIO/Core Audio Driver – Connects any DAW to the SoundGrid network as a software I/O How the SoundGrid Studio System Works
» Connect all your audio devices to the SoundGrid network using a SoundGrid I/O.
» Setup and route your devices from within the SoundGrid Studio Application.
» Instantly achieve real-time:
— NetworkingProcessing (using StudioRack and a SoundGrid DSP server)
— Monitoring (using the eMotion ST mixer)
eMotion ST is the mixer part of the SoundGrid Studio system. Combined with StudioRack, it lets you run SoundGrid plugins for low-latency monitoring, giving you complex monitor mixing options while recording with your DAW. eMotion ST contains 8 multi-purpose inputs, 64 additional StudioRack input channels, 2 FX busses, 6 mix busses, and a main stereo mix. Since the mixer operates within the SoundGrid network, any available SoundGrid-compatible I/O device, whether hardware or driver-based, can provide it with inputs and outputs. The eMotion ST mixer can run hundreds of Waves and third-party SoundGrid-compatible plugins in low latency, replacing in this respect the external mixer traditionally used to create monitor mixes for studios and headphones.
eMotion ST Features:
» 8 multi-purpose mono/stereo input channels
» 2 stereo FX aux buss/returns and 6 stereo aux buss/returns
» Up to 64 mono channel feeds from StudioRack plugins
» 8 insert slots per channel for SoundGrid plugins
» Connects to multiple SoundGrid-compatible devices and hosts
» Compliant with SoundGrid-compatible Waves and third-party plugins
» Fully integrates with StudioRack
» Enables use of SoundGrid plugins as standalone processors for any purpose
» Requires at least one SoundGrid I/O and a DSP server




StudioRack is a software rack designed to run plugin chains, giving you the choice of directing the processing to a SoundGrid DSP server or to your host computer's CPU. When processing your plugin chains on SoundGrid, StudioRack lets you monitor your tracks in low latency via the eMotion ST Mixer. Compatible with most popular hosts, StudioRack has a dedicated component for Pro Tools TDM and HDX systems, giving you access to both Avid and Waves offload capabilities.
StudioRack Features:
» Compatible with most native DAWs
» Bridges Pro Tools HD and HDX DSP with the SoundGrid DSP server in order to process plugins in low latency while recording
» Compatible with Waves and third-party plugins
» Plugin chains used for low-latency monitoring are instantly available for mixing as wellUp to 8 plugins per rack
» Presets for plugin chains can be saved to and loaded from any DAW
» Quick access to plugin parameters within your chain
» Intuitive MIDI control over all pluginsAvid Control Surface support




Waves