Neumann Debuts TLM 107 Large-Diaphram Condenser Microphone
Neumann has debuted the TLM 107 a compact, large-diaphragm condenser microphone that claims to provide level stability, low self-noise and precision reproduction without any coloration.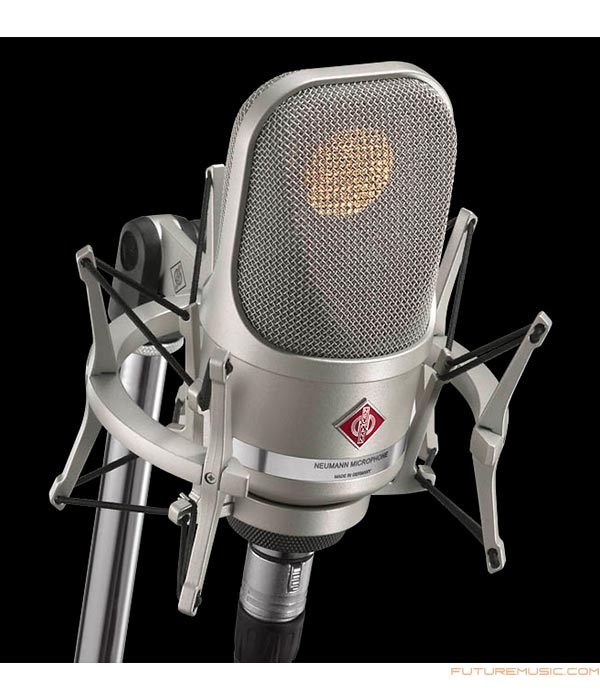 The newly developed sound transducer, which was designed especially for this microphone, features five polar patterns, omnidirectional, cardioid and figure-8, with the intermediate patterns wide-angle cardioid and hypercardioid. The TLM 107 provides linear reproduction up to 8 kHz, and a slight boost in the highest frequencies that lends presence and freshness to the voice. Here particular attention has been paid to the natural reproduction of speech sounds, especially the critical "s" sound. The grille is acoustically optimized for low sensitivity to pop sounds. In addition, the sound transducer is edge-terminated, with both diaphragms at ground voltage.
Transformerless circuitry permits a high degree of linearity and a large dynamic range. The claimed self-noise of only 10 dB-A is practically inaudible. The maximum sound pressure level of 141 dB SPL can be increased to 153 dB SPL via pre-attenuation (Pad). This enables the TLM 107 to transmit the sound of even the loudest instruments without distortion. The Low Cut settings of Linear, 40 Hz, and 100 Hz are precisely adapted to practical recording situations. Without side effects, the 40 Hz setting cuts interference noise below the range of fundamental tones (where 41 Hz is the frequency of the double bass open E string), while the 100 Hz setting is optimized for speech and vocals (where 100 Hz corresponds to the lowest notes of a baritone).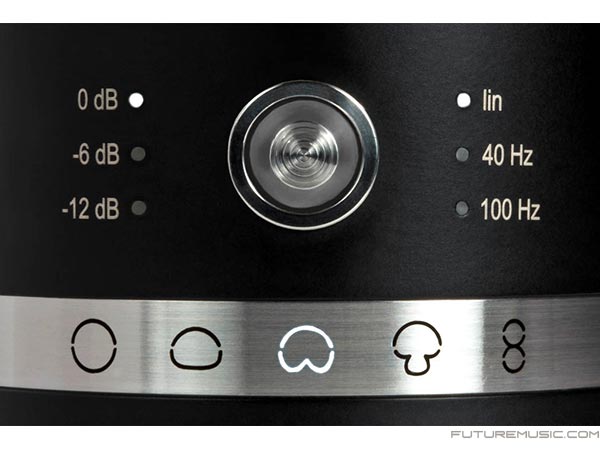 Specs:
» Acoustical operating principle – Pressure gradient transducer
» Directional pattern – Omnidirectional, wide angle cardioid, cardioid, hypercardioid, figure-8
» Frequency range – 20 Hz — 20 kHz
» Sensitivity at 1 kHz into 1 kohm 11 mV/Pa
» Rated impedance – 50 ohms
» Rated load impedance – 1 kohms
» Equivalent noise level, CCIR1) – 22 dB
» Equivalent noise level, A-weighted1) – 10 dB-A
» Signal-to-noise ratio, CCIR1) (rel. 94 dB SPL) – 72 dB
» Signal-to-noise ratio, A-weighted1) (rel. 94 dB SPL) – 84 dB
» Maximum SPL for THD 0.5%2) – 141 dB
— with preattenuation -6 dB 147 dB
—with preattenuation -12 dB 153 dB
» Max. output voltage for THD < 0.5 % - 10 dBu » Power Supply (IEC 61938) - P48 » Current consumption - 3.2 mA » Required connector - XLR 3 F » Weight - 445 g » Diameter - 64 mm » Length - 145 mm For the first time, all of the microphone switch functions are controlled intuitively via a navigation switch. A visual highlight is the illuminated pattern display in the chrome ring, while the Pad and Low Cut status is displayed by LEDs to the left and right of the switch. In order not to distract singers, the switch and display are located on the back of the microphone. After 15 seconds, the displays are turned off automatically. Delivery Package The Neumann TLM 107 is available now in matte nickel and black for $1700. A stand mount (SG 2) is included.
Neumann