Dave Smith Instruments has announced the Pro 2, an all-new monophonic synthesizer. A hybrid instrument, the Pro 2 features four digital oscillators (plus sub-oscillator) with superwaves and newly-designed, dual analog filters inspired by classic designs. The filters (one low-pass and one state-variable) can be run in series or parallel, with the state-variable filter providing low-pass, notch, high-pass, and band-pass modes. Oscillators can be routed in pairs to either filter for a variety of tonal possibilities.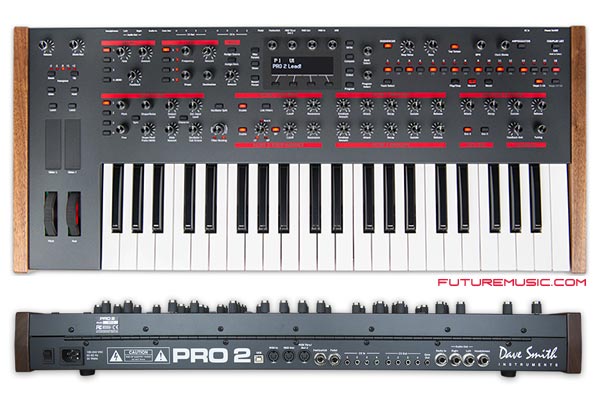 A multitrack step sequencer is also on board and operates in 32 x 8, or 16 x 16 mode, allowing real-time input. It can sync to external MIDI clock and can also be driven by an external audio input. Sequences can control not only oscillator pitch, but any parameter in the Pro 2's extensive modulation matrix. It supports both rests and variable-length sequences.




The Pro 2 contains four, rear-panel control voltage inputs and outputs, which make it compatible with modular synths. The control voltages can be assigned and routed from within the modulation matrix and can run at audio rates for extreme modulation effects.
Even though Smith designed it primarily as a very powerful mono synth, it's actually 4-voice paraphonic, so you can play four notes simultaneously. In paraphonic operation, the four individual voices share a common filter and envelopes. Paraphony has gained popularity in recent years and was found in such vintage instruments as the ARP 2600 and ARP Odyssey, which were duophonic.
A multimode arpeggiator is also included: 4 stereo, multi-tap delays with analog modeling; 4 LFOs; tuned feedback; analog distortion; Character controls with sound sculpting options such as Drive, Hack, Decimation, Girth, and Air; and extensive modulation possibilities. The LFOs, delay, and arpeggiator can be synced to either the internal clock or an external MIDI clock. Two programmable position- and pressure-sensitive touch sliders and pitch and mod wheels provide nuanced control over live performance.
Dave Smith Instruments Pro 2 will be available next month for $1,999.
Dave Smith Instruments