Positive Grid Releases Final Touch – iPad Mastering App
Positive Grid has released of Final Touch, a mastering suite that combines seven mastering tools into one integrated system. The Pre and Post linear phase EQ modules consist of eight independent bands, each providing a choice of five different types of parametric filters: Hi-Pass, Low-Shelf, Peak, Hi-Shelf and Low-Pass. The Dynamics module offer highly flexible stereo/mid-side multiband compressor/limiter. The Stereo Imaging module adjusts the width of your mix, corrects L/R channel imbalances and checks mono compatibility. The Reverb module offers flattering room, hall and plate algorithms to sweeten overly dry mixes, providing continuously variable controls for independently adjusting Pre-Delay, Decay Time, Early Reflections and Room Size. The Maximizer module limits peaks and raises the average level of your mix, thereby increasing loudness. Comprehensive dither and noise-shaping options are also provided in this module.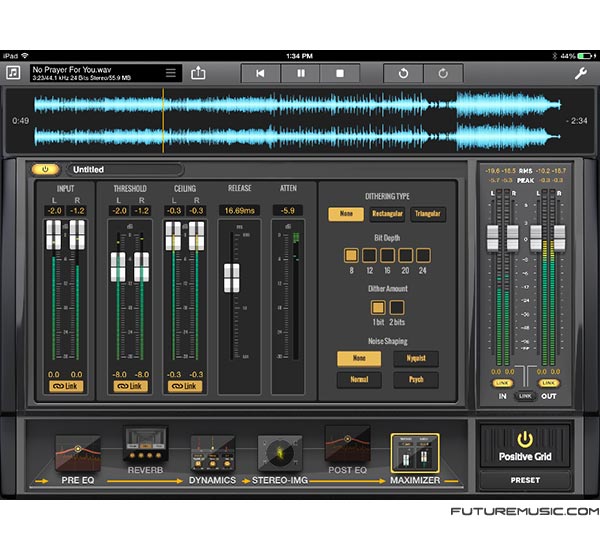 Features:
» Complete iPad Mastering system
» Linear Phase Pre and Post Equalizers, each offering eight bands and five filter types
» Multiband Dynamics with four independent bands of compression/limiting
» Stereo Imager adjusts the width and balance of soundstage
» Reverb provides Room, Hall and Plate algorithms
» Maximizer transparently limits peaks to make your mix louder
» Dithering and Noise-Shaping preserves your mix's depth and nuance
» Stereo and mid-side processing
» High-resolution, multi-colored metering with accurate readouts
» Each module can be independently bypassed
» Bypass switches for individual EQ bands
» Left, right, mid and side channels can be independently soloed or bypassed
» Waveform overview of your mix, with draggable playback cursor
» 100 factory presets and unlimited user presets
» Global and module-based presets
» Drag and drop modules to rearrange their order in the signal path
» Share via Email, Dropbox, iTunes, SoundCloud and FTP
» Streamlined project management: browse multiple projects with one simple tap
» Workflow optimized for mobile and desktop data transfers
» Supports Inter App Audio and Audiobus routing system (works with many other audio apps)
» Supports iPad 2, iPad mini and newer iPad devices
» Designed for iOS 7



Positive Grid's Final Touch will set you back $19.99 and is available now from the iTunes App Store.
Positive Grid