Musik Messe 2014 Roundup
Hey there race fans! We're back from Messe and here's some highlights:
Allen & Heath
Allen & Heath unveiled the Xone:23C, a companion DJ mixer featuring a 24bit/96kHz four channel (two stereo) USB sound card and analog Voltage Control Filter (VCF) system, offering Low-Pass and High-Pass filters, frequency sweep and mild to wild resonance control (I wish I could have one of those controls on my girlfriend —Ed.).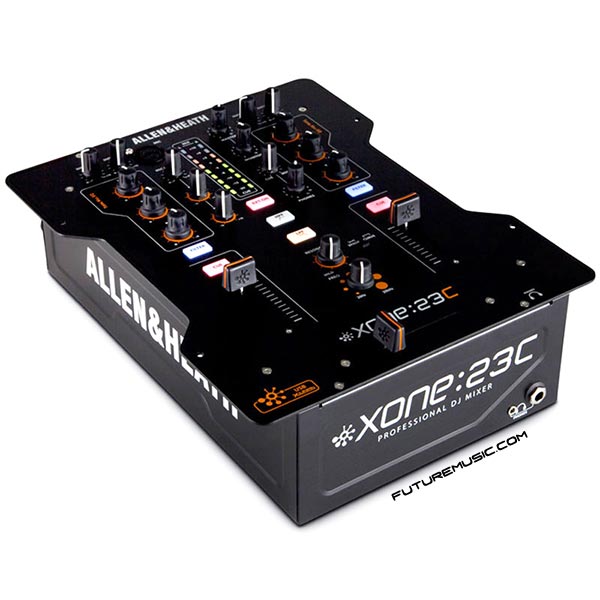 The two stereo channels feature independent level controls for each of individual inputs and send/return for external effects routing. The cross fader can also be upgraded with the latest Innofader for enhanced scratch performance, available as an accessory from Allen & Heath.
The main mix output and mic input are balanced XLR's, and there's a booth output with its own volume control, a cue mix control, and signal levels clearly displayed on the nine segment peak hold meters, as well as soft touch, backlit controls, light-piped meters and a new faceplate design.
Allen & Heath


Roland
Roland trotted out a Sync Box for their new AIRA reboots. It was just a prototype, but could see the multidimensional interface by the fourth quarter to keep the AIRA lineup all tidy with all sorts of other legacy gear. The Sync Box sported connections for USB, DIN, CV (control voltage) and MIDI. Although the interface is likely to change, the front panel had source selection and whether to act as a Master or Slave. A tap tempo pad allows you input the tempo manually.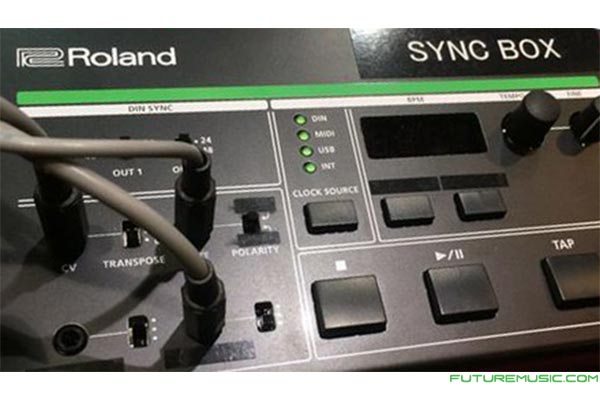 The biggest takeaway was that Roland had a VERY different vibe at the show. Electronic music industry watchers were amazed at how open the company appear often asking FutureMusic staffers what they thought of this product or that idea. A far cry from the days of Mr. K at the helm. This created much-needed positive buzz around the company, but here's the kicker…the folks that spearheaded the new AIRA lineup, which marked a decidedly new chapter for the iconic manufacturer, are a separate spin off from Roland corporate. The new entity, dubbed the Roland Product Group, is acting as more of a startup, has its own offices and seemingly its own way of doing things. Hopefully, we'll continue to see forays into products we can get excited about like the AIRA lineup.
Roland


Pioneer
Pioneer had their new DDJ-SZ on hand, which features full-sized jog wheels from the CDJ-2000NXS, illuminated cue point markers, large Performance Pads with customisable multi-colored Hot Cue LEDs, and two USB sound cards. It is the only controller with an On Jog Display – which introduces a unique digital sticker illumination with cue point countdown and track playback position – so DJs can perform precision scratches without looking at their laptop screen. Pretty damn innovative and works pretty well, as long as you're under forty and don't need reading glasses. These "wheels of steel" contain Jog Feeling Adjust, brake speed, and conductive technology for better response.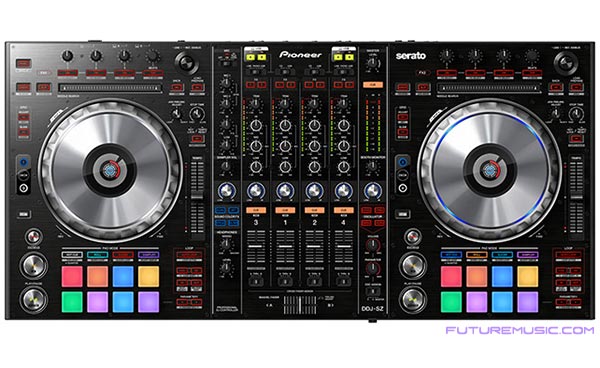 The new larger, velocity-sensitive Performance Pads, worked well within the SZ context and allows access to quantized Hot Cues, Slicer, Roll and Sampler. The multi-colored LEDs show which mode is in play and match cue point colors in Serato DJ. The DDJ-SZ has has solid DVS control and four mixer channels and two dedicated MIC channels. Sound Colour FX can be linked to the sampler, MICs and Master channel and tweaked with a high/low pass filter on each channel. Further hands-on controls include Oscillator FX, Slip Mode and Reverse, and dedicated plug-and-play access to all Serato DJ's features.
The DDJ-SZ should be available any day now for $1999 / €1999 / £1749.
Pioneer had a full-on Technics 1200 reboot under glass at the show. It seemed like they were using the show as a large-scale "focus group" to gauge interest in the "new" deck. They wouldn't say anything officially, and just kept asking "whadda you think?" We got bored and left…
Pioneer


Akai
New Ableton Performance Controllers
Akai trotted out three new Ableton Live controllers, the APC40 mkII, APC Key 25, and APC mini. The "reimagined" (translation: better build quality) APC40 mkII incorporates five years of user feedback (For instance: "Hey Akai, why do the fader tabs never stay on?" or "How come the caps of the knobs keep popping off?") into its design for "extended functionality, countless musical capabilities, and improved workflow." The APC40 mkII features a 5×8 RGB LED clip-launching matrix, assignable A/B crossfader, 8 rotary knobs, 8 channel faders, and a send button for quick access to send busses. Included with the APC40 mkII is a suite of software, samples, and loops for out-of-the- box electronic music production: Toolroom artist launch packs, Prime Loops sample packs, Hybrid 3 by AIR Music Technology, and SONiVOX Twist give users endless music production possibilities with hand-selected samples & loops and high-definition virtual synthesizers. The APC40 mkII is USB-powered and supports plug-and-play.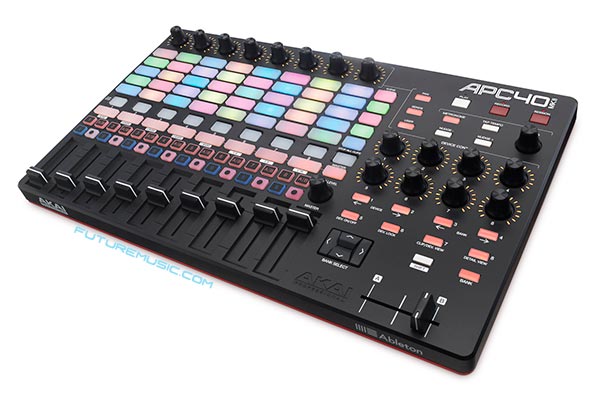 Features:
» Provides hands-on control of Ableton Live with visual feedback
» Seamlessly integrates with Ableton Live
» 5×8 clip-launch matrix with RGB feedback for clip status, color coding, and more
» 8 channel faders, 1 master fader, and 8 device controls map to Ableton directly
» Send button cycles through all 8 send busses for advanced routing options
» USB-powered and plug-and-play setup for maximum portability
» A/B crossfader can be assigned on the fly for dynamic mixing
» Revised knob layout with in-line controls for smarter workflow
» Includes Ableton Live Lite, Hybrid 3 by AIR Music Tech, SONiVOX Twist, Prime Loops & Toolroom Records launch packs (downloads)
The APC Key 25 controller is equipped with a keyboard. Uniting the power of a clip-launching panel with a keyboard interface, the APC Key 25 couples real-time control of Ableton Live with traditional composition tools. The controller includes 25 synth-action mini keys, a 5×8 clip-launch matrix with tri-color visual feedback, 8 control knobs, USB power, and plug-and-play connectivity. The APC Key 25 comes mapped to Ableton, but can also be used as an all-purpose MIDI controller.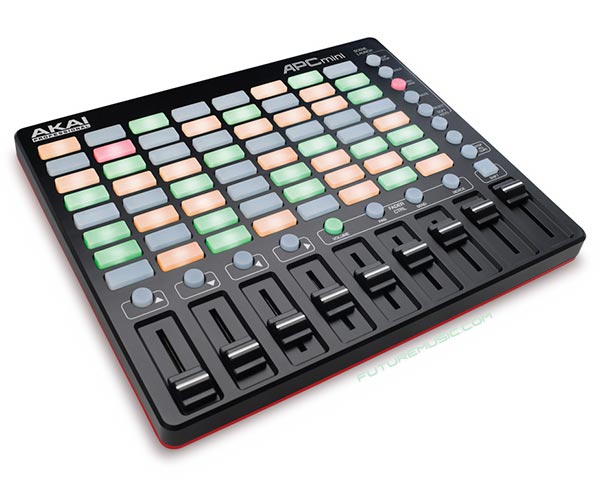 APC mini is a portable all-in-one Ableton controller solution that is specifically engineered for the mobile musician or producer. An expanded 8×8 multicolor clip-launching grid, 8 channel faders, and a compact chassis provide hands-on control over Ableton Live with a small footprint. The APC mini is also USB-powered and supports plug-and-play.
The Akai APC40 mkII, APC Key 25, and APC mini will be available sometime this Summer 2014.
Akai has unleashed the Rhythm Wolf, an analog drum machine and bass synthesizer module with built-in sequencing. The Rhythm "Woof" claims to be an authentic analog instrument (although Akai declined to provide audio samples at Messe) that combines iconic analog sounds for music production and performance.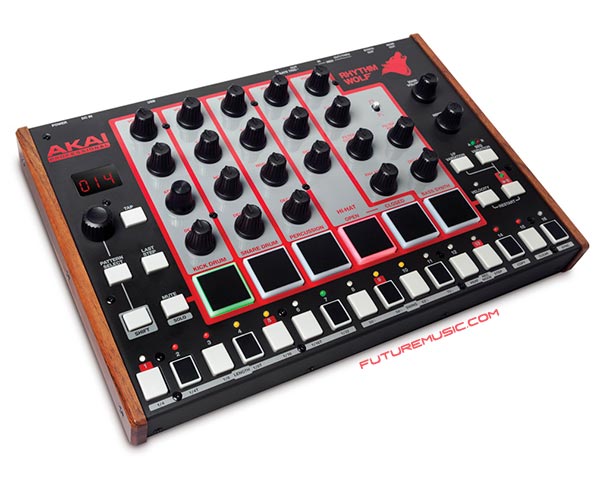 The drum machine consists of five drum sounds: a kick, snare, open hi-hat, closed hi-hat, and metallic percussion. Onboard controls allow users to customize the tuning, amplitude envelopes, and volume of each drum voice separately in real-time. The bass synthesizer features a selectable oscillator (sawtooth or square wave), classic filter design, a filter envelope with variable decay. Rhythm Wolf features USB-MIDI, MIDI In/Out, a gate trigger connectivity.
Akai's Rhythm Wolf will be available this Summer 2014 for a claimed street price of $199.99.
Akai


Antelope Audio
Antelope announced the Zen Studio portable audio interface with versatile analog and digital connectivity. The 12 mic pres, signature clocking, on-board DSP effects with multiple monitor mixers and the proprietary low-latency USB connectivity make Zen a mobile recording solution, that can easily fit inside a backpack or gear bag. Zen Studio is designed to meet the needs of the modern day producer or engineer on-the-go, as well as location sound engineers, sound designers, independent bands and musicians in search of greater sound quality and flexibility.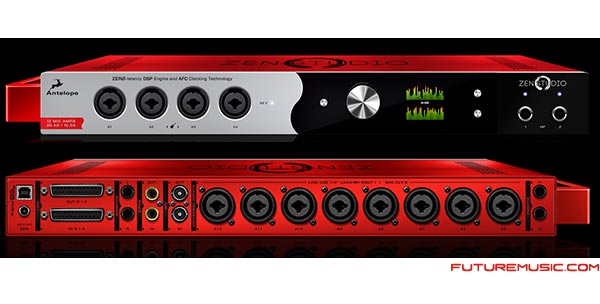 Antelope Audio Acoustically Focused Clocking claims to provide the most authentic analog sounding A/D and D/A conversion on the market. Antelope's clocking and conversion along with the custom USB technology implemented in Zen are identical to the ones in the top-selling 32-channel Orion interface which is a centerpiece in the playback rigs for artists such as Rihanna, Jay-Z and Justin Timberlake. In addition to proven sound quality, Zen Studio offers DSP, based on a custom FPGA device with parallel processing capabilities. The proprietary FPGA makes the DSP chip in Zen Studio eight times more powerful than the ones used in similar devices. This allows fast and easy simultaneous processing of multiple effects, enhancing the workflow like no other device on the market.
Connectivity:
» 12 Class A mic preamps, with phantom power
» 8 mic/line inputs
» 4 mic/line/instrument inputs
» 2 Independently assignable headphone outputs
» 2 DSUB-25 connector (8 channels I/O)
» 1 Stereo monitor out
» 4 ADAT connectors (up to 16 channels I/O)
» 2 SPDIF RCA connectors (I/O)
» 2 Inserts over TRS
» 2 Word Clock BNC connectors (I/O)
» 1 Low-latency high-bandwidth USB 2.0
Antelope