PixMob VIDEO, the wearable technology that turned the crowd into a video screen during February's NFL Super Bowl, will be used for the first time by Tiësto as part of his residency at Hakkasan Las Vegas beginning on Friday, February 28 and then at the remainder of his shows there in 2014.




2,500 Tiësto fans will be wearing LED wristbands generating wireless video effects in sync with his music. PixMob's technology uses infrared to send instructions wirelessly to pixels worn by audience members, creating colorful light effects across a crowd. PixMob VIDEO, the newest adaptation, allows show producers to create live video effects using the audience as a canvas. This patented and groundbreaking technique allows for real-time transmission of color information onto any number of mobile pixels at hundreds of thousands of individual locations up to 300 meters away, without the need for geo-location.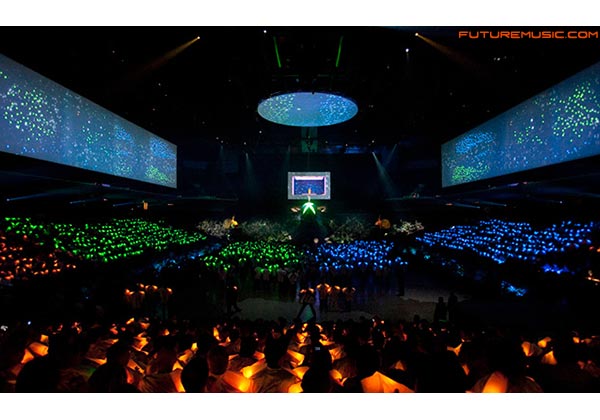 As easy to use for in-house lighting directors as it is for the engineers who developed the system, PixMob VIDEO is controllable via computer. A video server sends a video feed to transmitters, which then send instructions to pixels at over 100,000 locations over wireless infrared in real time. The pixels then changes color according to the information received, allowing the lighting director to include the crowd in a creative vision.
"I was absolutely amazed by what Pixmob was able to do at the Superbowl and can't wait to team up with them for my own shows. Hakkasan is already one of the best clubs in the world, so to bring the Pixmob experience to my fans will be something really special," Tiësto says.
Imagined in Boston in 2006 when CEO David Parent spent a week crashing with Vincent Leclerc at MIT, PixMob is the result of a desire to create interactive experiences with the ability to change human perception. PixMob looks to connect crowds to create innovative events such as the Arcade Fire balloon drop at Coachella 2011, the Cirque du Soleil Microsoft Kinect launch, the Eurovision Song Contest and the Super Bowl Halftime Show.
PixMob