Artiphon Looks To The Future With Instrument 1
Artiphon, a new concern founded by Mike ButeraA professor of Sociology at Belmont University and lecturer on the Phenomenology of Sound., has developed a provocative new instrument that aggregates a variety of traditional playing concepts and molds it into one cohesive whole, with iOS at its core. Butera, whose background features stints as a touring musician, as well as in consumer electronics, also added a PhD in Sound Studies from Virginia Tech to his resume for good measure. Artphon became the intersection of his life path and positioned him to spearhead the development of Instrument 1, a physical manifestation of his Touch Sound philosophy.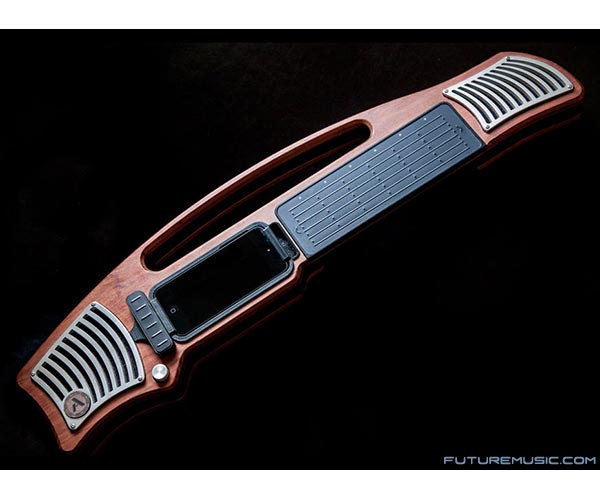 Butera has gone as far as to claim that the Instrument 1 brings to life the concept of the "multi-instrument." Although, there have been dozens of multi-instruments in the past, Artiphon feels the Instrument 1's "new form factor allows for deep versatility and expansive combinations of playing position, interface configuration, and variety of sound." The Instrument 1 is indeed very flexible and can be played in a variety of formats as: a guitar, a violin, a cello, a pedal steel, or even a hand drum.
The Instrument 1 contains a six-string, six-fret fingerboard and a digital strum section that can be strummed, bowed, picked, or plucked. Artiphon's patent-pending sensor technology is the first digital string interface to be fully pressure and velocity-sensitive, and polyphonic aftertouch lets the player manipulate tones after they have been triggered: twitch your finger for vibrato, or apply more pressure to intensify an effects filter.
Features:
» Patent-pending fretboard interface with six virtual strings, six virtual frets, and full fretless playability.
» Patent-pending touch and velocity-sensitive strum section.
» Accommodates multiple ergonomic playing positions.
» Compatible with iPhone 5, iPhone 5s, and 5th generation iPod Touch via Lightning connector.
» Onboard connections for USB, headphones, 1/4″ stereo instrument cable, and MIDI I/O.
» Integrated high-fidelity stereo BMR speakers (100Hz–20kHz) and a 25-Watt, Class-D amplifier built-in.
» Rechargeable integrated lithium-ion battery and AC power input.
» Controls any Core MIDI enabled iOS app, including aftertouch and MIDI CC mapping capabilities, and extends hundreds of available audio apps.
» Multi-track recording capabilities with apps like Garageband and Auria, and direct MIDI control of computer software like Ableton, Traktor, Pro Tools.
» Forged aluminum speaker grilles.
» Body carved of sustainably-harvested specialty hardwood and bamboo by Cumberland Architectural Millwork.
» Hand built in Nashville, Tennessee, USA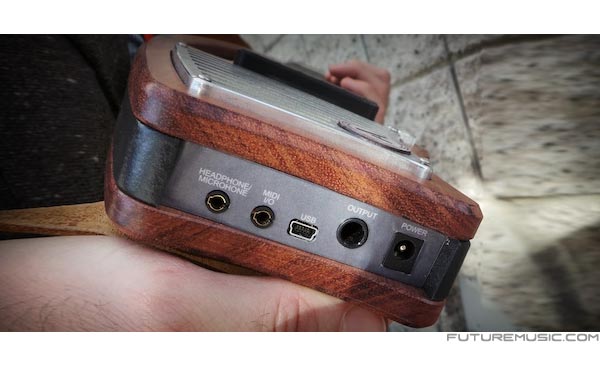 At the time of this writing, the Instrument 1 is wholly dependent on Apple's iOS platform. Some look at this as a perceptive choice considering the plethora of sophisticated music apps, while critics find this to be a limitation. The shortcoming is not necessarily the operating system, but the dependence of the Instrument 1 on the form factor of the iPhone or iPod Touch, which could change at a moments notice. That said, apps like GarageBand, Figure, Animoog, as well as sample-based entities expand the Instrument 1's options immensely.
One of the most compelling aspects of the Instrument 1 is that it can be utilized as a stand-alone multi-track recording and mixing environment, as well as a playable instrument. No longer is a user of an iPod or iPhone restricted to using the touch-screen to shape sound or record. The entire enterprise is self-contained in a sexy environment. Mike Butera has manifested his Touch Sound theory in a package that has transcended the Garage Startup of NAMM's Hall D and intrigued many. We asked him a few questions to dig deeper into the background of Artphon and his philosophy of Touch Sound.
FutureMusic: During the development, was there a strict functionality or usability that you wanted to achieve? For example, did the ability to use the Instrument 1 using traditional playing mechanics (violin, guitar, upright, etc.) mandate a certain design approach? Or were you "blue-skying" the concept from the get-go, allowing your imagination to dictate the direction?
Mike Butera: The multi-instrument idea is the core principle behind the Artiphon Instrument 1 and has driven its development from the start. Basically, it's the concept that we don't need to be tied to a single technique per instrument anymore. New technologies allow for an instrument to adapt to a musician, rather than a musician conforming to the demands of a particular instrument. Simple idea, very difficult to build. We're not just building a musical toy; we're actually creating a new way to think about what a single instrument can do across a broad spectrum of techniques, skills, and styles. Also, it's a lot of fun to play.
We've had to develop some incredibly sensitive interfaces to get the touch feel just right. It's not enough to slap buttons on a fretboard and call it a digital guitar anymore. We've been focused from the beginning on bringing a new type of interface to the market, not just in form but also in function. For instance, the pressure sensitivity we've accomplished is really exciting. And we can turn on and off the frets. It's the first of its kind to capture the nuance of string-like playability to that degree. When that kind of expression is tied to the multi-instrument capabilities, it's really an entirely new approach to a digital instrument. We've been at this 3 years now, through 5 prototypes, and we're almost there. At least in its first iteration…
I'm approaching this design from a background as a musician and an academic in Sound Studies. My research focuses on the way we listen through technology, and the way that listening is always an active process. Music production or consumption "instruments" always mediate our experience of sound, and it's always intrigued me why people feel limited to just a few ways of interacting with music ("I just play piano, I'm not a musician" or "The only thing I play is my iPod"). I'm convinced we can build new interfaces that give people more accessibility to express themselves musically, blurring the traditional lines of music production and consumption. This is the mission that drives Artiphon, however blue-sky it may be.
FutureMusic: The conundrum that many inventors of musical instruments based on the latest technology face is the constantly migrating "interface." Using the violin as an example, the instrument's interface has not changed for hundreds of years. Even with the advent of new technologies, electric violin, carbon fiber bodies, etc., the playing interface still holds true to tradition. Since the Artiphon is based on technology, iPhone, electronics, will you stay true to the interface?
Mike Butera: This question is really important, and gets to the heart of why so many new instruments fail to gain momentum. While it's exciting to learn an entirely new interface, it's also inherently frustrating. While many people love that challenge, I think most musicians are focused on the enjoyment of playing music rather than just playing a particular instrument. If we demand that musicians relearn their techniques for every new piece of gear, we're bound to keep rebuilding the same instruments for decades and centuries. Throughout history, because analog instruments have been based on the physics of strings, membranes, wood, etc., every new instrument has necessitated a different interface. You want a lower note, you have to build a bigger resonant chamber. You want five octaves? Lots of strings with new fingerings. Digital interfaces change all of that, even as they can so easily spin off into their own wild embodiments (think: SynthAxe or Eigenharp).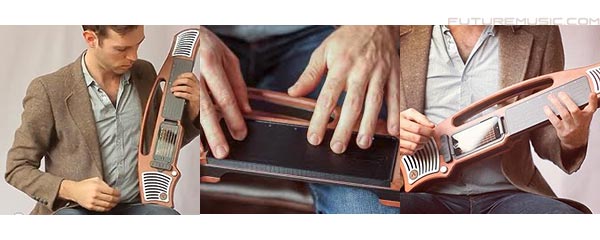 The first few minutes with an instrument really determine people's confidence to continue to play. And most people are so intimidated to pick up a new instrument that they never even try. This is what we're trying to overcome with the I1 and its configurability. The customizations aren't just for the professional producer to integrate with Ableton or Logic and push the limits of experimental music. It's also possible to make settings for the beginner to start easily, with the INSTRUMENT 1 getting more advanced as the musician's skills grow. Artiphon incorporates traditional interfaces because they allow people who might never pick up a digital instrument to access an infinite sonic palette. And then the ability to tweak these traditional techniques lets anyone experiment with going beyond what used to be normal.
There's an uncanny nature to digital instruments that can respond like a traditional, physical analog. Close your eyes, pick up the Instrument 1, and there's something familiar and something immediately playable. Then you start to play the way you've always played your favorite instrument (guitar, drum machine, violin…) and you realize that the instrument is just putting on a show for you. It's an actor that can switch characters mid-stream, which can dramatically change the way people think about their own musical expression. We're used to this with MIDI and the way that sound is abstracted from interface; a keyboard can sound like anything you want it to be, but the technique is still just playing a keyboard. Once people realize that the behavior of the I1 is totally under their control, they begin to imagine new possibilities we never considered before.
That's really been the core of our design method: we don't yet know what people are going to do with the Instrument 1, which is why we called it that. We're creating as flexible and sensitive an interface as we can, so that people can customize it to express whatever and however they'd like. We're not copying any particular instrument in form or technique, but we are borrowing certain aspects so that people can immediately play and explore, no manual required.
FutureMusic: How do you plan to educate new users on playing technique?
Mike Butera: We're currently inviting applications to our beta program which will let select musicians get a first glimpse at what the Instrument 1 can do with hands-on, pre-production units. From that, we'll learn what the best and most difficult elements are and focus our energies there. Overall, we're intent on building an essentially creative platform, where it's impossible to play the instrument incorrectly. We also know that it will be important to inspire people toward certain common techniques, and we'll be releasing instructional videos to that end. Nevertheless, I'm really excited about seeing what people do that we could never imagine, so I'm not very focused on instructing too much toward style or "skill" level. I think the musician community will, as usual, inspire each other toward new possibilities. We'll enable that process however we can.
FutureMusic: What happens when Apple changes the iPhone's form, functionality and/or OS?
Mike Butera: Despite the "iPhone as its brain" headlines we got last year, we're really not depending on the iOS device for anything other than synthesis. In other words, while we integrate with the iOS platform we don't depend on it. You can actually take the iDevice out of the Instrument 1 and use it just like any MIDI controller (we have MIDI I/O over DIN and USB). Nevertheless, the incorporation with apps is really exciting and convenient. It enables studio-in-an-instrument functionality, from noodling to demo recording to mixing. We intend to remain as flexible as possible to accommodate new developments on the iOS platform, while never limiting the instrument's functions to it.
FutureMusic: Who is your intended market for the Instrument 1?
We've had an incredible response from a wide variety of people: pros who want to take it on stage, producers who want it for a 2am session in the studio, moms who can't decide which instrument their child wants to play, guys who love gadgets, girls who love ukuleles. First, we're starting with professional and semi-pro musicians, who will continue to help us refine the interface and software. Then we'll be expanding production and making it more accessible to the general public, even non-musicians. What was the market for Casio keyboards? Everyone's living room. That might take a few years…
FutureMusic: "Lastly, our lead design advisor is Ethan Imboden, the founder of Jimmyjane, a company that reinvented the market for adult pleasure products." — If Imboden is your lead design advisor, and his expertise is adult pleasure products, how does this "translate" to the Instrument 1's design?
Mike Butera: I'll just say our 25 watt amplifier and BMR speakers put out surprising, instrument-vibrating bass response. Some call it haptic feedback, some call it rock n' roll.
We call it FutureMusic…




Speaking of the future, Artphon is not content to stop at instrument design. Looking ahead, Butera can see Artphon microphones, speakers, and other product categories that can be re-imagined in terms of how music is consumed and created.
Artphon's Instrument 1 is available for pre-order at $799.
Artiphon