Arturia Announces BeatStep USB Sequencer Controller For Mac & PC
Arturia has announced BeatStep, a compact, tabletop USB pad controller and step sequencer for creating drum beats. BeatStep contains 16 velocity- and pressure-sensitive pads with backlit LEDs.
Features:
» MIDI controller Mode – RED LED MODE
» Step Sequencer mode – BLUE LED MODE
» 16 velocity and pressure sensitive pads
» 16 encoders
» 16 MIDI Controller presets
» 16 Sequence presets
» Works with MIDI Control Center Editor
» Internal and External clocking
» CV outputs
» USB I/O
» MIDI output
» iPAD compatibility (using camera connection kit)
» Transports can send MIDI CC or MMC
» Standalone MIDI or CV operation when powered via standard USB power adaptor
» USB Class compliant (no drivers)
When working in CNTRL (controller) mode the pads are lit in red, switch to SEQ (sequencer) mode and those backlit LEDs become blue for instant visual confirmation of the mode change. The pads now perform a different function, too. Each one represents a step in a 16-step sequence while pitch adjustments for each step is available via BeatStep's 16 encoders. Up to 16 sequence pattens can be conveniently stored for instant recall. Elsewhere, encoder-enabled scale modes, sequencer playback modes, and time division functions allow for realtime performance changes. Supporting BeatStep's compact form factor, a custom breakout cable can be used to drive standard MIDI gear. Speaking of connectivity, when used with an Apple iPad and Camera Connection Kit combo, BeatStep becomes an iPad app controller.




BeatStep can be employed as a general purpose control surface and its pads can be configured to be MIDI CC buttons or assigned to send Program and Bank Change messages as well as note messages. The transport buttons can be MMC controls or MIDI CC to start and stop any connected DAW. With 16 encoders, 16 pads/buttons, and 16 preset memories at your command, BeatStep adapts to a user's workflow.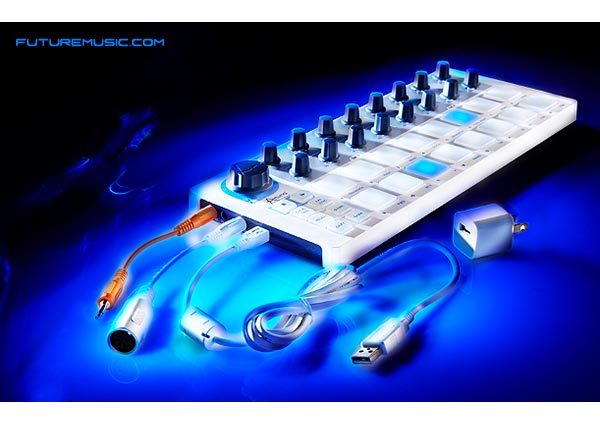 BeatStep has a standard 1 volt per octave CV output as well as a standard 1 volt per octave GATE output. You can directly interface them with our famous MiniBrute or MicroBrute synthesizers. Combining Beatstep's step sequencing capabilities with a modular synth allows for all kinds of hands on control and pattern generation.
Now it is clear that this is both a pad/knob controller and a step sequencer but it might not be clear that you can run them both at the same time. You could be using the CV/gate output from the step sequencer playing your MiniBrute and then switch to CONTROL mode and have it controlling clips on Ableton Live and using the encoders to manipulate your VST version of SEM V. Maybe playing the drum sounds on a vintage Roland drum module via the MIDI output and sequencing a SH-101 using the CV/GATE in SEQ mode is more your style. What if you want to step sequence Jupiter 8V on MIDI ch 1 while controlling the MMC transports in Logic and playing the drum sounds from BFD on MIDI ch 10 both via USB? You can do that as well. The combinations are almost limitless.
Arturia's BeatStep costs $129 / €99 and should be available this Spring.
Arturia