iZotope & BT Release BreakTweaker
iZotope has combined forces with Brian Transeau (Electronic musician, BT) to develop a drum sculpting and beat sequencing environment that looks like it will be a game-changer in pushing rhythm and melody into new electronic music realms. Featuring BT's patented micro edit technology, based on pioneering rhythmic sound design research, BreakTweaker aims to change the way electronic musicians think about rhythm and pitch.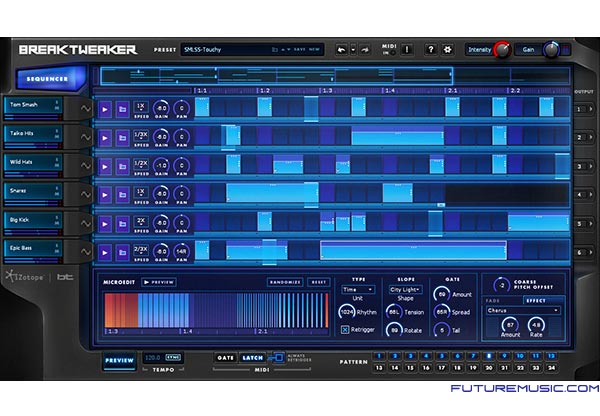 Powered by three distinct modules, the Sequencer, the Generator, and a futuristic MicroEdit Engine, BreakTweaker is a creative rhythmic instrument that can be used with any DAW and MIDI controller. Perfect for anyone looking to create truly original and dynamic beats, it's a new platform for rhythmic composition.
Features:
» Manipulate audio at a molecular level: control pitch, rhythm, and texture at the finest resolution available
» Escape traditional drum grids: create complex polyrhythmic beats with unique isorhythm and playback speed settings
» Get over 2 GB of professional, royalty-free content: explore presets, drum samples, and wavetables designed by today's top musicians and DJs, including BT
» Craft your own drum sounds: blend drum samples with robust synthesis features to generate compelling hybrid sounds
» Take control of your beats: Easily trigger and sequence complex patterns and samples using any MIDI controller
» BreakTweaker Specifications
—Supported operating systems: Windows: XP SP3 or later, x64, 7, 8; Mac: OS X 10.6.8 or later (Intel-based Macs only)
—Plug-in formats: AAX (Pro Tools 11), RTAS/AudioSuite (Pro Tools 7.4-10), VST and VST 3, Audio Unit
—Host compatibility: BreakTweaker works as a plug-in in popular hosts like Pro Tools, Cubase, GarageBand, Logic, Ableton Live, Reaper, StudioOne, Audition, SONAR X2 & X3, ACID, Vegas, Sound Forge, and many more.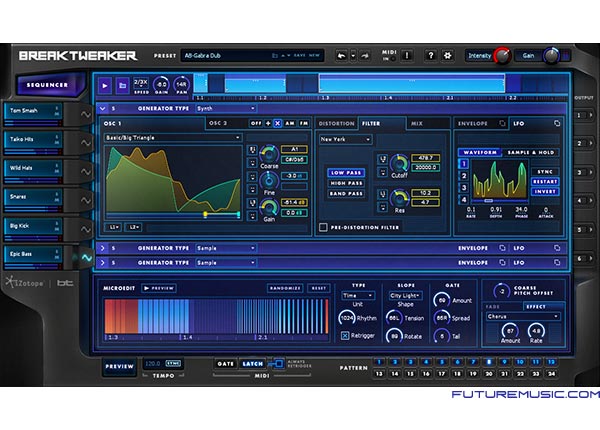 A well-known producer, technologist, EDM pioneer and GRAMMY-nominated composer, this is not BT's first foray into dynamic plug-in creation. He previously teamed with iZotope with Stutter Edit, based on his "stutter edit" musical technique. "I've always been intrigued by the way humans perceive rhythm, particularly the threshold point of where the ear perceives rhythm as pitch," reveals Transeau, "The idea of exploring and exploiting this threshold inspired BreakTweaker, a tool where I could finally realize rhythmic possibilities that I once imagined but had never before been able to hear."
The Sequencer:
Assemble pattern-based beats in the Sequencer, which features six tracks for layering your sounds. The Sequencer can store up to 24 different step patterns, launchable via MIDI for on-the-fly remixing. Design beats that evolve over time with BreakTweaker's advanced isorhythmic step sequencing, which makes it possible for each track to have a unique tempo and step length. Ever heard a 7/8 rhythm against a massive 4/4 breakbeat? You can here.
The Generator:
Sculpt new drum sounds and textures with the Generator. This powerful drum synthesis module defines the sounds for each Sequencer track. The Generator supports morphing wavetable synthesis, one-shot sample loading, and hand-crafted noise tables, then is polished off with dual-stage distortions and vintage-modeled filters. Four LFOs with unique wavetable shapes, and four Envelopes allow vast modulation possibilities for almost every single Generator parameter. As a bonus, every Sequencer track supports up to three Generators for developing even deeper sonic complexity.
The MicroEdit Engine:
Once you've perfected the ultimate set of drum sounds and sequenced your patterns, it's time for a whole new method of sound design. Enter the MicroEdit Engine. A "MicroEdit" is the division of a single step within your pattern into potentially thousands of slices. These slices can then be contoured and shaped to create harmonic, pitched, and rhythmic effects, resulting in new textures that add maximum ear candy to your ever-evolving beats. By pushing the limits of the brain's ability to perceive sound, the MicroEdit Engine blurs the line between rhythm and pitch, inspiring beats you've never heard before.




iZotope is also debuting three content expansion packs with the initial release. Vintage Machines is an arsenal of heavy, dusty vintage beats and revisit hip hop, trap, upbeat techno, two step, dilla-style off-kilter beats and much more. Vintage Machines delivers an eclectic range of over 200 samples from the famed drum machines of old, assembled into a unique collection of throwback fun. With 50 kits to choose from and 12 patterns each, you can mix and match your favorite lo-fi goodness and drop some vintage style into your track. The Cinematic Textures Expansion is a collection of rhythmic gestures ranging from esoteric patterns to dense pulses and beats. Designed to enhance film and television scores, and to intensify the texture of electronic and electro-acoustic music, this expansion is geared towards composers, producers and sound designers alike. With 71 presets and over 700 samples, Cinematic Textures was made with sonic exploration in mind. Delve into both percussive and tonal elements to inspire new ideas for your future musical works. The final expansion pack is a repackaging of Beatport Sounds samples.
iZotope's BreakTweaker is now available for $199 / £139 / €167 through February 19, 2014 (reg. $249 MSRP). BreakTweaker Expanded is now available for $249 / £165.00 / €198.00 through February 19, 2014 (reg. $299 MSRP) and includes three add-on Expansions: Vintage Machines, Cinematic Textures, and Kicks & Snares by Beatport Sounds.
iZotope