Ableton Push – 2013 Gear Of The Year – MIDI Controller
Ableton's Push has been awarded the 2013 FutureMusic Gear Of The Year winner in the MIDI controller category. Push is Ableton's first genuine hardware venture and that has made all the difference. Although manufacturered by Akai, who is no stranger to dedicated Live hardware controllers, it's clear that Akai's design and workflow input was limited at best. After spending a full day with Push, Greg Geller, FutureMusic's Technology Editor, stated: "This is a real Ableton product."
Push was announced, along with the new Live 9, and it's clear that the two were developed simultaneously. The integration is savvy and tight, and quite deep. The first thing you notice is the aesthetic. Dark and minimal with an emphasis on quality materials. The APC family's cheap knobs, crappy plastic and scrappy faders have been replaced by a weighty metal chassis and rubberized veneer. The amber, 80 character by four column LCD screen is somewhat of a throwback to old rack gear, but he clarity and color also harken to an apocalyptic future. The eleven rotary knobs feel substantial, and have the perfect amount of resistance. The Push features a long ribbon controller along the left side of the 64 pressure sensitive main pads that are crowned by 16, smaller "selection" and "control" pads.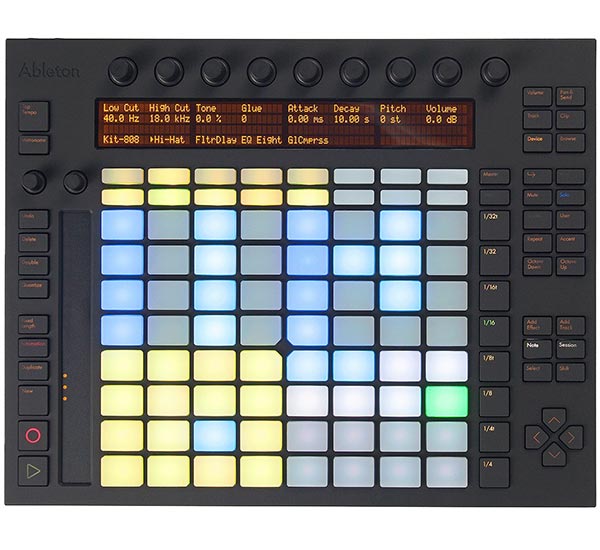 Ableton has positioned Push as an "instrument" — which presents a host of issues that we'll discuss in a moment — and not as a mere controller. In that regard, Push primarily works in the Session View of Live 9, not in the Arrangement view. The idea is that Push is for performance and experimentation, and not as an end-all, be-all interface for the totality of Live. With Live's superb MIDI acrobatics and the ability to utilize several MIDI controllers at once, this is not an issue at all, and we salute Ableton for taking this position. However, setting up Push as an instrument does spark several questions.
The common denominator of traditional instruments is that the playing interface doesn't change. For example, if you learn to play the piano, you can sit down at any piano and play. When technology was applied to the piano, think electric pianos, the first analog synths and even the latest, cutting edge "workstations," the playing interface remained essentially the same. In the constantly changing world of MIDI controllers, this is not the case. Even musical controller pioneers (Controllerists, if your nasty), are constantly changing and updating the interface of their controller instruments. Thus, will Ableton stay true to the Push's original design and workflow? Or will they submit to user requests and implement changes to their instrument for version 2.0?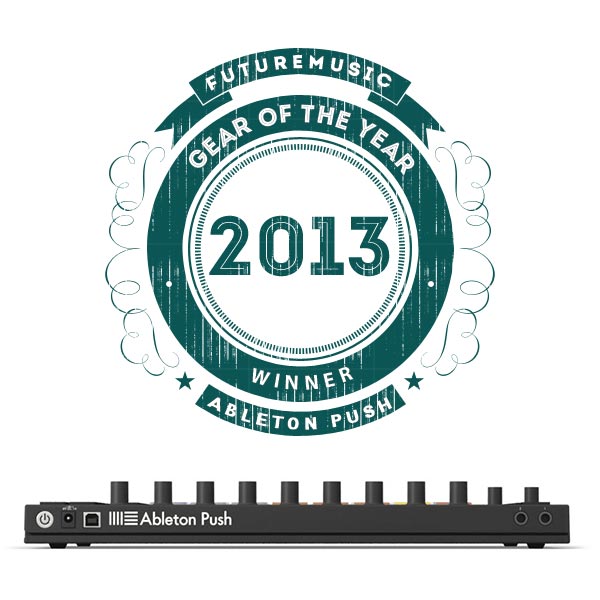 One of Ableton's main objectives in developing Push was the concept that the user doesn't need to interface with their mouse and computer screen to coax new musical ideas from Live's session view. Everything can be achieved just with Push. Many other music creation companies have explored this avenue, most recently being Native Instruments with Maschine Studio, but Push is significant in that this is the first time that Ableton has propositioned its user base with its own distinctive view on how this should be advanced.
The other choice that Ableton made with Push is to focus more on the MIDI side of things as opposed to audio. Audio Clips are not shown much love, and with the decision to implement a LCD screen as opposed to OLED, the deal was sealed. However, you can still perform basic audio operations, such as recording your session performances, and modify gain, pitch and loop in/out points, as well as the Warp algorithm, but the focus is definitely MIDI. Rhythmic content benefits significantly and Push "is a monster" when using Drum Racks, according to Geller.
The whole idea of Ableton debuting their own hardware is certainly amusing to industry veterans who were privy to the German company swearing up and down over the years that they would "never" debut a controller, and that they "preferred to position themselves as Switzerland [always neutral]" in terms of not competing with other hardware concerns. Turns out Ableton's initial apprehension to hardware served them well. It allowed them to survey the market, evaluate other Live controllers, and debut a pure Live controller that exceeds all expectations. Here's hoping that Ableton reneges on a few other promises!
Ableton