Aphex USB 500 Rack Now Available
Aphex is now shipping their new USB 500 Rack, a USB computer audio interface and analog rack for up to 4 500 series modules. The USB 500 Rack allows you to use your favorite 500 Series mic preamps as inputs to your DAW, individually or chained to form a channel strip. In addition, processor modules such as EQs and compressors can be routed in your DAW as hardware inserts. Finally, the USB 500 Rack can act as an analog 500 Series rack via its balanced XLR connectors.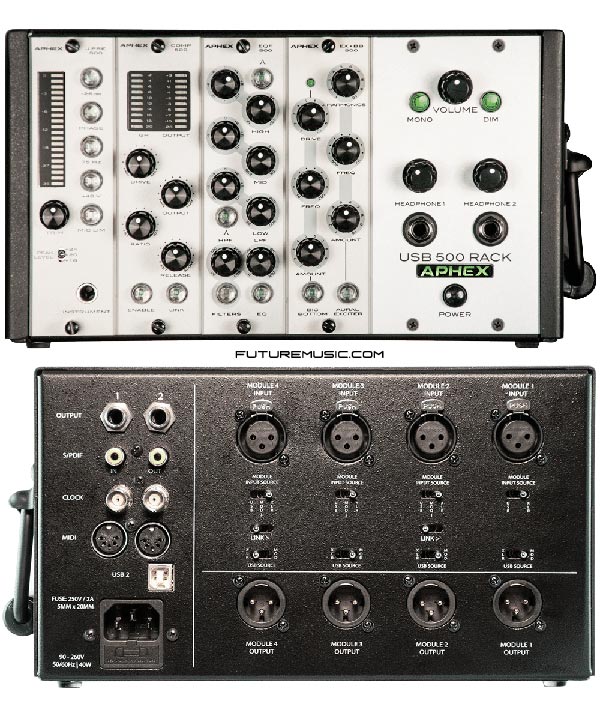 Aphex hopes their new USB 500 Rack will really open up users 500 series workflows by connecting traditionally analog modules directly to the computer, as well as expose the 500 concept to new users. Other features of the USB 500 Rack are its Monitor section (with Mono and Dim controls), high output headphone amps (based on those of our acclaimed HeadPod 4), MIDI I/O, and up to 96k operation.
Features:
» 6 x 8 Computer Audio Interface – up to 96k
» Input to computer from 4 modules and stereo S/PDIF
» Output from computer to 4 modules, stereo analog and stereo S/PDIF
» Functions as a standard 500 Series rack
» Modules can be configured in series
» Empty slots can be used as line inputs to the computer (or hardwire bypass of an installed module)
» 2 headphone outputs (HeadPod 4 technology)
» Volume, Mono and Dim for stereo analog output
» MIDI I/O
» 220mA of power per slot available when evenly distributed
» Recording Software Included: Reaper Digital Audio Workstation software; Harrison Mixbus Digital Audio Workstation with True Analog Mixing
Aphex