PreSonus Eris E4.5 Reference Monitors Now Available
PreSonus is now shipping their new Eris E4.5 two-way, studio reference monitors. The Eris E4.5 features a 4.5-inch, Kevlar low-frequency transducer, a 1-inch (25 mm), silk-dome, high-frequency tweeter, and a rear bass-reflect port. Each speaker is powered by a 25W Class AB amplifier. Peak SPL is rated at 100 dB. The E4.5 ranges from 70 Hz up to 20 kHz, and at 6.42 x 9.45 x 7.09 inches (163 x 241 x 180 mm).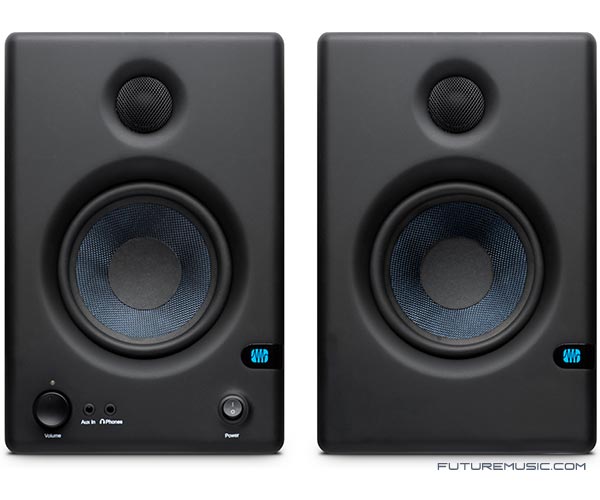 The Eris E4.5 has balanced 1/4″ TRS and unbalanced RCA inputs, as well as unbalanced 1/8″ inputs for a smartphone or MP3 player. A four-position Acoustic Space switch controls a second-order shelving filter, centered at 1 kHz, that provides three attenuation points (no attenuation, -2 dB, and -4 dB), allowing you to control the bass response relative to the wall proximity of your speakers. A High Pass switch sets the low-frequency cutoff (second-order slope, -12 dB/octave) to be flat, 80 Hz, or 100 Hz. You also get continuously adjustable (±6 dB) High Frequency and Midrange controls.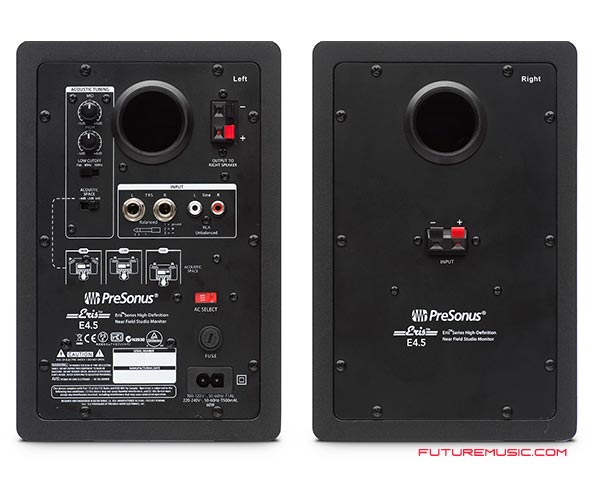 The Eris E4.5 monitors are available now for $199.95.
PreSonus