Native Instruments Announces Resonant Blaze Maschine 2.0 Expansion & Action Strikes Sample Packs
Native Instruments has released Resonant Blaze, a bass music Maschine Expansion pack designed exclusively for the new Maschine 2.0 upgrade and Action Strikes, as cinematic percussion sample pack. Infused with booming bass, cracking drum kits, cinematic atmospheres, and tangy sound effects Resonant Blaze is targeted to producers of drum and bass, as well as contemporary dubstep and trap styles.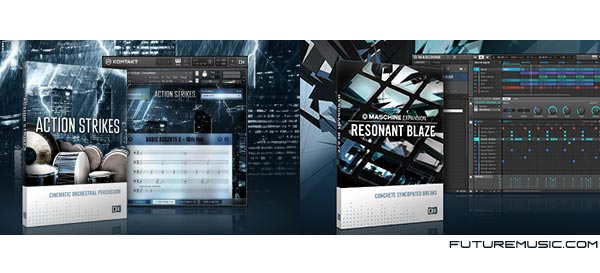 Taking full advantage of the new Maschine 2.0 features, Resonant Blaze utilizes sidechaining and plate reverb effects in its sound design – adding a level of sonic depth previously not possible in Maschine. The 37 sampled drum kits and 250 versatile patterns deliver a diverse variety of sounds and possibilities designed for bass heavy tracks. Many of these drum kits are characterized by sounds designed for the innovative new Maschine Drum-Synth modules.
Action Strikes delivers countless rhythmic possibilities via twelve ensembles, an additional 65 individual instruments, and 12 single hit sets – all with outstanding real-time control features.
Action Strikes was created with Dynamedion, the producers behind the Action Strings instrument. Action Strikes features an advanced, one-of-a-kind interface designed for creating orchestral pieces for film, television, and game scores with ease. 12 carefully-assembled ensembles feature signature sounds suited to a range of different film genres. High, mid, and low sections from different ensembles can be mixed and matched with a total of over 1,700 timbral possibilities. An assortment of 105 rhythms with five variations allow for vast rhythmic potential when developing original arrangements. Composers can augment the sound of the ensembles with 65 individual instruments – each with 32 playable rhythms – and 12 playable sets of single hits.
Focusing on ease of use and efficient, innovative workflow, Action Strikes brings real-time control and creativity to cinematic scoring. Accents are controlled by the left hand while the right hand chooses variations. The mod wheel adjusts dynamics – from whisper quiet to the loudest fortissimo – while the pitch wheel controls accent strength. From simple, effective accompaniment to full-blown percussive attacks, ACTION STRIKES offers composers remarkable versatility anywhere the sound of a live, orchestral percussion ensemble is needed.
Native's Resonant Blaze is available now at the NI Online Shop for $49 / €49 / ¥4,800. Running in Kontakt 5 or the free KONTAKT 5 PLAYER, Action Strikes is available now from the NI Online Shop for $299 / €299 / ¥29,800.
Native Instruments