Steinberg Launches VST Studio Connect – Online Collaboration Middleware
Steinberg has released VST Connect Pro, a complete remote recording solution that allows you to collaborate with any musician with an Internet connection and a computer anywhere on the planet. Data encryption, multi-track recording, live video chat, audio stream protection and MIDI support make geographical distance irrelevant to studio production workflows. Yeah, we've heard this before. If we had a five spot for every "music collaboration via the Internet" offering that has been announced, then we'd probably be able to afford a Maschine Studio. But this is somewhat different with Steinberg behind the concept internally, instead of a third party acting as "middleware." Of course, this fact doesn't hamper Frank Simmerlein, Marketing Director at Steinberg from going batsh*t crazy over the solution.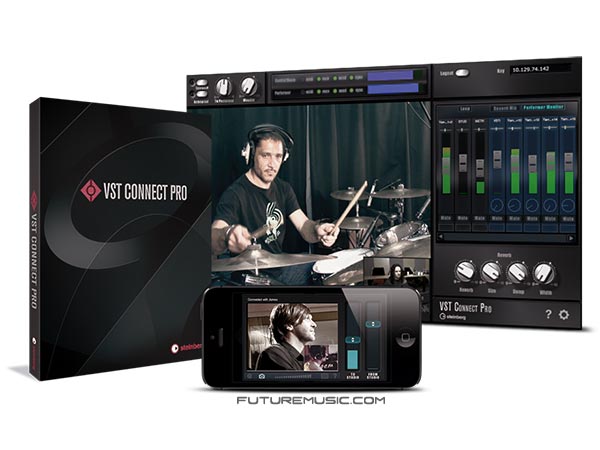 "With VST Connect Pro, we're convinced to be revolutionizing the way producers and musicians work together. In fact, the technology behind VST Connect delivers completely new approaches to producing music, triggering and recording instruments remotely, and cooperating with musicians and clients at a distance." OK Franky, settle down. Don't want you to blow an "O-Ring" here, and leave the Steinberg universe devoid of self-hypnotic marketing hyperbole.
VST Connect Pro offers encrypted transfer of real-time recordings through the internet and local area networks. While delivering immediate stereo recordings, up to 16 audio tracks are recorded in the background in uncompressed, high resolution. Compatible with Cubase 7, VST Connect Pro establishes a peer-to-peer connection with the free client-side application, VST Connect Performer. During remote recording sessions, users of both software applications can adjust the cue mix and talkback levels, as well as communicate via video link.
With the release of VST Connect Pro, Steinberg also introduces Studio Pass, the free iOS app for VST Connect that lets users dial into the recording session with an iPhone or iPad.
Features:
» Collaborate with other musicians and producers around the world
» Peer-to-peer solution with sample accurate sync
» MIDI support for sending and receiving MIDI data to your recording counterpart
» Encrypted transfer for secure exchange of important audio material
» Multi-channel support for remote recording of up to 16 channels
» Up to 192 kHz audio support with downstream transfer of large-scale uncompressed audio files
» Cue mix section for optimal recording environment
» LAN support for connections in your local network
» VST 3 support for recording VST instruments via peer-to-peer connection
» Free download client-side application with full remote control of session settings by the session administrator




WARNING: Watch this video at your own risk! There something distinctively disconcerting about this demo...



Steinberg's VST Connect Pro is available now for $199 / €199 euros. Studio Pass for VST Connect Pro will be available shortly as free App Store download on iTunes.
The Future: If it works half as well as the video demo, provided you can actually watch that video for the entire eight minutes without running to your bathroom to take a shower, then it seems like a worthwhile extension of the Cubase production environment. However, the reality is that music collaboration is about working together in the same room, not over the interwebs. Like the video showcases, if you need someone to throw a quick Kenny G solo over your Music For Elevators project, then this works, but to actually collaborate on a project with several band members? It just doesn't have that magic. Not to mention, you can't pass the kouchie over the internet.
Steinberg