Faderfox Announces DJ44 – Suitcase DJ Controller
Faderfox has announced the DJ44, a very sexy DJ controller that comes self-contained in its own aluminum case. The DJ44 looks to be the first moonshot of a new line Faderfox will be introducing over the course of the next year dubbed, SOLID CONTROL. Geared towards two + two track Traktor Pro usage, the FaderFox aesthetic is now looking more and more like the NASA-inspired, 4midiLoop Controller by everyone's favorite fun-guy Ivo Glanzmann.
The compact, "suitcase" design is ready for action and sets up in flash by just removing the cover. Setup files for Traktor Pro/Duo 2 and Ableton Live are shipped with the controller.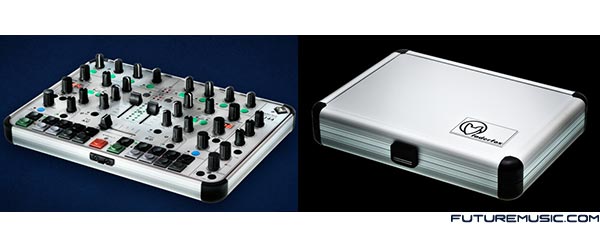 Features:
» Controls up to four decks – easy switching between deck A-C and B-D on the fly
» USB interface with bus powering- class compliant / no driver necessary
» Complete mixer control with EQs, faders, gain, pan, filter, FX assign, kill and monitor keys
» Center spreaded scale for filter pot for better control feeling (No idea what this means —Ed.)
» Double command filter pot for simultaneous control of two filters [bipolar filter] (Ableton Live)
» Shifted center position for perfect control of the EQ three [0dB = center pos] (Ableton Live)
» Global section with browser / tree encoders, load buttons and pots for main / monitor / mix levels
» Two FX sections with each 4 pots and 4 keys switchable to 4 FX slots
» Tempo control by pitch encoders and sync keys (Traktor)
» Loop sections with encoders, keys and 2-digit-displays
» 21 extra large buttons for hotcue access and transport functions
» All controls with double functions by holding down the shift button
» LED bars with 8 segments for different level and position indications
» 4 internal setups with various programmable functions
» Upgradable firmware by simple Sysex-dump
» Very compact and solid design in a silver aluminum casing (size 290x220x55 mm, weight 1.6 kg)
The Faderfox DJ44 costs €499 and should be available by December 2013.
Faderfox