VotanDSP Unleashes Votan Telepathy App & Plug-In
VotanDSP has unleashed Votan Telepathy, a new synthesiser iOS app and 32/64 bit OSX Audio Unit. Votan Telepathy's Jedi Power is that the two platforms (iOS and Audio Unit) are connected via the Votan Cloud and Control features, offering cloud based preset storage alongside low latency touch control. You can create sounds on the iPad that then appear in your Audio Units and control an array of Telepathy Audio Unit instances directly from the iPad.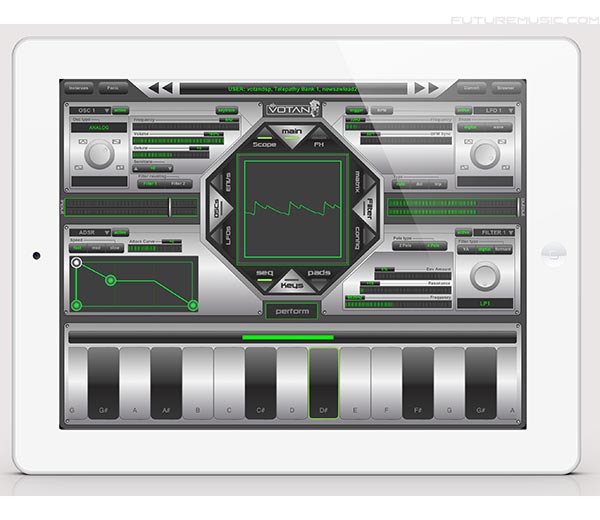 Votan Telepathy iOS and Votan Telepathy AU can work independently, or in unison, offering you complete flexibility whether you are in the studio or on the road.
Features:
Synthesis Engine
» Oscillators:
4 x Free Range Oscillators with Band-limited alias free Virtual Analogue waveforms. Free-range means they can be unlocked from key frequencies, and then used intelligently as audio rate modulators for FM and Ring Modulation. You can also morph between the different waveshapes (Sine, Triangle, Sawtooth, Square).
» Filters:
4 x Multi-Filters with Virtual Analog (Moog Ladder, MS20, TB303 emulations), Digital IIR and Formant Phase Filters, 2/4 Pole with standard filter types Low Pass, High Pass, Band Reject and Band Pass. In depth internal filter routing between the filters, with Parallel, Series and Stereo Split.
» LFOs:
4 x LFOs with traditional and morphing waveshapes.
» Envelopes:
4 x Envelopes, standard ADSR Amp Env, Filter Env and 2 x assignable envelopes.
» Modulation:
6 x Modulation Matrix Slots for extensive modulations.
» FX:
4 x FX Slots with Delay, Distortion, Chorus, Frequency Shifter, 4 Band EQ, Decimator, and Glitch algorithms.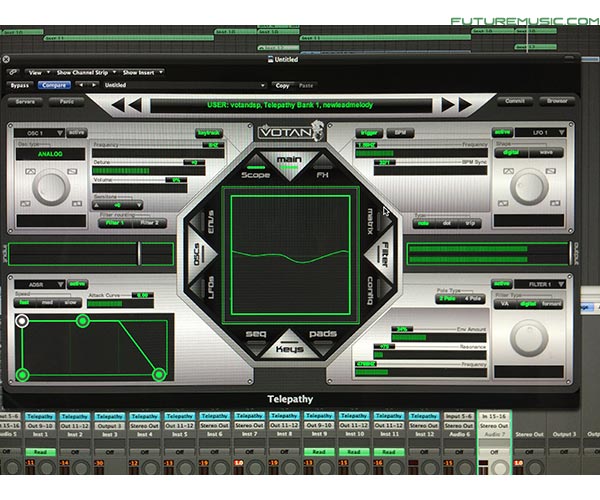 Performance Control:
» 4 x XY Pads, with direct assignment of all parameters for in-depth performance control. Notes can be triggered directly from the Pads. User assignable Keyboard with key selector (select the keys required, not the rest).
Binaural Beat Generator:
» Votan Telepathy has been built with binaural synthesis in mind. Each oscillator can be assigned to play through left or right channels to create binaural beats with extended synthesis capabilities. The system can generate all brain frequencies from 0.01hz up to megahertz. Get experimenting with the invisible frequencies of the mind! (What?? —Ed.)
Votan Connect:
» The iOS app can also act as a touch controller for the audio unit offering almost zero latency control of multiple instances of the audio unit plugin. Totally integrated synthesis and control like never seen before!
Votan Cloud:
» The Votan Cloud is a powerful integrated Preset Management System. Users can create soundscapes and store them in their own device or in the Votan Cloud. In the Votan Cloud patches will be available across all your devices and applications and can also be shared with other users. The VotanDSP team will be constantly creating new sounds so they will be instantly available to all users of the system. You can chose to make your preset library public or private.
Recommended Specs: Votan Telepathy iOS (iPad 4+ for synthesis; iPad 2+ for controlling the Audio Unit). Votan Telepathy AU (OSX 10.6+ 32/64 bit Versions)
VotanDSP's Votan Telepathy costs: Telepathy iOS – £9.99; Telepathy AU – £59.99. However, VotanDSP is running a 50% off special until the end of November 2013.
VotanDSP