Source Audio Unveils Hot Hand USB Wireless MIDI Controller
Source Audio has released the Hot Hand USB Wireless MIDI Controller, a new product for dynamic control of digital audio workstations, live-performance software and more. Hot Hand bypasses traditional knobs and faders, allowing users to manipulate software parameters with the wireless motion-control of your hand (and maybe some other body parts). It also integrates with Ableton Live, Traktor, Reason, Serato DJ, and Logic/MainStage, and hardware controllers such as Ableton Push, Livid Instruments' Base, or Native Instruments' S2/S4.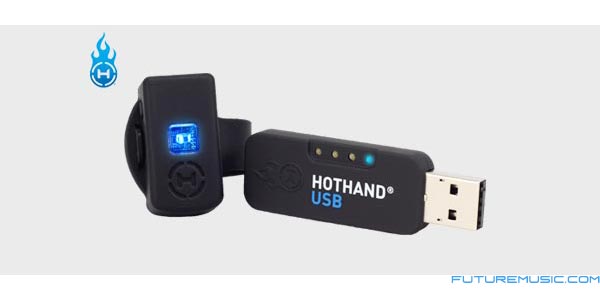 Specs:
» Wireless 3 axis motion sensor ring and USB receiver
» Driverless USB MIDI operation for Windows/Mac
» Rechargeable Lithium-ion battery for 6 hour usage time
» Capable of transmitting over 100 feet
» Works with any MIDI compatible audio software (Ableton, Reason, Logic, Traktor, etc)
Hot Hand USB consists of a wireless motion sensing ring and USB stick receiver. The lightweight ring contains a 3-axis accelerometer that detects hand movement and translates it to MIDI control messages. Both quick motions and gradual tilting create control signals that can be applied to any parameter to create effects like organic bass wobbles, filter sweeps, delay times, modulation, and beat repeats. The receiver plugs directly into any Mac or Windows PC, installs without drivers, and appears as a MIDI device. With the Hot Hand USB Editor (downloadable software, available at sourceaudio.net), users can assign the X, Y, or Z axes to control multiple parameters as well as adjust the range and sensitivity of the incoming MIDI signal. Users can operate up to four rings simultaneously and maintain wireless connections for up to 100 feet.




Source Audio's Hot Hand USB Wireless MIDI Controller will set you back $119 and is available now.
Source Audio