Numark Announces NS7 MkII
Numark has announced an upgrade to their excellent NS7 MkII Serato controller. Despite needing a forklift to transport the NS7 to your next gig, the original was heaven-sent for Serato users and was one of the only digital DJ controllers to almost capture the feel of manipulating real vinyl. Numark has added several new features and enhancements to take the NS7 to the next level, but unfortunately they didn't protect the protruding front-facing knobs, so be careful of unscheduled dismounts. We know of at least a couple of pro NS7 users who actually fastened a metal guard along the bottom, so if this is a concern of yours, you may want to wade into the fabrication waters…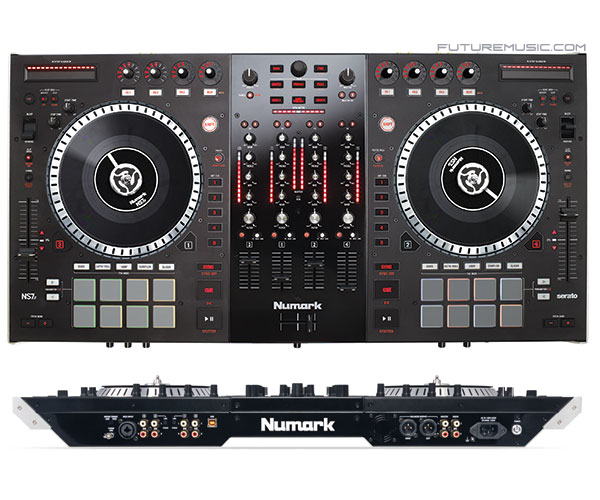 Features:
» 7-inch motorized turntables with ultra-high-resolution MIDI (3600 ticks per rotation)
» 4-channel mixer and 24-bit audio interface built in
» 16 multi-color MPC-like pads from Akai Professional
» Capacitive touch-sensitive filter, EQ, and effects knobs
» Genuine vinyl discs and real felt slipmats for unmatched tactile control
» Connect and mix CD players, turntables, MP3 players, or any other external source
» Mixer can operate standalone, with or without your computer
» High- and low-torque turntable settings
» Comprehensive Loop, Sample, Slicer, and Hot Cue controls
» Strip Search virtual needle-drop technology
» Serato DJ software included
» Curve-adjustable CP-Pro crossfader is user replaceable
» Dedicated iZotope effects controls
» Rugged all-metal construction
Like the original NS7, NS7II has two genuine seven-inch motorized turntables, and both are supported by high-resolution MIDI with a reported 3600 ticks per rotation. You also have your choice of high- or low-torque turntable settings. Akai Professional MPC pads are now incorporated into NS7II's dynamic performance decks. Each pad is multi-color, velocity-sensitive, and instantly switchable between 10 different modes using the Pad Mode buttons. Loop, cue, roll, sample, and slice with speed, while the pads light up in response and give you instant visual feedback.
In addition to Numark's Strip Search technology, NS7II has filter, effects, and EQ knobs that are intelligent, responding instantaneously to your touch, giving you new capabilities. Perform instant frequency kills, spontaneously combine filters with effects, and more. It's mixing that is truly interactive and in the moment, making NS7II a live performance instrument built for your creativity and imagination.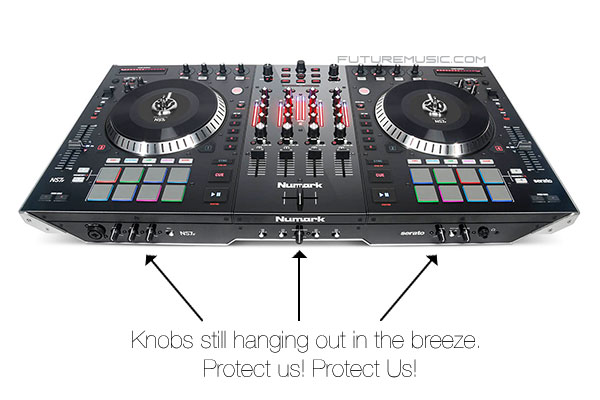 Get your hands on the most creative tool for Serato DJ available. NS7II gives you the power to unlock new features of Serato DJ through innovative hardware controls, including Filter Roll, Filter FX, and Touch FX, which all allow you to control Serato DJ simply by touching an element on NS7II's control surface.
NS7II's four-channel mixer can operate standalone, which means you can mix up to four external sources without even turning your computer on. Connect and mix CD players, turntables, MP3 players, or any other external source. Plus, the built-in 24-bit audio interface was engineered without compromise, giving NS7II audiophile-grade circuitry that keeps your mix clean and clear.
Specs:
Audio Inputs: (2) Mic (Combo XLR+1/4″ balanced); (4) Sets of stereo line/phono (RCA)
Audio Outputs: Stereo Master (XLRs); Stereo Master (RCAs); Stereo Booth (RCA); (2) Headphone (Stereo 1/4″ and Stereo 1/8″)
Digital: Sample Rate: 44.1 kHz; Bit Depth: 24-bit
Dimensions: (W x D x H in inches): 30 x 15.9 x 4.2
Weight: 33.7 lbs. (Ow! My back…)




Numark's NS7 MkII will be released this month.
Numark