Native Instruments Announces Maschine Studio and Maschine 2.0 Software
Native Instruments has announced Maschine Studio and the Maschine 2.0 software update. We've been hearing chatter about this new controller for quite a while and NI has been ramping up production just in time for the Holiday buying season. The hardware and software announcements have confirmed what we've predicted when Native first announced the Maschine ecosystem, namely that the German concern is creating a DAW hub to connect all their products.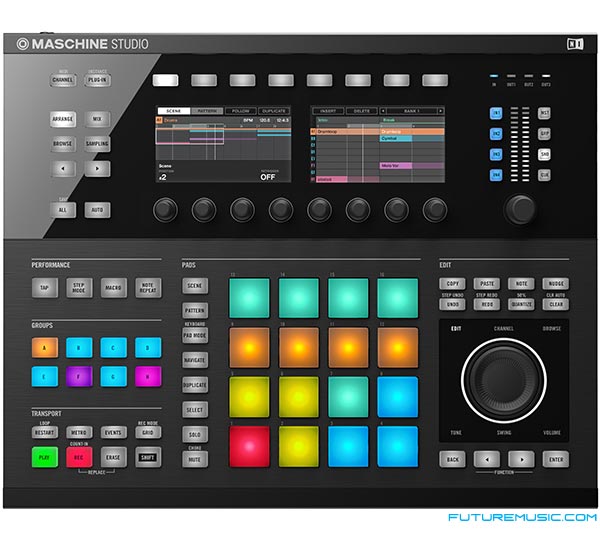 Native attempted to create the hub once before, with their Core product, but in what has been a stellar run of quality products, Core will be probably been known as their first serious misstep. Never fear NI fanboys (and girls), the company has learned from the past and has been slowly ramping up this incarnation of the "one ring to rule them all." Although, we haven't gotten our grubby hands on the Studio, we really like what they've done to evolve their hardware and software concurrently.



The new Maschine Studio is beefer and heftier than any other Maschine product to date and contains a MPC-like jog wheel in the lower right corner. Two all new high-resolution color displays line the top allowing for an overview and detail view of whatever you're working on, which is not only intuitive, but also should speed up workflow considerably.
The Maschine 2.0 software update features a host of enhancements and improvements, including a new mixer page and dynamic drum synth plug-ins, to both generations of Maschine and Maschine Mikro. A tag-based attribute browser makes samples and presets easy to find while the new plug-in strip make Maschine's internal plug-ins much more accessible by displaying their individual user interfaces instead of generic buttons and knobs. A brand-new, dedicated mixer page provides detailed level adjustment and flexible routing of Maschine 2.0's aux sends, plug-ins, and unlimited groups and insert effects. A new audio engine with multi-core technology adds sidechaining and allows higher instrument, effect, and plug-in counts, faster load times and more. High-quality 32-bit float internal summing delivers the latest advancements in professional sound quality.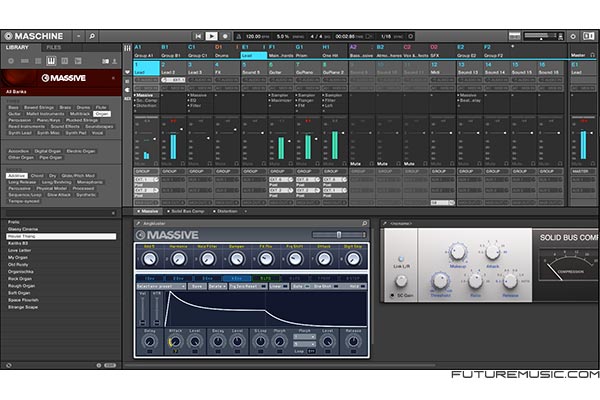 Providing complete hardware control over virtually all software functions, Maschine Studio's workflow is centered on 16 highly-responsive multi- color backlit pads, a new Edit Section with jog wheel, a Level Section and the aforementioned color displays. When editing samples or working in Maschine's clip-based pattern sequencer, the displays show an overview of the full selection on the left screen while the right screen allows for detailed fine-tuning when slicing, editing, and composing. When browsing, the displays provide easy navigation and selection of projects, groups, sounds, instruments, effects, and samples with KOMPLETE Instruments and Effects product icons visible directly from the hardware.
A new Edit Section provides dedicated buttons and a jog wheel with LED indicators for visual feedback and enhanced functionality. The jog wheel allows quick adjustments to volume, tempo, and swing settings, and speeds up browsing and editing. The Level Section provides a convenient volume knob and a multi-purpose meter display for master, group, sound, and cue levels plus monitoring for up to four selectable input sources when a multi- channel audio interface is connected. Dedicated control buttons allow fast switching between Maschine Studio's sampler, arranger, mixer, and browser, and provide direct access to channel settings and an all-new plug-in strip. For producers already using external equipment, one MIDI input and three MIDI outputs allow Maschine Studio to function as a command hub, controlling all equipment from one comprehensive controller. On the underside of the unit, a highly sturdy, built-in collapsible stand provides the optimal angle for ergonomic action and clearance for unscheduled beverage spills.
In addition to hosting any VST or Audio Units plug-in, Maschine 2.0 comes with an 8+ GB sound library of professional, production-ready sounds. Also included are full versions of Native Instrument's acclaimed Massive synthesizer, the unique synthesizer for percussive and mallet sounds Prism, the compressor Solid Bus Comp, and the sampled vintage electric piano Scarbee MkI, providing a setup ready for any production task. Also new and exclusive to Maschine 2.0 are five drum synth plug-ins, which cater to a specific drum type.
Maschine can be used as a standalone on either MAC or PC systems, but also loads as a VST, Audio Units or AAX plug-in in all major DAWs for seamless integration with existing production environments. Maschine 2.0 software features batch export of full songs, groups, and single sounds in lossless WAV or AIFF formats in up to 32- bit/192kHz quality. Import of older Maschine projects, iMaschine projects, REX files, and MPC programs is also fully supported.
Maschine Studio will be available beginning November 1, 2013 for $999 / €999 / ¥104,800. Maschine 2.0 is included with Maschine Studio and all Maschine and Maschine Mikro products shipping on or after November 1, 2013. Current Maschine users can purchase Maschine 2.0 on the NI Online Shop from November 1, 2013 for $99 / €99 / ¥9,800.
Native Instruments