BASSMAXX Unveils SSP215 Profundo Subwoofer
BASSMAXX has unveiled their new SSP215 Profundo Subwoofer, a dual 15″ loudspeaker powered by a 4000W amplifier with comprehensive onboard DSP. With a low height of 17.5″, this powerful sub can be placed under low stages and ceilings, and in tight corners where larger boxes won't fit. Its largest dimension is 48″ wide, which, when turned on end, makes the box a stack platform for getting top boxes above the heads of the audience. The depth is 22.5″, allowing it to be placed in front of stages with minimal loss of audience area and making the SSP215 a perfect truck-pack size for both 90″ and 96″ trucks. It can also be utilized as a drum monitor sub that minimizes space but maximizes impact.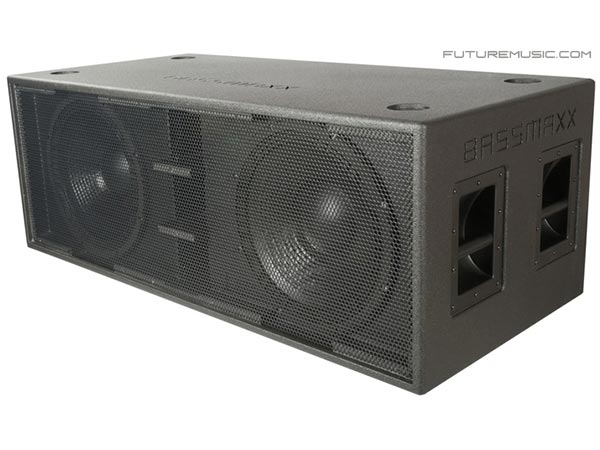 At about half the size of the average double 18″ subwoofer, the SSP215 is ideal for the mobile professional who needs substantial bass output but has limited transport space. For installations in lounges or restaurants where sound quality is a priority and space is limited, the SSP215 will comfortably take the place of double 18″ boxes without loss of output or diminished frequency range while taking significantly less floor space. The SSP215 is tuned low, providing linear response down to 35Hz (±3 dB) for use as a real subwoofer, with long-excursion, low distortion 15″ woofers, and, thanks to the lower mass of the 15″ cones, it delivers a tight, punchy sound as well as the deep, rolling bass.
Features:
» Half the size of the SSP218 boxes
» High SPL output beats most double 18" subs
» Deep bass output comparable to double 18" subs
» Convenient shape for lifting and loading
» Truck pack dimensions for touring
» Very low profile for under stages or low ceilings
» Comes with the Sound Defense warranty that covers failed drivers, including burned voice coils, for two years.
The included amplifier provides 2400W to the on-board woofers. In addition, the amplifier can power a second matching cabinet, providing a total of 4000W. The SSP215 is a 4800W program rated double 15. The woofers have 4" voice coils and a power handling rating of 1200W rms and 2400W program each. The DSP features 96Mhz, 24 bit processing, and provides high-pass and low-pass filtering, limiting and time alignment functions. Controls include an input attenuator and mute button. Touring options include a 4-wheel transport cart with locking casters and covers for one, two or three cabinets on a cart. Installation versions are available with 16 x 3/8" threaded flypoints, and the included amplification and processing package can be ordered in a 2-space rack chassis.
The BASSMAXX SSP215 Profundo Subwoofer retails for $5148.
BassMaxx