Mixvibes Updates CrossDJ To Version 2.5 – Adds Native Key Detection
Mixvibes had premiered a major update for their Cross DJ mixing software for Mac and PC. Version 2.5 features build­-it key detection and control, new full screen collection and more. There's accurate build­in key detection right in Cross DJ: no need for third party software anymore. Key can be displayed in classic notation or harmonic code, making it easy to find matching tracks.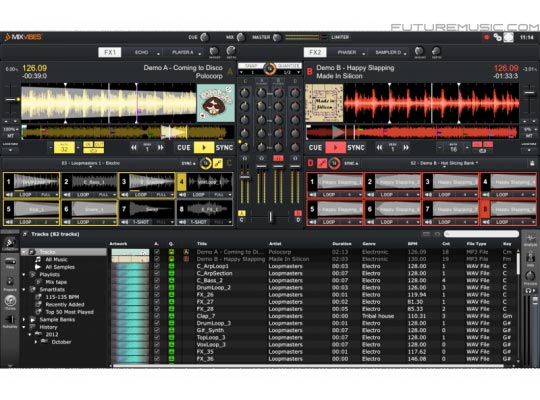 Key is just as important as BPM. Cross DJ displays it straight into the deck header. Match it automatically to the master deck, or change the pitch manually by semi­tones. The dynamic key display reflects those changes, and turns white when in harmony. Browsing by key is now super easy: key compatible tunes are highlighted in bright orange. Focus on other search criteria, and the key still pops up.
The collection view is now more intuitive than ever with the new mini­players. It provides more real estate to browse tracks, while keeping an eye on what's playing. Additionally, you can now drag and drop tracks between players and samplers ­useful when you have only one turntable or CDJ.
DJs are used to production software grids to understand a track's structure. Cross DJ is the first DJ application to show those markers on the track's peak view, making it easy to mix musical phrases.
Cross / Cross DJ Main Features:
» 4 players
» 2x 8 pad samplers
» Accurate synchronization for ­easy beat matching
» Sync link mode (with master deck)
» Complete DJ Mixer with 3­-Band EQ, volume faders, cross­fader, level meters and direct access bi­filter
» Parallel waveforms and track overview display
» Modular user interface
» Smart seek (jump playback position using increments of 1/32 to 32 beats)
» Snap and quantize
» Slip mode
» 8 hot cues/loops per track
» Hot sampling
» Advanced beat grid editor for tracks with irregular bpm
» Auto loops (1/32 to 32 beats)
» Built-­in key detection engine
» Dynamic key control and display (harmonic or classic notation)
» Keylock
» Pitch fader and pitch bend
» Pitch range from 4% to 100%
» 14 audio effects
» Audio Recording
» Autoplay
iTunes integration Advanced media management (smart playlists, in­key tracks hightlighted, filter search, color coding, tag editing, and more) Import libraries from Rekordbox and other DJ software (Traktor, Virtual DJ, and more), including beat grid and hot cues History playlist to keep track of previous sessions Loopmasters sample banks offered.
External control:
» Over 60 MIDI controllers support (Pioneer, Hercules, Numark, etc.)
» Mapping editor with macros
» Advanced audio routing
» External soundcard support
» All main audio formats supported: MP3, M4A, WAV, AIFF, FLAC, OGG, AAC, etc.
» 5 languages supported
» Cross DJ iPhone & iPad Remote application support
» Video Plug­-in available
Cross DJ 2.5 introduces one to one mappings of the latest popular controllers:
» Pioneer DDJ­SX
» Numark 4TRAK, N4 and Mixdeck Quad
» Vestax Spin 2
» NI Kontrol S4 and X1
This update is free and available for Cross, Cross DJ and Cross DJ Free. Otherwise Cross DJ will set you back $49.99 / €39.99.
Mixvibes