Waldorf Releases Nave – Advances Wavetable Synthesis For iPad
Waldorf has released Nave, the German concern's first synthesizer app for Apple's iPad. Jointly created by Stefan Stenzel (audio algorithms), Rolf Wöhrmann (iOS development), and Axel Hartmann (graphic design), Nave transforms any iPad into an advanced wavetable synthesizer for truly mobile composition, performance, and sound design.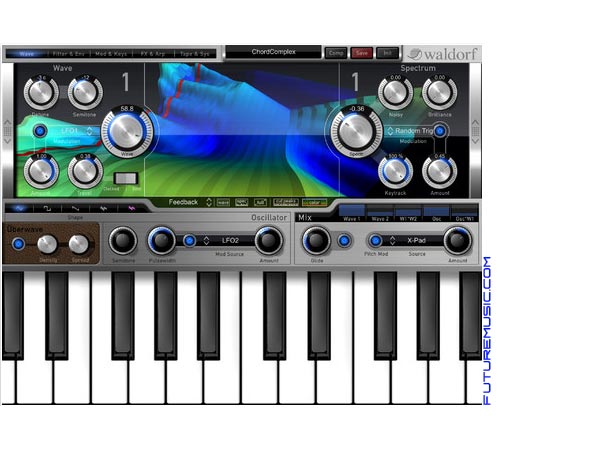 Nave comes complete with over 500 presets from Richard Devine, Sacha Dikiciyan (Sonic Mayhem), Laurence Rapaccioli (Arksun), David Boldini (7 Skies), and Fletcher Kaufman (Sunsine Audio), amongst many others. All showcase the depth and diversity of the iOS synthesizer for the benefit of those who want to indulge in some serious sound design of their own making. Its sound engine includes two wavetable-based oscillators, and allows the sound spectrum to be transposed independently of pitch. The waves can be rendered from perfectly periodic to very noisy and anywhere in between.
Nave's interface invites both users to experiment both sonically and musically while the hosting iPad's display helps make wavetable creation and editing easy. Besides integrated speech synthesis, wavetables can also be formed from analysing audio files. Furthermore, stretching, rotating, and shifting in the spectral domain allows wavetables to be refined or distorted in the fullscreen Wavetable Edit Mode. Here users can edit and fine-tune the wavetables using several 3D views and factory wavetables from the Microwave, Wave, and Blofeld synthesizers are all included.
Nave also includes a classic oscillator with an useful selection of basic waveforms, plus a full-sounding Überwave function for beefing up sounds by up to eight individually detuned oscillators a la Waldorf's recently released Rocket synthesizer. Nave's flexible Filter section features LP (low-pass), BP (band-pass), and HP (high-pass) filter types with either 12 dB or 24 dB slope settings. The Drive section offers contrasting characteristics by being positioned Pre Filter or Post Filter or as a summing overdrive Pre EQ or Post EQ.
An extended modulation matrix and diverse realtime control functionality animates any Nave sound in any desired direction. In addition to the classic virtual chromatic keyboard, Nave can be played with the Blades that allow for dynamic triggering of polyphonic modulation by simply sliding fingers in X and/or Y direction.
Yet more flexible fun is to be had on the FX & Arp page with pro-quality ModFX (Phaser, Flanger, Chorus), Delay, Reverb, parametric Equalizer, and a highly effective Compressor and a full-featured Arpeggiator. The Tape & System page plays hosts to an old school, four-track recorder, replete with virtual tape spools. Use it to record complete compositions or simply sketch some musical ideas inspired by the superlative sounds of Nave!
Waldorf's Nave is available now for $20 / €18 from Apple's App Store.
Waldorf