Waves Announces RS56 Passive EQ Plug-In
Waves has announced the RS56 Passive EQ Plug-In for Mac and PC. The hardware RS56 is a passive EQ, meaning no amplification of any kind is used to create its filters. In fact, it can't even be plugged into a power socket. Passive EQs use high value capacitors and inductors to achieve the desired filtering. This lack of amplification means passive equalizers can only attenuate the signal, not boost it.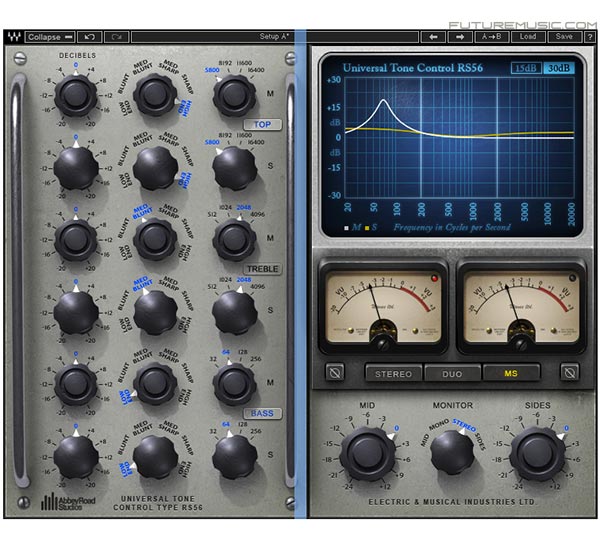 A passive equalizer with powerful sound-shaping capabilities, the RS56 Universal Tone Control was originally introduced in the early 1950s and used in Abbey Road Studios to prepare recordings for the record-lathe, as part of the process we now know as "mastering." Later, Abbey Road's pop engineers began using the RS56 for studio recordings because of its abilities to dramatically manipulate sound – unlike the basic treble and bass EQs found on the mixing consoles of the time. This earned it the nickname "The Curve Bender."
Waves and Abbey Road Studios have faithfully recreated the unique magic of the RS56, using advanced circuit modeling techniques based on the original schematics. Like its hardware predecessor, the Waves: Abbey Road RS56 passive EQ plugin features three bands with four selectable center frequencies for each and six different filter types, plus independent or linked control over the left and right channels. The result is an extraordinary equalizer that is as effective today as it was when it was created over half a century ago.
Waves