Blue Cat Releases Liny EQ 5.0 Plug-In For Mac & PC
Blue Cat has released Liny EQ 5.0, a complete rewrite of their low latency linear phase EQ plug-in. Liny EQ is an eight band linear phase graphic equalizer with very low latency and comprehensive visual feedback: it processes audio signals without phase distortion, with an unusually short latency (less than 3 milliseconds). Version 5.0 has a brand new, fully customizable user interface, and includes many new features and enhancements: premium visual feedback with EQ curves, spectrum and spectrogram displays, new EQ shapes, single and dual channels modes, a new presets manager, Windows AAX support, multiple display sizes, new MIDI and automation mapping capabilities, and much more.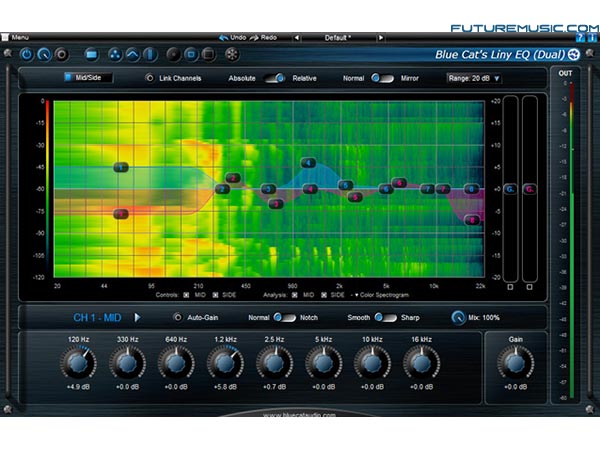 The plug-in is available alone or as part of Blue Cat's Master Pack, a bundle including the company's recommended plug-ins for mastering. A special introduction offer is available to new customers until June 15th: 25% off the plug-in and 15% off the bundle. Customers who recently purchased the software (in the past 3 months) will receive the upgrade for free, and others can upgrade to the new version for a small fee. Other Blue Cat Audio customers can purchase the plug-in with 40% discount.
Features:
» Brand new, fully customizable user interface:
— New look and feel
— Show/hide what you need
— New EQ curve display
— New instant spectrum curves display
— New color or greyscale overlayed spectrogram view
— New output peak levels meters
— Multiple display sizes
— Improved readability
— Animated transitions
» New "mix" parameter for instant dry/wet control or side chain dynamic equalization.
» New interpolation mode for up to four different EQ shapes.
» Automation range and response curve can now be customized for each parameter (in and out).
» Automation and MIDI settings (channel, MIDI learn etc.) are now accessible from the main user interface.
» AAX plug-in format is now also supported on Windows (Pro Tools 10.2 required).
Blue Cat's Liny EQ 5 costs $96 / €74 until June 15th. Upgrade from Blue Cat's Liny EQ 4: $25 / €19. Blue Cat's Master Pack: $510 / €390 until June 15th. Demo versions are available for download in the VST, RTAS, AAX, Audio Unit and DirectX flavors, for both Mac and PC (32 and 64-bit).
Blue Cat