XILS Lab Announce XILS V+ Vocoder Instrument
XILS Lab has announced XILS V+ – a combo Vintage 10 band Vocoder, Supreme Top Octave Divider based Strings, and Human Voices virtual instrument.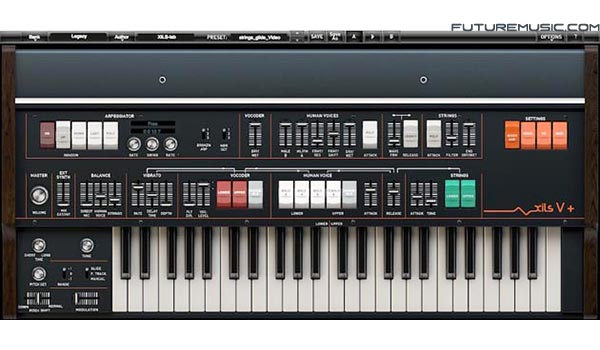 The XILS V+ features a Top Octave Divider oscillator (T.O.D.), a specialized technology that has a distinctive sound. The Ensemble circuitry, a fancy name for a Chorus effect, features a "compender" married to four Bucket Brigade Delays, The Voice and Vocoder Vibratos, based on the Bucket Brigade Delay tech, contains the 14 filters involved in the Human voices, the three filters used for the Strings, the 40 Vocoder filters and the sophisticated Attack, Release and Glide circuitry.
The Top Octave Divider Oscillator provides a unique sound, which XILS Lab claims that no samples, or other synthesis techniques can reproduce. The XILS V+ would not however be a real XILS-lab instrument if we did not add a lot of functions and possibilities that were not present in the original machine, including giving access to its internal circuitry and parameters. "T.O.D and Beyond", following the Analog and Beyond tradition XILS-lab initiated a long time ago, as well as no aliasing on the whole frequency range.
The XILS V+ will be available in the following flavors: Effect and instrument, VST2.4, VST3, AU, AAX ( All versions 32 and 64 bits ), Mac and Windows. Release is anticipated to be sometime at the end of May.
XILS Lab