IK Multimedia iRig PRE Review
IK Multimedia has added the iRig PRE to their line of microphone options for the iPhone, iPad and some Android devices. The PRE fits in nicely between the compact iRig MIC Cast and the iRig Mic, allowing you to use your favorite microphone to interface with your mobile device.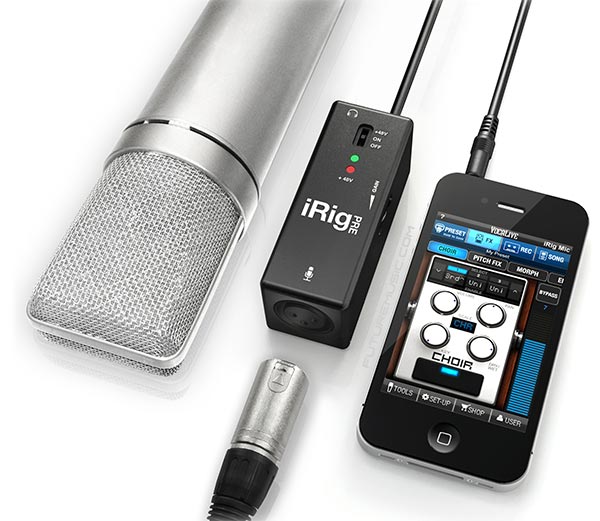 The iRig PRE can support dynamic or condenser mics, +48V phantom power is onboard and powered via the 9 volt battery. The unit sports a 16″ long cable with a tri-band mini jack on one end and a small plastic box that houses the pre-amp, phantom power generator, 9 volt battery compartment, phantom on/off switch, XLR female connector, gain control and a headphone output. Sounds like a lot, but it's all packed into a small, plastic brick measuring 3.25″ L x 1.25″ W x 1.375″ H.

Your Mileage May Vary…
The iRig PRE claims to operate for 30 hours with dynamic mics and 10 with condensers. We didn't achieve that mileage and found it only lasted about 22-23 hours with dynamics and about 6 with our condensers. What that means is that you should pack plenty of extra battery power because these things tend to die, just when you need them the most. Our reviewers were pretty vocal about their feelings on the iRig PRE their thoughts in quotes below.
Features & Specifications:
» 40 cm (15.75″) TRRS cable to connect ?to any iOS device headset jack
» XLR input connector for microphones
» Gain control
» +48 V phantom power
» Headphone output
» On/Off switch
» Power/Phantom Power provided by 9V battery
» Plastic Chassis
» Download 2 free apps from the App Store: ?- iRig Recorder FREE, an easy-to-use voice recording/editing app, ?- VocaLive FREE, a multi-effects processing app for singers
» Compatible with iPhone/iPod touch/iPad and some Android devices

What's The Rub?
The iRig PRE packs an almost 16″ cord, which ended up being both a good thing to our evaluators. "The long cord enabled me to use the iRig PRE as a solution for conducting interviews without having to hold my iPhone next to someone's mouth." However, another reviewer found that the long cord poised another issue, handling noise. "While I liked the flexibility of a longer cord, I found that it added noise to my recordings whenever it happened to rub against something."
The chassis didn't make anyone friends either. "I can understand why IK went with the plastic housing to save on weight and keep the price low, but this is not something that's going to stand the test of time," commented one of our staffers. "By making the case out of plastic, IK Multimedia is basically saying 'this is a disposable product.'" Interestingly enough, even with four reviewers putting the iRig PRE through its paces over and over, the case stayed intact, until it was hacked by our last reviewer who opened it up for modification.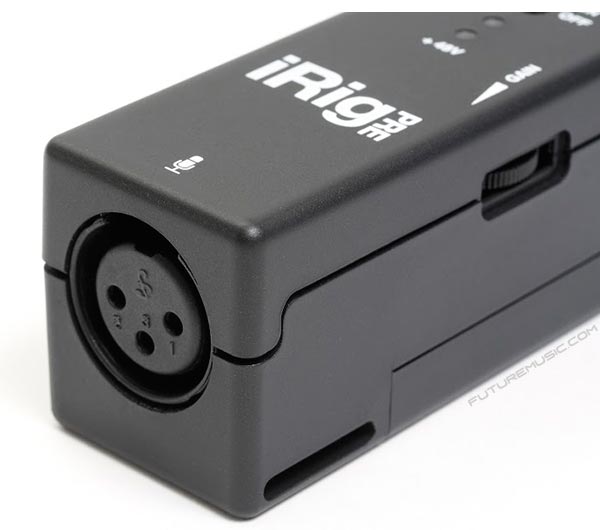 The XLR Input on the iRig PRE housed in the plastic chassis


Bang For The Buck
Despite these deficiencies, the iRig PRE "sounds pretty damn good" for a $40 pre. In fact, half of the reviewers, who initially were just happy they could use their own mics, came away impressed with what the unit could achieve. "This isn't going to replace my Grace, but the iRig's performance exceeded my expectations, especially for 40 bucks." Our evaluators felt that the PRE worked best with dynamic mics, since it "introduced noise" on some of the "higher end condenser offerings."



The iRig PRE's on board controls include Gain and Phantom Power


Apparently there's no stopping the IK Multimedia iOS (and now Android) app and accessory freight train. With new products appearing almost monthly. The iRig PRE is a solid value proposition from the Italians, and for only $40, it's almost a no-brainer for anyone who wants to utilize their dynamics or power-thrifty condensers. IK's iRig PRE comes with two free apps, iRig Recorder and VocaLive.

The Future
Clearly, an aluminum chassis would do much to upgrade the durability, perception and aesthetic of the iRig PRE…
» FutureMusic Rating: 80%


Cheers:
+ Value
+ Long cord
+ Use Your Own Mics
+ Ease Of Use
+ Quality Of Results

Jeers:
– Plastic Chassis
– Construction Quality
– Long Cord
Off The Record:
"The ability to plug in your own mics to your iPhone for 40 bucks, sign me up." —Bruce Dealer
"I wasn't crazy about the construction quality…" —Karen Wright
"The [iRig PRE] didn't play nicely with some of my power hungry condensers." —Garth Fields


IK Multimedia's iRig PRE is available now for $39.99.

IK Multimedia