iZotope Releases Nectar Elements
iZotope has released Nectar Elements a somewhat budget version of their vocal processor plug-in. Even the biggest superstars might need a little help here and there. Need to fix pitch problems, remove pesky "ess" sounds, or reduce room noise in your recording? Nectar Elements has you covered. With 10 powerful vocal processors working hard behind the scenes, Nectar Elements offers simple, intelligent controls that let you focus on your sound, not your set-up.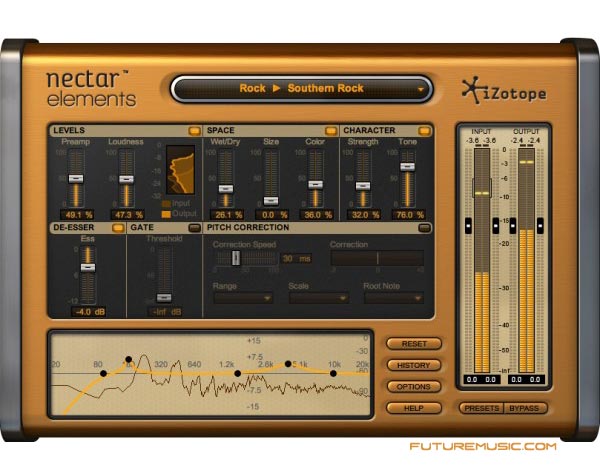 Features:
» EQ: Enhance and sculpt the tone of your voice, or adapt any Style to suit your sound´s needs.
» De-Esser: Easily remove unwanted "ess" sounds and sibilance using just one intelligent slider.
» Gate: Remove room tone and other unwanted noise quickly to get vocals crisp and broadcast-ready.
» Automatic Pitch Correction: Fix out-of-tune notes so you can keep those "almost perfect" takes.
» Rapidly audition different vocal sounds with professionally-designed Style presets in genres like Rock, Pop, Folk, Soul, and Voice Over & Dialogue.
» Personalize your sound with easy-to-use controls like Presence, Drive, and Grit that drive sophisticated vocal processing.
iZotope;s Nectar Elements costs €115.00 / £99.00 and is available now.
iZotope