Zerodebug Unleashed d(–)b – New Modular DJ App For iPad
Zerodebug, the same German concern that brought us the Ableton Live iPad controller, touchAble, has just debuted d(–)b, a new, modular, iOS controller. The d(–)b takes a vastly different approach to DJing on a multitouch screen, but providing the ability for the user to customize his/her experience for their workflow.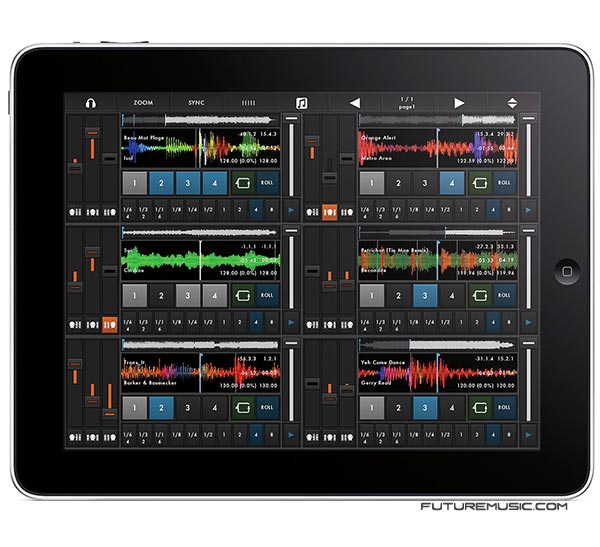 DJs can choose from pre-installed templates or create their own interface with up to 6 decks. This is all made possible by the comprehensive in-app editor allowing you to configure your very own DJ setup exactly the way you want it. Flexibility is the d(–)b's mojo and the numerous customizable modules include everything a DJ requires to make interesting provocative mixes in the new post-beatmatching paradigm. With beautiful color-coded waveforms and accurate tools for both worlds of beat-matching: Grid & Sync or Pitch & Nudge – it opens the door to a whole new world of touchable DJing.
Features:
» zoomable realtime waveforms with spectrum color coding
» 4 cue points per deck
» 3 band EQ with kill switches
» loops from 1/64th to 8 bars
» loop roll while track keeps playing
» automatic beat & grid detection
» manually grid tracks if the detection is off
» pitch coarse & fine faders for ?10% / 1% pitch control
» custom browser with access to the iTunes library
» multi-route audio to pre-cue tracks in stereo
» use any class compliant USB Audio Interface as a secondary stereo output
» ?use split output audio to do mono monitoring
» record stereo mixes – even without multi-route
» optionally listen to the dry/wet monitor signal instead of the recorded main signal




Zerodebug's d(- -)b is available now at an introductory price of $9.99 from the Apple App Store, normal price $16,99. d(–)b officially supports the iPad 2 and up, including the iPad mini, running iOS 6 and above.
Zerodebug