The 27th annual South By Southwest Music Conference and Festival commences Tuesday, March 12 and runs through Sunday, March 17. In what has become an annual milestone for the music world, an estimated 20,000 convention attendees and thousands of performing musicians will journey to Austin, Texas, to immerse themselves in every aspect of music and its attendant business. The activities in the Austin Convention Center, which begin on Tuesday March 12th are a valuable resource that cater to music industry professionals. By day, the 190 conference sessions will include rare glimpses into the business acumen of notable industry professionals who have successfully navigated the music world for many years.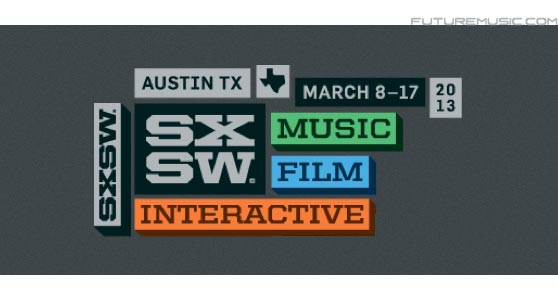 Electronic music, which has always been somewhat of a bastard, step-child at SXSW, is making huge inroads in the lineups with the popularity of EDM on the radio and advances in digital music production is now influencing every genre of music. The conference is extremely well-organized, which is quite a feat considering the the deluge of industry talent, bands and attendees that descend on Austin. The new power of electronic music at the event is showcased in a new SXSW music credentials, a special track of content focused on those pushing the boundaries, featuring Richie Hawtin and Deadmau5.
The 2013 SXSW Music Conference is the core component of the event, and covers business and creative issues in music. Highlights this year will include: Dave Grohl's Keynote and a who's-who of industry influencers including Clive Davis, Stevie Nicks, Jim James, Deadmau5 & Richie Hawtin, 50 Cent, Depeche Mode, Eric Burdon, Macklemore & Ryan Lewis, The Zombies, Chuck D, Bootsy Collins, Jared Leto, and Omar Souleyman. Other panel participants will include Kenny Loggins, David Lowery and Talib Kweli.
Panel titles include Silicon Valley Isn't the Enemy Anymore; The Power of Lyrics in the Digital Age; Friends with Benefits: Converting Likes to Sales; UK 101: How to Break Your Band in the UK; When Music Startups Grow Up; Music Festivals Powered by Tech Innovation; Girls and Tech: Why Young Women Rule in Music; Jingle Is Not A Four-Letter Word; Activists, Rockstars & Startups: Building Movements; The Promise Land: Can Africa Save The Music Biz?; The Explosion of EDM in America; and Red Menace: Cuba's Heavy Metal Underground. In addition to these featured speakers and panels, SXSW will also host Demo Listening Sessions and the new Music Supervisor Pitch Sessions.
New this year, all SXSW music credentials will be welcome to attend conference programming on Tuesday, March 12 with a special track of content focused on those pushing the boundaries. From the deadmau5 and Richie Hawtin conversation to fresh data and analysis from Nielsen and much more, this unique convergence programming will take place on the 4th floor of the Austin Convention Center as well as the Long Center located across from Auditorium Shores.
Also taking place in the convention center are the Music Gear Expo, The Radio Day Stage, and The International Day Stage all running Wednesday, March 14 – Saturday, March 17. The Music Gear Expo will host exhibitors showcasing guitars, drums, amps, pedals, keyboards, apps and other equipment necessary for today's musicians in Exhibit Hall 5. Strait Music will be on hand to sell instruments by Expo exhibitors as well as useful accessories. A complete list of participants can be found at http://www.sxsw.com/trade-shows/gear-expo/exhibitors. The Radio Day Stage presented by ASCAP is a favorite place to enjoy performances from showcasing artists, grab a drink, connect to free wi-fi and relax. SXSW has partnered with some of the most innovative radio stations including Columbia's Radionica, KCRW, KCSN, KUTX, WFUV, WXPN, The Current, KXT as well as SXSW's own SXSWfm all of which played a major role in curating the shows. The newly minted International Day Stage located in Ballroom G will host some of SXSW's most diverse talents from across the globe. The line-ups consist of Norwegian Hip-Hop specialists Karpe Diem, Canadian electronic group Shout Out Out Out, Mali's own folk collective Terakaft & Tinariwen, and many many more.
Returning this year is the Music Startup Village bringing together the startups, entrepreneurs, investors and cutting-edge digital tastemakers within the SXSW Music Conference. This space will showcase the various startup events including SXSW Accelerator, panels, meet ups, lounges, pitch events and mentoring sessions related to this unique startup, entrepreneur and investor community. The events takes place on Wednesday, March 13 from 11:00 a.m. – 6:00 p.m. in the Austin Convention Center.
SXSW