Arturia Releases iMini – MiniMoog iOS App
Arturia has released the iMini app for iOS, a recreation of the all-time classic Minimoog monosynth. iMini is based on the same TAE (True Analog Emulation) synthesis technology found in Arturia's Mini V soft synth.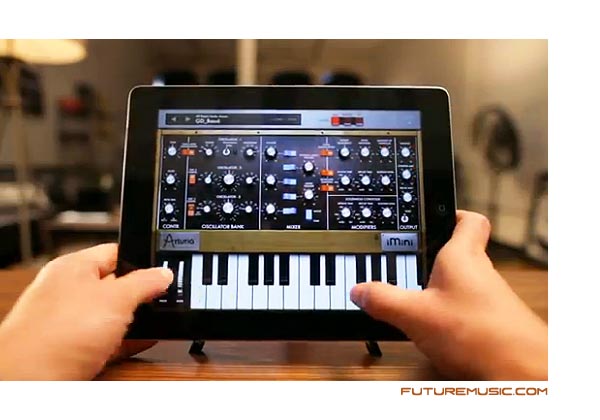 Arturia now brings the still-sought-after classic Minimoog sound to the musical masses, transforming any iPad mini, iPad 2, or iPad with Retina display into a virtual MiniMoog. Those timeless three oscillators and that 24dB per octave fabled filter are all present and accounted for in iMini. It also successfully sports the look and feel of Dr Bob Moog's namesake iconic synthesizer but also adds some unique features not found in the original.




On the front panel, Arturia added analogue CHORUS AMT and DELAY AMT level controls, as well as a POLY switch for playing polyphonically. Other supplements include a gearwheel icon above the keyboard — press to reveal GLIDE, DECAY, LEGATO, and SCROLL switches for performance keyboard control, plus a SCALE function to choose from no fewer than 26 different scales and modes.
Features:
» 3 Oscillators
» 24db per octave filter.
» Simulated headphone jack/external input feedback
» 500 Presets
» 2 Assignable XY pads
» Chromatic or tuned scale keyboard modes
» Polyphonic mode
» Full featured arpeggiator
» Repeat
» HOLD and MEMORY latch modes
» Octave span
» 5 note order modes
» Speed and sync controls
» Virtual Analog Chorus
» Virtual Analog Delay
» Owners of both the iMini and Mini V software apps can transfer sounds from one platform to the other via iTunes.
» Full user MIDI mapping of panel controls.
» Supports WIST sync with other iOS devices.
» Tabletop Ready (Soundcloud seeder; Render to .wav file; Audiocopy)
» Minimum Required platform: iMini requires at least an iPAD 2 and OS 6.0 or later.
But behind that familiar-looking MAIN screen lies a wealth of truly 21st Century audio action: the PERFORMANCE page accesses an arpeggiator with two latch modes and two assignable XY pads for creating all kinds of patterns and real-time morphing sounds; the FX page provides iMini with the same wide-ranging CHORUS and accurate ANALOG DELAY models found in the above-mentioned Mini V software — subtle sound thickening to wildly modulated effects (chorus) and sync to external tempo (stereo delay). Handily, all onscreen knobs and switches in each iMini page can easily be assigned to MIDI CC allowing automation from any external MIDI source. The default MIDI map will automatically work with Arturia MiniLab or Analog Player 25 Universal MIDI Controller keyboards!
The CONNECT page is the gateway to making iMini talk to the outside world (using the Apple iPad Camera Connection Kit) — use WIST (Wireless Sync Start Technology) to sync the arpeggiator and delay to other iPad or iPhone apps, and integrate iMini into a complete studio environment via Retronyms Tabletop. This free iPad app allows multiple iMini instances to be simultaneously run; real-time performance recording into a sequencer; parameter automation; processing of third-party, Tabletop-ready apps through the iMini filter, and more.
Arturia's iMini costs $10 / €9 during a special three-week introductory launch deal increasing to $22 / €20 after.
Arturia