NAMM 2013 Shaping Up To Be Year Of 500 Series Modules
The 500 series format has certainly been embraced by the industry as a perfect way for engineers and producers to tote their favorite channel stripes from gig to gig, but at this year's NAMM show, modules are being introduced at a feverish pace. Here's what we can tell you today:
No one went as hog-wild as Radical, so we'll start with them first…
Radical
Radial Q4 Discrete Class-A Variable-state Parametric EQ
Unlike other EQs that employ high gain chips and then mounds of negative feedback to control the circuit, the Q4 is 100% discrete meaning that separate parts are used at each stage to generate gain and control run-away. This unique class-A 500 series module reduces negative feedback to an absolute minimum for a more open and natural sound. Four bands deliver high and low shelving with lo-mid and hi-mid semi-parametric control. $700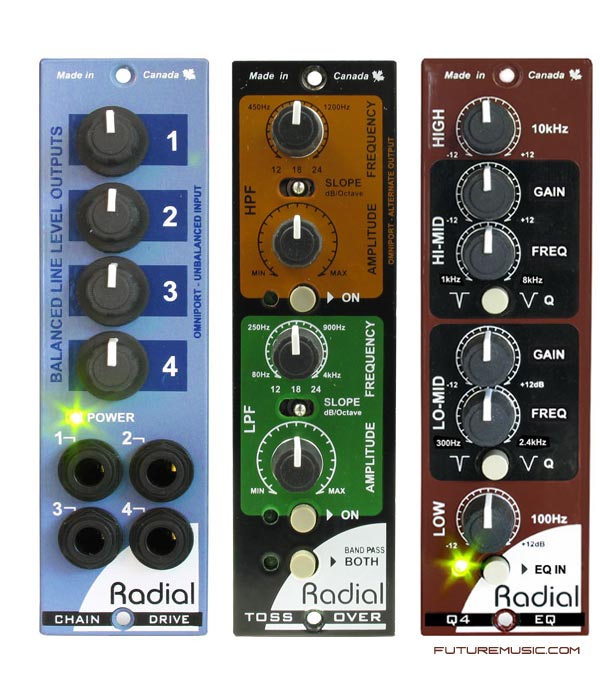 Radial PreComp Combination Mic Preamp and Compressor
The PreComp is a 500 series module that combines a high performance mic preamp with a fully variable, full function VCA compressor. One merely connects the mic, sets the input level and then the compression for instant results! This compact all-in-one module is particularly beneficial for high density setups such as live recording where you want to capture the natural sound of the instrument while ensuring it does not go into the red. Those equipped with a Radial Workhorse can use the Omniport to access the preamp and compressor separately using them as two separate modules. $350
Radial PreMax Combination Mic Preamp and 3 Band EQ
The PreMax is a combination low-noise mic preamp and 3 band equalizer jam packed into a single-wide 500 series module. The 'all-in-one' channel strip will be of particular interest to those who require greater density in their production studios or on-air radio broadcast inputs. The feature set includes Radial's super quiet Accustate input control that auto-pads the input while optimizing signal-to-noise. A high pass filter eliminates resonance while a 180° polarity reverse lets you match stereo mics for phase parity. A front panel instrument input lets you turn on the Omniport (which in this case is optimized as an instrument input) for direct recording of bass, guitar or keyboards. $350
Radial Tossover Fully Variable Dual Band Filter
The Tossover is a 500 series module that lets you apply low-pass, high-pass or band-pass filters to the signal chain. It features high and low frequency ranges with choice of 12dB, 18dB, or 24dB per octave slopes. Each band may be used separately or combined in series. When connected to a Workhorse, the Omniport lets you pull the low band out separately for parallel processing. $400
Radial ChainDrive 1 x 4 Audio Distribution Amplifier
The ChainDrive is a 500 series module that lets you take a signal and send it to 4 destinations at the same time. The unique circuit enables both balanced and unbalanced signals to be processed and it can also be used to distribute unbalanced stereo signals. Hook up is easy: the input connects via the XLR on the power rack while the front panel features four ¼" TRS connectors with level controls. Use the ChainDrive to feed multiple effects, multi-band compression and more. $350
Submix 4×1 Line Level Mixer
The SubMix is a line level mixer that jam packs 4 inputs into a single space, 500 series module. One connects 4 unbalanced sources to the front panel via the ¼" connectors and sets the levels to suit. The SubMix employs Radial's unique VaryState input circuit that simultaneously adjusts the sensitivity and gain for improved signal to noise. The SubMix is ideally suited for patching and recording keyboards and drum machines or use two for tape returns when overdubbing or effects. $350
Radical


Rupert Neve Designs
Labeled as the 511 Mic Pre with Silk and the 542 True Tape Emulator with Texture, these are the only 500 Series modules designed by company founder and lead designer Rupert Neve. The 511 incorporates the preamp circuitry from the 517, the sweepable high-pass filter from the 5012, and the power of a variable Silk circuit derived from the flagship Portico II Channel. 511: $650 – 542: $895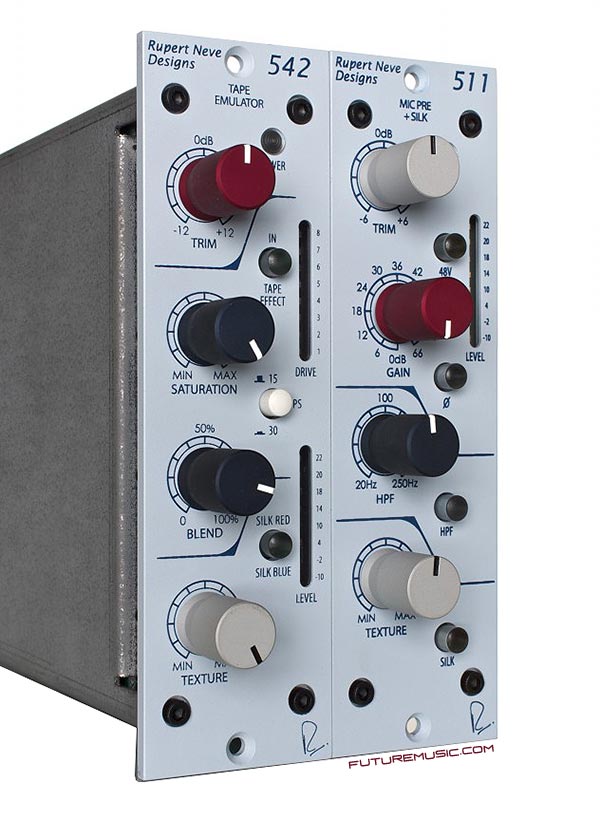 Rubert Neve


Earthworks
Earthworks has introduced its first 500 Series module, the 521 ZDT preamp. Based on the ZDT Preamp technology designed by David Blackmer, the 521 ZDT brings the exacting standards of the Zero Distortion Technology preamplifiers to the convenient 500 series format, providing a "wire with gain" option to the 500 series rack.
The solid state ZDT 521 features switchable phantom power, polarity invert, and peak amplitude clip detection, just as in the original 1021 single channel ZDT Preamp. The transformerless output stage of 521 ZDT will easily drive long cable runs without loss of quality, making it ideal for remote recordings. Transparent gain is switchable from 5dB to 60dB in 5dB steps.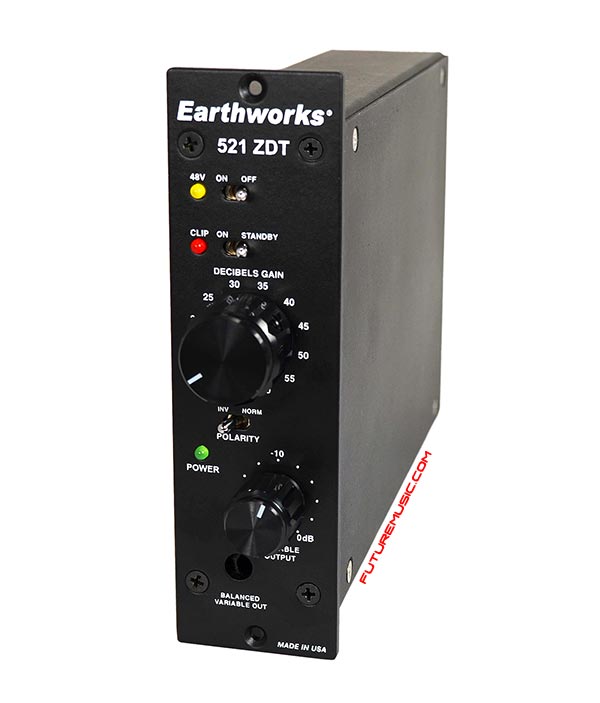 The Earthworks mic amp topology provides outstanding common mode rejection, excellent overload margin and a low noise floor, combined with the ultra wide bandwidth of the ZDT Preamps (1Hz to 200kHz +0.5dB) and distortion of less than 1 part per million (0.0001%). This exceptional level of performance is maintained over an extensive range of impedances applied to the input, making the 521 ZDT suitable for practically any microphone – ribbon, dynamic or condenser.
The Earthworks' 521 ZDT is expected to ship sometime this Spring.
Earthworks


Aphex
Aphex has released six new 500 Series modules: J PRE 500 Mic Pre; EQF 500 Parametric Equalizer; DUAL RPA 500 Mic Pre; A PRE 500 Mic Pre; the COMP 500 Optical Compressor; and EX-BB 500 Aural Exciter/Big Bottom module.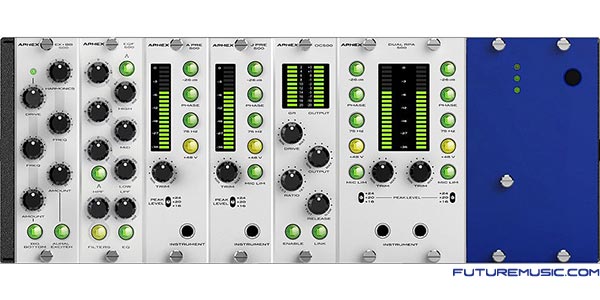 The J PRE 500 mic pre is inspired by the Aphex 1788A remote controlled preamp. They both have the same Jensen JT11K8 nickel input Transformer and Aphex patented Mic Limiter technology. Designed to provide audio quality in the convenient 500 series format, the J PRE 500 also features a Jensen JT-11DL nickel output-balancing transformer.
The EQF 500 reissue is a modern take on the classic Aphex EQF-2 500 series three-band equalizer, originally introduced in the 1980s. With a Jensen output balancing transformer and 25Hz to 20kHz operation, the EQF 500 claims to make any program material shine while being punchy and quiet. The DUAL RPA 500 mic pre is a two-channel solid state/tube hybrid preamp. The solid-state front end provides a fast transient response while the tube back end provides warmth and punch. The DUAL RPA 500 also has the Aphex patented Mic Limiter technology for "no second take" recording. The A PRE 500 mic pre is inspired by the popular Aphex 188 eight-channel preamp. However, the A PRE uses a custom-designed CineMag input transformer and a Jensen JT-11DL nickel output balancing transformer. The A PRE 500 is extremely clear sounding yet musical.
The new COMP 500 module is an optical compressor. It features an electronically balanced input and uses a Jensen JT-11DL nickel output balancing transformer. The optocoupler was specified to be as fast as possible and, is produced exclusively for Aphex. The module features stereo linking, and provides all the transparency of an optical compressor with the flexibility to get aggressive compression when needed. The EX-BB 500 is a mono, 500 Series module version of the Aphex Aural Exciter and Optical Big Bottom processors.
Aphex's new 500 series modules are shipping now for: J PRE 500 $749; EQF 500 $629; DUAL RPA 500 $999; A PRE 500 $699; COMP 500 $629; EX-BB 500 $299.
Aphex