BugBrand Premiers PEQ Parametric Equalizer
BugBrand has unleashed the PEQ – Parametric Equalizer – a distinctive departure for Mr. Tom Bugs. The hand-made PEQ combines three fully Parametric EQ sections with Low and High Cut filtering and provides a versatile tool for corrective or creative equalization in a compact form factor.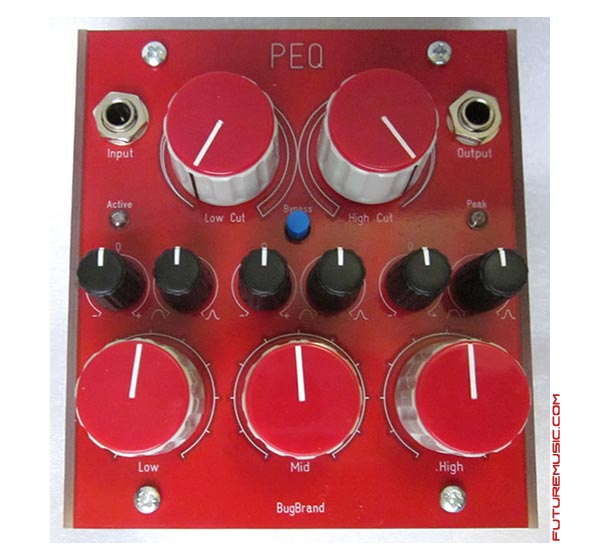 The three Parametric sections are identical other than being tuned to different (and overlapping) frequency ranges and are based on State-Variable filter topographies. Each section offers cut or boost of 15dB over a variable frequency range, with bandwidth variable between 1/4 and 2 Octaves for gentle or pronounced effects.
Frequency Ranges: Low 30Hz to 340Hz – Mid 180Hz to 2.2kHz – High 1.2kHz to 16kHz. Low and High Cut Butterworth Filters bookend the Parametric sections (see block diagram) and give 12dB/Octave response. Frequency Ranges: Low Cut 20Hz to 400Hz – High Cut 400 to 20kHz
The PEQ is designed to work with line level signals covering the full audio spectrum and is ideal for use as a series or insert effect. Input and Output are unbalanced 1/4″ jacks with an input buffer before the bypass switch (with Active LED indicator). Unity gain is achieved through the equaliser sections with Low Cut fully counter-clockwise, High Cut fully clockwise and the three Cut/Boost dials set to their middle positions.
The panel design aims for spacious layout and implements oversized knobs for fine frequency adjustments. The worldwide PSU powers an internal bipolar 15V DC-DC converter for wide signal headroom. A Peak indicator monitors the signal at each stage of the PEQ to detect overload.
Specifications:
» Input/Output – Mono (unbalanced) 1/4″ Jack
» Power – 12V DC 500mA supply, centre-positive, 2.1mm connector.
» Worldwide 90-240VAC adapter provided with interchangeable mains plug adaptors
» Custom aluminium case
» Dimensions approx 5.25″ x 5″ x 3.5″
The BugBrand PEQ costs £180 and is available now.
BugBrand