Pulse Surface Review
The Pulse Surface MIDI Controller is a new product that was developed to turn your incessant finger tapping into musical MIDI data. What's that? You don't know what we're talking about? You're NOT that guy?? The one who is constantly drumming on various surfaces to the chagrin of your peers? You haven't been reprimanded for drumming on your desk in class? You haven't been smacked on the back of the head for pounding on the dashboard? You didn't ruin your mate's birthday cake by drumming on the top with the candles? Right, then…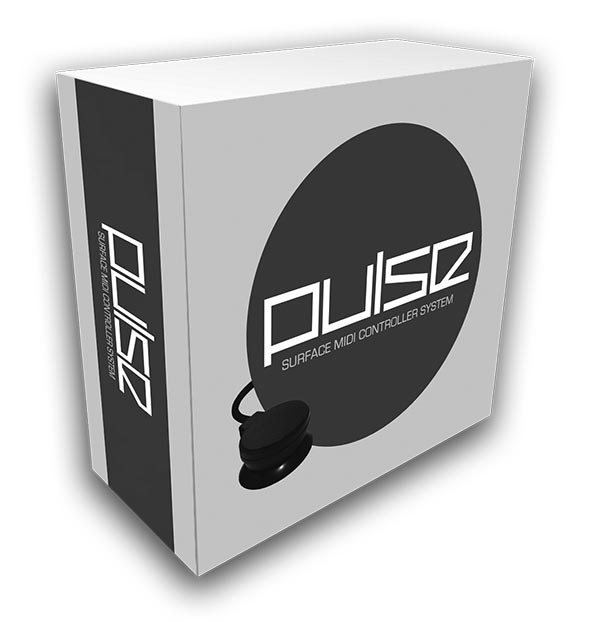 Well, even if that wasn't you…but still love to drum out intricate rhythms on any available surface, listen up, Stephan Vankov has created a little gizmo that you're going to be very interested in learning about. Dubbed the Pulse Surface, this MIDI controller consists of a piezo microphone, adroitly attached to a suction cup with a mono 1/4′ jack (3.5mm Mini Jack adapter included). The reality is that this is not groundbreaking technology. Piezo mics have been around since the discovery of fire. Well, maybe not that long, but almost. What sets the Pulse apart from other piezo interfaces, is the handsome bit of software that turns those impulses into MIDI data that you can then import into your Digital Audio Workstation (DAW) and incorporate into your tracks.
Features & Specifications:
» Well-constructed Piezo microphone input device
» Elegant and powerful software interface?
» Integrated suction cup (velcro strips also provided)
» Connects to external audio device or built-in audio inputs (1/4″ and 1/8″)?
» Velocity-sensitive and highly responsive?» Low-latency performance?
» Compatible with all software that accepts MIDI Note messages (Cubase, Ableton Live, Pro Tools, VST/AU plug-ins, etc)
» Generate fixed note or random notes in a selected scale, with control of octave, octave width, root pitch and 21 Scales?
» Fixed note length and note choke modes
» Store and recall presets
» Keyboard shortcuts for quick access to presets and important controls?
» Mac OS 10.5, 10.6, 10.7 compatible (Windows / Ableton Live users, please contact us about M4L version)
Version 1.5 Update - Coming January 2013
» Velocity Mode – allows the user to trigger different MIDI notes based on input velocity — » Preset Banks – organizational feature that allows the user to save and title preset banks for quick access to mappings — » Extended Arpeggiation Options – random, zig zag walks, up, down, up/down — » User Interface Zoom – magnifies the user interface to allow for easier input of note mappings in Custom Mode — » Hold – when placing notes from external controller input (keyboards, pads), pressed notes can now be held into place — Hardware: — » New Pulse Controller Clip. This version of the product features a clip piezo sensor. Customers will have a choice between the original suction cup piezo or the new clip piezo, depending on their surface and mounting preference.

More Than Just Middleware
Vankov, the sole person responsible for the Pulse Surface, is also an accomplished musician and this shows up bigtime in the Pulse's software. For a "middleware" component that's supposed to simply translate audio impulses into MIDI data, there's an awful lot of musical information incorporated into the Pulse's software. Pulse features the ability to assign trigger note data to 21 predefined musical scales with control over root pitch, octave and width. You can even create your own "custom" scale, as well as utilize an external keyboard MIDI controller to assign values. Notes can be triggered randomly inside a scale or "walked" up or down. Pulse also has the ability to trigger "polyphonically" by assigning a predetermined note length or can be "choked" – new notes cut off previous notes – for monophonic action. Plus, there's plenty of options for dialing in input sensitivity, as well as a buffer. This translates into excellent low-latency performance, allowing you to capture even the most intricate beats.

Execution Is Everything
Our reviewers found there was a lot to like about the Pulse Surface with its "first rate pickup" and "well thought out interface." Each saluted the accompanying manual, which provided a "concrete and steadfast" instruction set for "getting up to speed in short order." The "excellent FAQ section of the manual provided the necessary answer when a simple attribute was shortchanging operation, negating the need to send a support email." None of our accomplished finger-percussionists encountered any problems using Pulse with Ableton Live, Apple Logic, Digital Performer and Native Instruments' Kontakt. "With Pulse's ability to randomly assign notes to a specific scale, I really enjoyed experimenting with different patches in [Native Instruments] Absynth to create multi-textured soundscapes," one reviewer observed.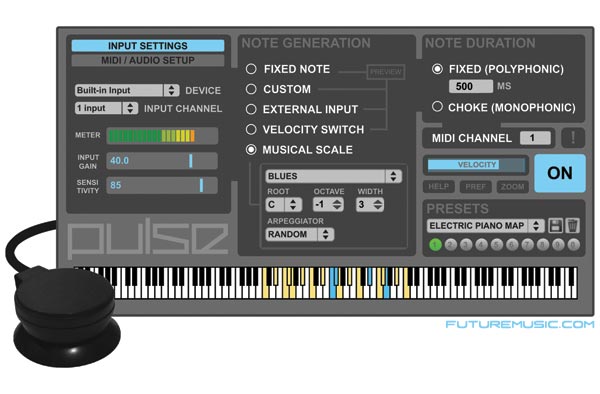 The Pulse's elegant interface


The only downside mentioned was the cost. At $69 (including shipping), it goes "way beyond an impulse buy." Our Editor-In-Chief put it this way, "at 35% of the cost of a Keith McMillen QuNeo controller, it will make many potential customers think twice about investing in a product like the Pulse." That said, for percussionists, or anyone else who can bang out a tight rhythm on their kitchen table, the Pulse Surface is an attractive, and very portable, solution for capturing rhythmic inspiration on the fly.

The Future
The price must come down in order for the Pulse to be more viable. A softer plastic is recommended for the suction cup for a more secure contact.
» FutureMusic Rating: 85%


Cheers:
+ Quality Piezo Pickup
+ Excellent Software Design
+ Sensitivity Controls
+ Low-Latency
+ Easy To Use
+ Manual
+ Fun

Jeers:
– Expensive
Off The Record:
"A very cool way to make beats any time, any place." —DJ Hurricane
"Try changing the input to Built-In audio for vocal triggering…" —Dan Brotman
"I couldn't believe how easy it was to create Drum 'n' Bass rhythms with just my fingers. Awesome!" —Greg Geller


The Pulse Surface costs $64 plus shipping and is available now.
Pulse Surface