Doepfer Releases Dark Energy II Analog Synthesizer
Doepfer has upgraded their Dark Energy Analog Synthesizer to version II status. The redesigned version of the original Dark Energy, a standalone monophonic analogue synthesizer with built-in USB/MIDI interfacing and CV connectivity, features entirely new circuits for the VCO, VCF, and VCA due to the fact that an important electronic component (CEM3394) is no longer available.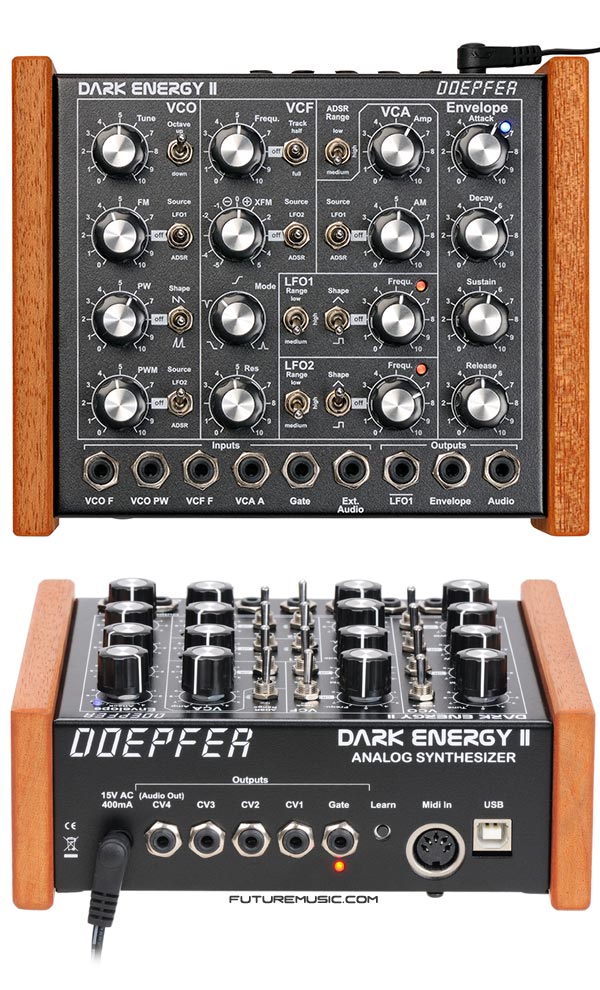 Given the absence of that rich-sounding, analogue synthesizer-voice-on-a-chip (CEM3394) from Curtis Electromusic Specialities successor OnChip, Doepfer took the opportunity to add new functionality to the hardware synth. The most notable differences between version I and II are: the Dark Energy II features a sawtooth-based VCO core (compared to the Dark Energy's triangle-based one), which, as implied, outputs a sawtooth waveform, with a waveform Shape switch for selecting sawtooth, off, or clipped/inverted sawtooth; meanwhile, that all-important, sounding-defining VCF is centred around a 12dB multimode filter with lowpass, notch, highpass, and bandpass, together with an all-new filter Mode control for continuous transition from lowpass via notch and highpass around to bandpass (as opposed the 24dB lowpass variety with linear frequency modulation (LFM) control found on the Dark Energy); the VCF's exponential frequency modulation (XFM) control also has a polarization function, whereby the modulation source (LFO2 or ADSR) selected by the Source switch can affect the filter frequency with a positive or negative behaviour (by rotating rightwards or leftwards, respectively); finally, the VCA has an exponential scale (unlike the Dark Energy's combined linear/exponential scale).
Benefitting those with a modicum of electronics know-how, the Dark Energy II offers much more internal expansion possibilities than its predecessor courtesy of pin header terminals for the following functions: rectangle and sawtooth VCO outputs, linear FM input for VCO, hard sync input for VCO, lowpass/bandpass/highpass VCF output, rectangle and triangle outputs for each LFO, and optional reset/direction features for each LFO.
The upshot of those differences is that sounds created on a Dark Energy II of course cannot be replicated on a Dark Energy (and vise versa) — though there is nothing to stop the two distinctive synthesizers from being daisy-chained together to produce an even wider palette of sounds. Indeed, several units can be polyphonically or monophonically cascaded (via internal MIDI out/MIDI in connections) to create an uber-synth.
Like the Dark Energy, the Dark Energy II is a standalone monophonic analogue synthesizer with inbuilt USB/MIDI interfacing and CV connectivity housed in a rugged black metal case with wooden end cheeks; likewise, sound generation and all modulation sources are 100 percent analog, appealing to purists — only the USB/MIDI interface includes digital components. Again, vintage-looking, high-quality potentiometers with metal shafts are used throughout, and all are fixed to the casing — except for that all-new filter Mode control — to ensure stability. Spacing between them is generous (in comparison to the necessarily smaller A-100 Analog Modular System modules like the A-111-5 Mini Synthesizer Voice equivalent of the original Dark Energy) to ease sound-shaping manipulation.
Doepfer's Dark Energy II can be ordered online €428, or purchased from an authorized dealer. An optional Glide control option is also available for €10, if you're not afraid to open up your kit. Only Lord Dieter Doepfer knows why this isn't just included.
Doepfer